Frugal Friday (the 13th!) Movie Night: Zombie Love Stories & a Juicy Steak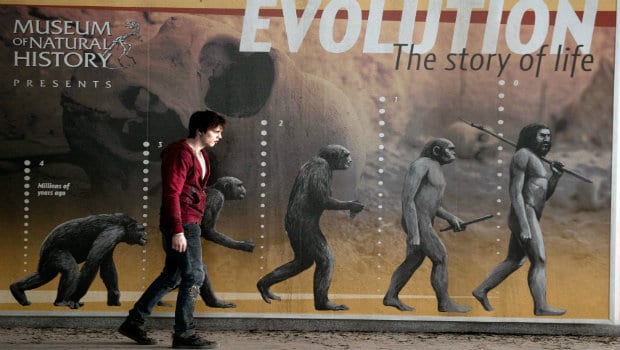 It's Friday the 13th, and it's also the day before Valentine's Day! Two terrifying events in one short weekend? Looks like it's time to hide out with Brad's Deals blogger Caroline's favorite zombie love story, Warm Bodies, and a tried-and-true recipe for steak and potatoes. 
What We're Watching: Warm Bodies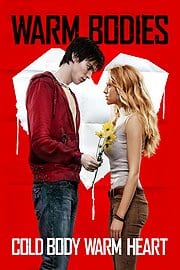 I'll be the first to admit I'm not the biggest fan of the whole zombie genre. Call me crazy, but watching the decaying undead devour the brains of screaming and bleeding people tends to gross me out. So while I was skeptical when my roommate chose Warm Bodies for our weekly GrubHub and movie binge, I kept an open mind and was pleasantly surprised. It was a funny, smart, action-packed, and adorable movie, and it totally broke all negative stereotypes I had about gross-out zombie thrillers.
The film follows the inner monologue of R (Nicholas Hoult), a lonely zombie who leads a monotonous life of aimless wandering, only feeling truly "alive" by eating the brains of the living and absorbing their memories. When R eats the brain of a young zombie hunter named Perry (Dave Franco), the memories he absorbs make R fall in love with with Perry's girlfriend, Julie (Teresa Palmer), and he decides to save her from the rest of the zombies by hiding her in his home--an abandoned airplane. With Julie around, R seems to come alive, even speaking short sentences--unheard of in most zombies. As she grows more and more attached to R, Julie must investigate what, exactly is going on with her zombie admirer, before her militant anti-zombie father finds out what she's up to.
This movie is the perfect mix of horror and romance, and is thus the ultimate Valeween (what we at Brad's Deals have dubbed Friday the 13th of February) flick. You can watch Warm Bodies for free on HBO GO, or rent it it from Google Play or Amazon for $2.99.
What We're Eating: Steak, Asparagus & Mashed Potatoes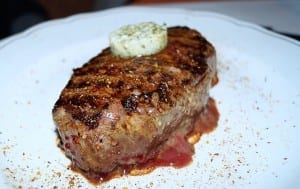 I'm literally salivating right now just from thinking about this meal. There's truly nothing more magical in this life than cutting into a thick, juicy steak and dipping it into a pile of fluffy, buttery mashed potatoes. I cook my steak in a cast-iron skillet with butter and season it with plain old salt. WikiHow surprisingly hits the nail on the head with this 10-step guide to cooking the perfect steak, so I'll send you there instead of boring you with the gory details of my steak preparation. If you're a frequent steak eater and you want high quality meat for less, check out Omaha Steaks. Right now we've got a deal for up to 64 percent off select packages, so you could be eating this decadently every night. All I have to say is NOM!
Moving on to the veggies, I like to toss the asparagus stalks in olive oil, lay them out on a baking pan and sprinkle with salt, pepper and ample chopped garlic. I bake them until they're nice and crispy, then squeeze a little bit of lemon juice over them and finish off with a healthy handful of grated Parmesan cheese. I could, of course, eat this meal sans any kind of green vegetable, but I find asparagus to be all at once super classy, delicious and easy to prepare, and this side dish only enhances the flavors of the steak and potatoes.
I don't typically use a recipe for my mashed potatoes, as I've made them so many times they've become second nature to me. But if you're new to the idea, Martha Stewart's got you covered. This recipe is about as simple as it gets, and if you feel wild you can add stuff like chopped garlic, sour cream (for a deeper flavor) or even your favorite kind of cheese! Go crazy and experiment! My thrifty side notes to Martha's otherwise brilliant recipe are these:
If you, like me, don't own a potato masher or ricer, you can use the bottom of a beer bottle to mash your potatoes to chunky perfection. Just make sure to wash the bottle first!
You don't have to peel the potatoes! I personally like a little skin in my mash, and it's actually the most nutrient-rich part of the potato. Of course I'll never turn down a plate of mashed potatoes, skin on or off, but if you want to save some time and delude yourself into thinking that the fluffy pile of cream and butter you're consuming is "healthy," skip the peeling and drop those potatoes into the pot with their skin intact.
3 Essentials for a Valeween to Remember
Valentine's Day Candy 10-Piece Bouquet ($10 at Walmart) -- Halloween and Valentine's Day might be months apart, but they share the special tradition of stuffing  your face with as much chocolate as you can get your grubby little hands on. Whether or not you have a date tomorrow, tonight is a good time to treat yo self and down ALL the candy. As this bouquet is filled with classics like M&Ms, as well as more classy candies like Russell Stover assorted chocolates, it's got something for everyone.
Voodoo Knife Block ($101.91 at Amazon) -- This knife set is all at once practical, decorative and perfect for those voodoo spells you're sure to spend this weekend casting on all your ex lovers and friends. A wonderful hybrid of Halloween and V-Day sentiments, these knives will also come in handy when chopping the potatoes!
Ryan Gosling Pillowcase ($17.99 at Amazon) -- Of course you need a comfy pillow to snuggle up against while you watch Warm Bodies, but don't cuddle with just ANY pillow. A general rule of thumb for a successful life is this: when choosing between a normal pillowcase and a pillowcase with a photo of Ryan Gosling on it, ALWAYS CHOOSE GOSLING. I don't think there's much left for me to say on the subject.
Related Coupons: