Frugal Friday Movie Night: House of Cards + Slow Cooker Ribs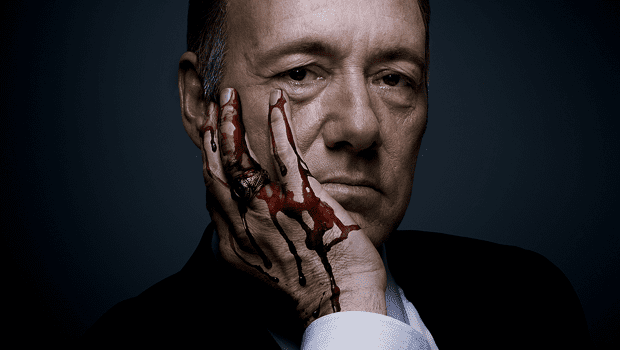 With House of Cards' third season available on Netflix today, there is absolutely no question about what we will be watching tonight.
What we're watching: House of Cards (Season 3)
Kevin Spacey as Frank Underwood is deliciously devious as he plots and schemes his way up the food chain with his icy and unflappable wife, Claire, who is in turn divinely played by Robin Wright. The series paints Washington politics as a dark and dangerous game and turns the viewer into its villain's confidante. When Frank addresses the viewer, it makes your blood run cold. You've really got to wonder what really goes on in all of those dark Washingtonian corners the media can't see. I won't lie, I am beyond excited to see what Frank Underwood does next.
Season 3 of House of Cards is now available to stream on Netflix.
What's for dinner: Dr. Pepper BBQ Ribs
On House of Cards, Frank makes regular visits to Freddy's BBQ Joint to enjoy his favorite meal - the best ribs in Washington DC. Frank approaches a plate of ribs the same way he navigates politics - it's a messy and meaty affair. Anyone who stands in his way is eaten alive, every last morsel sucked from their bones before they are unceremoniously discarded, scraped off into the garbage.
Disturbing allegory aside, it's hard to think of a more appropriate meal for a House of Cards marathon. Frank is definitely right about one thing: well-prepared ribs are basically heaven.
My all-time favorite ribs are made with Dr. Pepper, so I was very excited to find this simple recipe from Simply Made With Love for Dr. Pepper BBQ Ribs made in a slow cooker. In my experience, plain Coke or Cherry Coke also works out well.
Three Movie Night Must-Haves
Obviously you need a slow cooker to make slow cooker ribs, and this Crock Pot 6-qt slow cooker in red is marked down to $24.99 right now at Target. Alas, it falls just a penny short of Target's new $25 free shipping threshold, but you can get around that by adding a $5 gift card (the lowest denomination allowed) to your cart. Then, use the gift card on your next purchase. Or you can opt for in-store pick up for free!
Show your support for America and President Underwood by wearing these adorable American Flag Canvas Slip-On Flats while you watch. They're marked down from $34.99 to $19.99 at Kohl's and come in ladies' sizes 6-10. The best part? You know you'll wear them again in July.
Our final House of Cards must-have is Uno. This cutthroat family classic lets you channel your inner Frank Underwood, just a little. There is nothing so evil as the satisfaction you feel after watching your brother get hit with a Draw Four card three turns in a row, after all. Bonus: you can use the deck to build your own literal house of cards. The lowest price we found online is $5.59 at Fry's Electronics and includes free shipping.