Movie Night with Mom: Harrison Ford + Kabobs on the Grill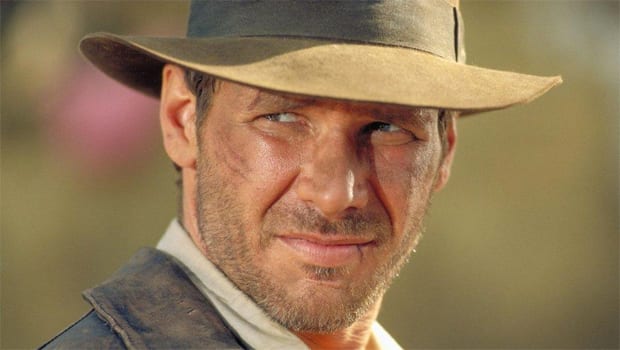 This week, I asked my Mom what her favorite movie is. "I like Harrison Ford movies," she said. "I can usually watch those over and over."
This direction is both helpful since Harrison Ford is apparently Mom-friendly, and not helpful at all since his movies span every genre in the G-to-R spectrum. So we're going to do a very special Frugal Friday Movie Night devoted to Harrison Ford, just for Mom.
What we're watching: Something with Harrison Ford in it.
Here are three of the most important things you need to know about Harrison Ford:
Basically, Harrison Ford is the ultimate cool dude in an airplane, both on screen and off, and he's Mom's favorite. And so that's where we're going to take this one.
The Good Old Fashioned Action Flick: Air Force One
I honestly can't remember if Harrison Ford ever ended up flying the plane in this one, but the airplane is the central plot device, so we're calling it close enough. Rent it in HD with Amazon Instant Video for $3.99.
The Cheesy Action-slash-Romance: Six Days Seven Nights
It's a pretty conventional action-romance, you know, the kind where the leads hate each other until they fall in love at the end, because Tahiti, or something. But Ford's character is a cargo pilot, so there we go. This one is also available to rent in HD for $3.99 through Amazon Instant Video.
The Ultimate Space Epic: Star Wars
Two words: Han Solo. Seriously, do I really need to say more? The original Star Wars trilogy isn't rentable, alas, but they were only just released for purchase in digital formal last month. We wrote an entire post about where to find Star Wars online. Go with Amazon if you have Instant Video credits banked up to get a small discount. Or use some discounted iTunes gift cards to buy it from iTunes.
The Classic Loveable Adventure Hero: Indiana Jones and the Temple of Doom
Harrison Ford doesn't fly so much as crash an airplane somewhere in the Indian Himalayas in Temple of Doom, but he's behind the controls for a moment before he realizes the plane is out of fuel and is forced to bail out. You can rent it in HD from Amazon for $3.99, along with the other three movies in the series.
What's for dinner: Kabobs on the Grill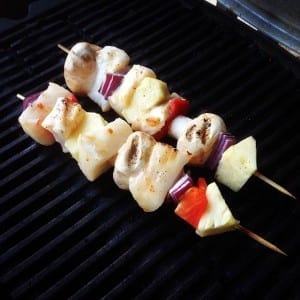 Why are you making Mom cook you dinner? Fire up the grill and make some kabobs. They're inexpensive, healthy and dead simple to make.
I like mine with chicken, fresh pineapple, cherry tomatoes, red onion, red bell pepper and mushrooms. Sprinkling a little cajun seasoning on these goes a long way.
For dessert, do a couple skewers of just pineapple, cooked until they get a few grill marks. While they're cooking, mix up a little sauce of honey, lime juice and minced fresh mint leaves to drizzle over the pineapple when it's finished. Topping it with graham cracker crumbs is optional, but delicious.
Three Must-Haves for Movie Night with Mom:
A Rental Car
If Mom lives far away and you don't have a car, you can rent one through Hotwire via Travelzoo for as little as $4.95 per day. That pricing is not available everywhere, but rental car discounts of various amounts are plentiful nationwide.
Kabob Skewers
Never buy bamboo skewers again when you pick up a set of reusable non-stick skewers like these Charcoal Companion Nonstick Circle Kabob Skewers, marked down from $15.99 to $9.62 at Amazon. You'll contributing less waste to landfills, spending less on the disposables, and the nifty curved shape means your kabobs actually fit nicely on your plate.
A Last-Minute Mother's Day Gift
You didn't forget, did you? Did you?? No worries, we've got your back. Check out our Mother's Day Gift Guide for last minute deals on gifts Mom will love. You're welcome.