GameStop Will Be Open On Thanksgiving Day In 2017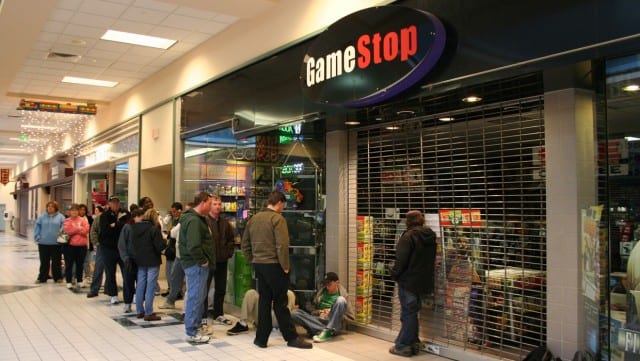 After three years of declaring Thanksgiving off limits, GameStop has reversed course, announcing in conference calls with staff on July 31 that the gaming retailer plans to open stores on Thanksgiving Day in 2017. 
For the last three years, GameStop has launched their Black Friday sale at midnight. The unexpected move – and shockingly early announcement – flies in the face of the company's previous statements defending their decision to remain closed on Thanksgiving Day, which cited respect for employees and customers as being at the heart of that policy.
"Many of our store associates and guests have asked for this."
After Kotaku was tipped off about the call, GameStop issued a formal statement confirming the news and providing additional context.
"To better serve our guests with their evolving holiday shopping needs, this year GameStop will open its stores for a shortened and limited time on Thanksgiving Day," the company told Kotaku in a statement yesterday. "Many of our store associates and guests have asked for this. We have heard their requests and are making an adjustment to our previous position on this topic."
Specific store hours were not announced, though GameStop did say that hours would be abbreviated to allow employees time to enjoy the holiday with their loved ones.
What does this mean for the GameStop Black Friday Sale?
It's not clear if the move to open on Thanksgiving Day means that the GameStop Black Friday sale will start earlier, though we think it's possible.
For all the lip service paid to the employees and customers who have asked for it, the reversal of their Thanksgiving closure policy looks a lot like an attempt to stay relevant amongst the onslaught of Black Friday and other holiday promotions. Black Friday sales have started earlier and earlier for most retailers over the years, and GameStop has struggled to keep up with "aggressive console promotions by other retailers on Thanksgiving and Black Friday," according to an earnings release cited by Fortune.
In recent years, retailers who open their doors on Thanksgiving have faced a growing backlash from consumers disappointed in the "Black Friday creep" phenomenon and increasing commercialization of a beloved national holiday.
Brad's Deals will post the 2017 GameStop Black Friday ad as soon as it arrives – usually sometime in the second week of November. Be sure to bookmark our 2017 Black Friday ads for complete coverage of Black Friday ad leaks, rumors, and analysis as news breaks.