10 Delicious Meals to Make with Leftover Holiday Food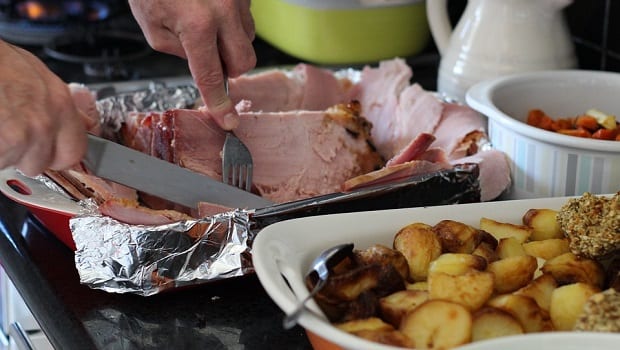 Leftover holiday food is a blessing and a curse. As delicious as Christmas dinner is in the moment, it can be hard to come up with creative ways to use those leftover piles of meat once the big day is over. After all, there are only so many ham sandwiches you can eat before you never want to so much as LOOK at a pig again.
We feel your pain, so we put together a list of recipes for every kind of holiday leftover. Whether you've got mountains of turkey, lamb or mashed potatoes, you'll find something fresh, new and tasty to make with your leftovers this week.
Ham Dishes
Cheesy Ham and Hash Brown Casserole -- This one is great for a big family brunch and a delicious way to get rid of those salty piles of ham taking up all the room in your fridge. It takes just a few minutes to throw together and an hour to bake in the oven, and most of the ingredients are things (like frozen hash browns, sour cream and cheddar cheese) that you likely already have in your cupboards.
The Perfect Ham Sandwich -- I know I threw a little shade at ham sandwiches in my intro, but this is a ham sandwich that would be hard for anyone to get sick of. Its beauty is in its simplicity: ham, Swiss cheese and mustard smashed together on a sourdough roll spread with just a light touch of strawberry jelly. Throw this in a toaster oven or panini maker and you'll be eating a gourmet sandwich for lunch until cows come home (or the ham runs out).
Brisket Dishes
Brisket Tacos -- A super easy weeknight dinner you can make in minutes, brisket tacos are a creative way to use up this heavy holiday meat in an unexpected and decidedly tasty way. Tacos are also easy to customize, so you can lay out a spread of different shells, toppings and sauces that'll make even the pickiest eater a happy camper.
Smoked Brisket Stroganoff -- A quality leftover recipe transforms the original meal into something totally different and delicious, and that's exactly what happens when you serve up this smoked brisket stroganoff. Instead of serving your leftover brisket sliced and reheated, try making this simple stroganoff sauce and pouring it over a bed of egg noodles. It's an easy, hearty winter meal the whole family will love.
Turkey Dishes
Next-Day Turkey Primavera -- Get creative with your leftover turkey! This creamy dish boasts much different flavors than did your Christmas turkey meal, and you can also throw in a bunch of holiday veggies about to hit their expiration date. It's a fast, easy and exceptionally tasty way to get your kids to stop complaining about eating turkey leftovers.
Warm Turkey and Spinach Salad -- Here's a light post-holiday dish to help you shave off those Christmas love handles once and for all. If you've got leftover ham to burn you can substitute the pancetta for cubed ham.
Lamb Dishes
Lamb and Potato Shepard's Pie -- Very rarely do I have leftover mashed potatoes (ask anyone, I make the best mashed potatoes around), but when I do, a Shepard's pie is my first choice for an easy leftover comfort meal that'll leave you all warm and fuzzy inside. A typical American recipe for Shepard's pie uses ground beef, but substituting leftover holiday lamb makes for a richer dish with more flavor and texture, and also gives meaning to the whole "Shepard" part of the name.
Leftover Lamb Gyros -- Like tacos, gyros are easy to throw together and customize to everyone's particular liking. They're also a great lunch to take to work, especially if you invest in pita pockets. Trader Joe's sells a delicious cilantro and chive greek yogurt dip that would be the perfect sauce for these little sandwiches.
Vegetarian Dishes
Leftover Crudite Frittata -- Be honest: when was the last time you saw a crudite platter actually get eaten? You've gotta have 'em on the table for the health freaks in your family, but more often than not, these raw veggie platters go untouched throughout your holiday festivities. Making a post-holiday frittata is a great option for a healthy breakfast and a good way to use up all the un-munched raw veggies from your appetizer table.
Szechuan Green Beans -- I'm obsessed with Szechuan green beans. I went through a phase late in my high school career where I would make them for every meal. My recipe had spicy Italian sausage, but the one linked to here is vegetarian. If you're a meat eater, the sausage is a nice touch, but if not, adding spicy tofu to this dish could make things pretty exciting.
Which of these leftover recipes will you be adding to your post-holiday menu? Let us know in the comments!