Going Home for the Holidays? Check Out These Travel Tips!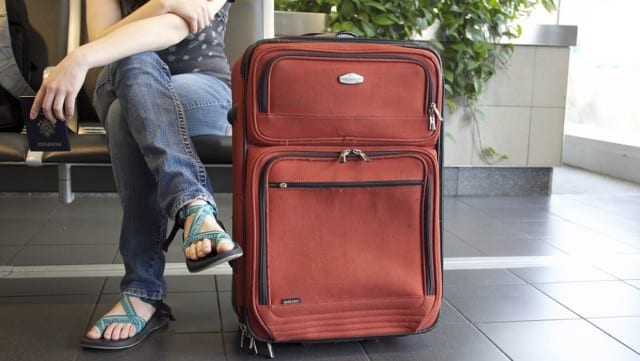 Editorial Disclaimer: Brad's Deals has partnered with CardRatings for our coverage of credit card products. Brad's Deals and CardRatings may receive a commission from card issuers. This content is not provided or commissioned by the issuer. Opinions expressed here are author's alone, not those of the issuer, and have not been reviewed, approved or otherwise endorsed by the issuer. This site may be compensated through the issuer's affiliate program. These user responses are not provided or commissioned by the bank advertiser. User responses have not been reviewed, approved or otherwise endorsed by the bank advertiser. It is not the bank advertiser's responsibility to ensure all posts and/or questions are answered. You can read our full advertiser disclosure:
click here
With almost 100 million Americans expected to travel 50 miles or more during this year's holidays, it can be one of the busiest (and most hectic) times of the year to travel. Fortunately, we're here to give you a few helpful tips and reminders of what to do and not to do to make traveling during the holidays a little easier.

1.  Check the Weather
Unfortunately, weather delays happen. Even worse, airlines aren't obligated to compensate passengers per their passenger rights rules, so keep that in mind when booking travel and before you head to the airport. If there is a colossal snowstorm that grounds planes at a major hub like Chicago or New York, and you haven't left home yet, don't. You'll be better off getting on the phone on your couch and calling the airline. Use FlightAware to access the best customer service lines (and be sure to use your elite lines if you have status).
If you're already on your trip, the credit card you've used can help if a delay occurs, even if it's because of the weather. Check out credit cards that give you money back for travel delays to learn more.
Related travel credit cards:
$400 Bonus with Barclaycard Arrival Plus!
2.  Carry-On
Traveling light is always my go-to move. Checking bags means delays at your arrival destination, even if the bags arrive on time, making your family continue to circle the airport until your bags are in hand. And, with all the bags cycling through airports this time of year, there's a greater chance of your bags getting lost.
One thing travelers don't often think about is if you need to change your original itinerary while at the airport, like for a delay. Your luggage needs to travel with you (it's federal law), so a checked bag can complicate things if you're trying to get on an earlier flight to make it home in time for that holiday meal.
3.  Know Your Airport
Knowing where your gate is can save you time in case of delays. If you're flying American, United or Delta, the app on your smartphone will give you lots of handy information about where essentials are in the airport, like your next gate, food, bathrooms and lounges.
4.  Fly Early (or on Christmas)
I like to fly in a day or two early into my hometown if my schedule allows. It gives me more time with family, and I can avoid the rush the holiday season brings. My favorite "hack," though, is to fly on Christmas Day itself. You'll be greeted with an empty airport, happy employees (really – they're earning double that day), and some airlines like Southwest will even give you a free drink!
5.  Stay Fit
US News suggests some in-flight exercises for those long flights, and I couldn't agree more. Also, eating right this time of year will reduce stress from delays, and help fight off any pesky sicknesses some of your fellow passengers might be carrying.
6.  Plug In
Remember to charge your phone!  Plugs will be occupied at the airport when you get there, so charge at home! And, think about bringing along a portable charger, which you can pick up at Best Buy before you fly.  You can't call an Uber from a dead smartphone!
7.  Skip the Lines
Sign up for TSA Pre-Check (or better yet, get Global Entry free with your Chase Sapphire Reserve card).  You'll keep your shoes on, your laptop in your bag, and you'll get through security in minutes (sometimes seconds). Another option is CLEAR, which is expanding across the country, and doesn't even require you to take your ID out of your wallet.
Do you have any tips for traveling over the holidays? Share them with us in the comments below!
Related travel deals:
Southwest: Round-Trip Flights from $174
New York Hotel Stays $150/Night or Less
Air-Inclusive Mexico Vacations from $778