Black Friday Predictions: Home Depot Black Friday Ad for 2017

Ready to start some major upgrades to your home, or just get ready for the holiday season? Well, Home Depot has you covered, offering amazing deals on tools, appliances, decorations and much more. Be the envy of your friends with your upgraded appliances or fantastic holiday decorations, when you get the best deals at this year's Black Friday at Home Depot.
When will we see the 2017 Home Depot Black Friday ad?
Some retailers tolerate Black Friday ad leaks, simply because of the free buzz that it creates for its stores. Often, they are willing to let the leaks pass with no pushback. Home Depot, however, is not one of those retailers, as they have sent out preemptive "cease and desist" orders to sites such as Brad's Deals, threatening legal action should the ad be published before its official publication. This means that there is little to no chance that you will see the Home Depot Black Friday circular before its intended publishing date. In the past, the ads became available on the following dates:
Thursday, November 28, 2013
Wednesday, November 26, 2014
Wednesday, November 25, 2015
Wednesday, November 23, 2016
Home Depot usually holds their cards close when it comes to the publication of their Black Friday ad, and their usual publication date is the day before Thanksgiving. We do not expect that to change this year, meaning Wednesday, November, 23rd should be the expected publication date for the circular.
When it does arrive, you will be able to find it in our 2017 Black Friday Shopping Guide.
What will Home Depot's Black Friday hours be?
For the past two years, Home Depot has been opening its doors at 6 a.m. on Black Friday. The previous four years before that they opened their doors at 5 a.m., so it is quite evident that Home Depot believes the early bird gets the worm. Or in this case, the deals. It would take some major happenings for Home Depot to drift away from these early opening times. We firmly expect Home Depot to follow the trend of the past two years and open Black Friday at 6 a.m.
If you have your eyes on purchasing major appliances, you're in luck and can score some deals before Black Friday. Home Depot usually has an appliance sale in early to mid-November in which major appliances are set at their Black Friday prices. So, if you're in the market for a refrigerator or washer and dryer set, be on the lookout for early deals. You can also shop Black Friday deals online starting Thanksgiving Day at 6 a.m. EST.
What to expect from Home Depot's Black Friday Doorbusters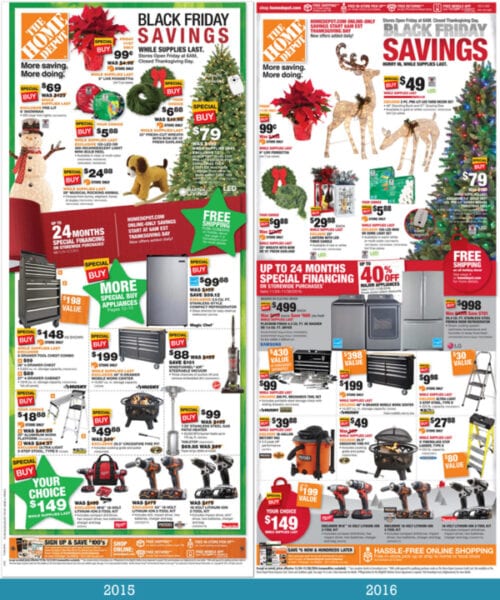 Places to Sit
Looking to add a new chair to your office or man cave? What about to your kitchen or bar? Home Depot has you covered. Don't miss out on the opportunity to get the Tuscan Club Chair. A $249 value at only $99. The perfect addition to any family room, office or man cave to sit back and relax in. But don't stop there — pick up some 30" swivel bar stools priced at $49.88. These stools would be the perfect upgrade to any kitchen or bar.
Batteries
With Christmas just around the corner, now is the time to stock up on batteries for all those new gifts and gadgets. Save yourself the trouble of having to steal batteries out of other electronics around the house. Pick up a 60-pack of AA or AAA batteries for just $9.97. This will keep you squared away for at least the next two holidays.
Refrigerators
If you are looking to upgrade that old white refrigerator with a nice, new stainless steel one, now is the perfect time. Home Depot offers major appliances on sale beginning early to mid November, and into Black Friday. Choose from a wide variety of refrigerators on top brands such as LG, Samsung, Whirlpool, GE and Frigidaire. Now is as good a time as any to make that upgrade you've been waiting for.
Tool Kits
No one should have to work on home projects with old or faulty tools. Home Depot has multiple toolkits available on sale to make sure you get the most out of your time and effort. From 2-tool to 3-tool kits you can get a great deal on whatever you might need to help with those home renovation projects. Priced between $99.99 and $399.99, you can find that perfect kit at the perfect price point for you.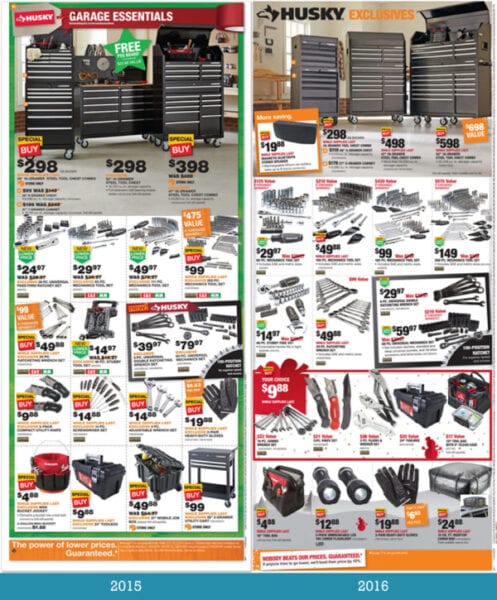 More Black Friday Encore Deals at Home Depot
These are just a few of the deals that we expect to return on Black Friday at Home Depot, and it's not meant to be an exhaustive list. We've linked to the last three years of Home Depot's Black Friday ads at the end of this article so you can compare yourself.
Werner 22' 4-In-1 Ladder, Type I
2015: $119.00
2016: $99.98
2017 Prediction: $99.98
Husky 46" 9-Drawer Mobile Work Center
2015: $199.00
2016: $199.00
2017 Prediction: $199.00
Porter Cable 6-Gallon Compressor Combo Kit
2015: $199.00
2016: $199.00
2017 Prediction: $199.00
Honeywell Touchscreen Thermostat
2015: $99.00
2016: $79.00
2017 Prediction: $79.00
Ridgid 16-Gallon Wet/Dry Vac
2015: $39.88
2016: 39.88
2017 Prediction: $39.88
29.5" Crossfire Fire Pit
2015: $49.88
2016: $49.00
2017 Prediction: 49.00
Makita 18-Volt Lithium-Ion 2-Tool Kit
2015: $149.00
2016: $149.00
2017 Prediction: $149.00
Amazon Echo
2015: $149.00
2016: $139.99
2017 Prediction: $129.99
7.5' Quick Set Pre Lit Alexander Pine Christmas Tree
2015: $159.20
2016: $159.20
2017 Prediction: 149.99
3-PC Stainless Steel Trash Can Combo
2015: 19.99
2016: 19.99
2017 Prediction: $19.99
Compare for yourself!
The deals we've called out above are far from a complete list. Check out the last three year's of Home Depot's Black Friday ads below to make your own comparison and to help plan this year's holiday shopping budget.