That Hoverboard You Got For Christmas Might be a Fire Hazard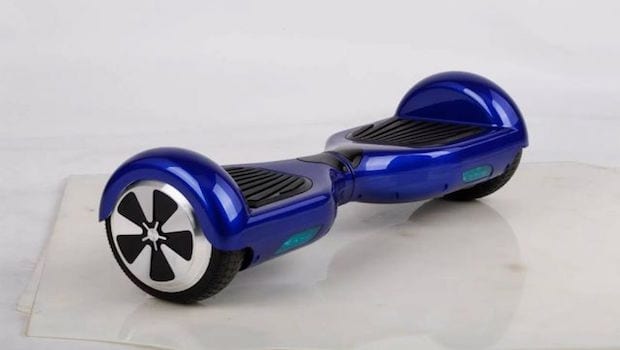 The past two weeks have been rife with product recalls. First, IKEA announced a recall on its popular MALM dressers due to tipping concerns. Now, the self-balancing "hoverboard," AKA the hottest item under everyone's 2015 Christmas tree, is being recalled by 10 firms because its lithium-ion batteries pose a risk of overheating and starting on fire. 
According to the Consumer Product Safety Commission, there have been "at least 99 incident reports of the battery packs in self-balancing scooters/hoverboards overheating, sparking, smoking, catching fire and/or exploding including reports of burn injuries and property damage."
Recalling Companies / Name of Recalled Hoverboards:
If you bought or were given a hoverboard from the above 10 merchants between June 2015 and May 2016, you should stop using it immediately and contact the recalling company to get a full refund or repair.
The CPSC has been investigating claims of spontaneously combusting hoverboards for a few months now, and this is not the first hoverboard recall that's happened in 2016. In January, Amazon offered a full refund to anyone who purchased a hoverboard on their site, an action that was commended by CPSC Chairman Elliot F. Kaye:
"As encouraged as I am by Amazon's actions, I expect other retailers and manufacturers of hoverboards to take action and offer a full refund now to their customers as well," said Kaye in a January statement. "I also expect responsible large-volume online sellers in particular to stop selling these products until we have more certainty regarding their safety."
While this is now happening, Kaye cautioned that the dangers posed by hoverboards are not limited to fire alone:
"Fall injuries can be serious and life-altering. Many people, including children, have ended up with fractures, contusions or head/brain injuries. Hospitals across the country are reporting spikes in children and adults being admitted after suffering serious falls. If you or your child continue to use this product, I recommend that you do so with a helmet and pads. I have two very active young boys, so I very much appreciate the struggle sometimes to get kids to use safety gear. But, wearing proper safety gear in this instance should be non-negotiable."
Have you had a bad experience with an overheating or tippy hoverboard? Tell us about it in the comments!