Why Black "Friday" Now Starts at 7:05 on Thanksgiving Day (Infographic)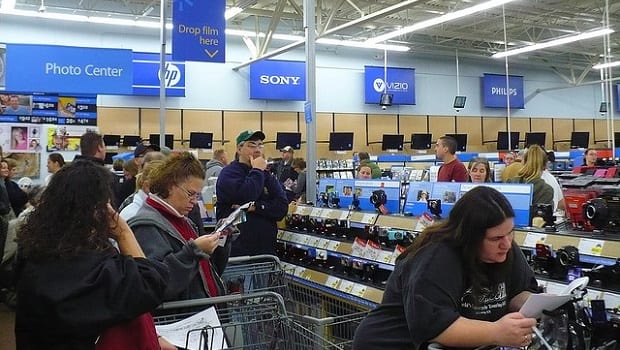 It's been a few years since the name "Black Friday" actually matched up with the day of the sale. Since 2007 onward, Black Friday store hours have not so subtly crept from early Friday morning to early Thursday evening. While a few select stores are taking a stand against this trend this year, it doesn't look like it's going away any time soon. 
It's one thing to know all this, but the reality of the situation doesn't really hit until you can visualize it. Last year, we decided to create a graphic to do just that. We took the advertised hours from every Black Friday ad in our archives and crunched the numbers to calculate an average starting time for every year after 2007.
The results were staggering. In 2007, the average start time of the seven most popular Black Friday sales was 5:16 a.m. on Friday morning. By 2014, that average moved up by nearly 12 hours, clocking in at 5:43 p.m. on Thanksgiving Day. Here's the updated 2015 version: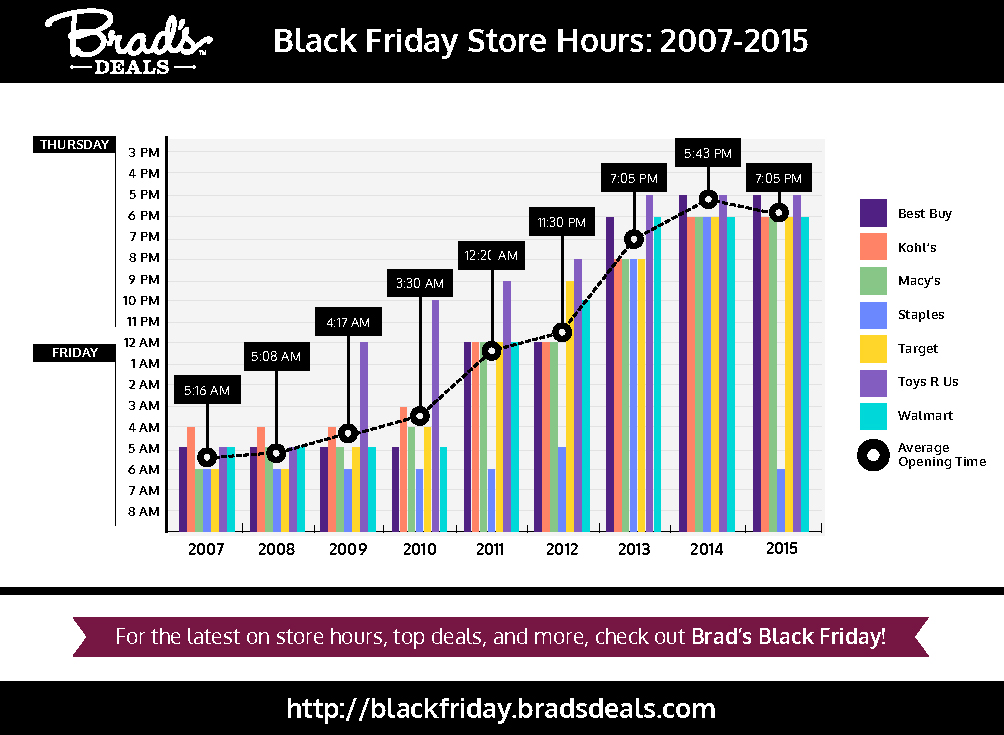 As you can see, Toys "R" Us led the charge in the early days, busting out a now laughable 12 a.m. Friday start time in 2009 while everyone else was hanging out between 4 and 6 a.m. Staples was initially hesitant to catch up with its Black Friday competitors, and stuck with a Friday morning start time until finally giving in to peer pressure in 2013. But in an unexpected twist, they've reversed their position this year, and gone back to basics with a 6 a.m. Friday start time that makes us yearn for simpler days.
While 2015's average is down a bit, clocking in at 7:05 p.m., this is only because of Staples. You'll notice that all the other stores kept their 2014 start times, and JCPenney, which isn't included on this graph, actually bumped up its start time from 5 p.m. in 2014 to 3 p.m. in 2015.
That being said, Staples' reversal of their 2013/2014 stance on Thanksgiving hours, along with REI's bold move of giving their employees two days paid vacation in lieu of having any kind of Black Friday sale might signal a shift in the way retailers approach Black Friday sales in future years.
If the comments on our Brad's Black Friday Facebook page are any indication, consumers are more than outraged at the prospect of Thanksgiving—a day of family and literally giving thanks—being pushed aside in favor of rampant consumerism. Also, the fact that very few retailers bumped up their Black Friday sale hours from where they were last year may be indicative of a pull back to "traditional" Friday morning start times.
And yet, there's a very simple reason why we'll probably see retailers stick with a Thanksgiving Day sale for years to come: they're making money. Some people are angry, sure, but there are still more people who have no problem lining up on Thanksgiving and spending their hard-earned cash on doorbuster deals instead of stuffing themselves with turkey and mashed potatoes. If everyone was as mad as they claim to be, stores would not open on Thanksgiving because they'd have no financial incentive to do so. The fact is that people are shopping, and as long as they keep doing it, Black Thursday is here to stay.
Related Coupons: