How to Book Award Travel For Families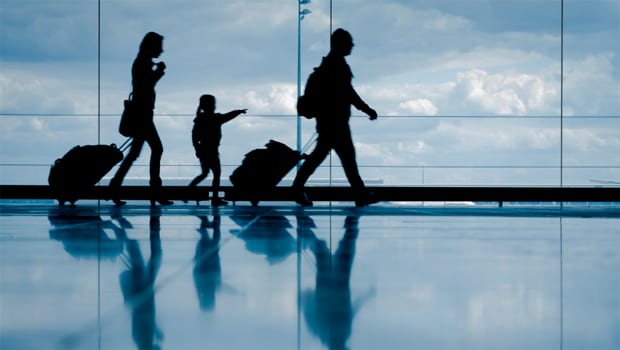 Many of the top award travel bloggers are single, or travel as a couple. Compared to families, these travelers have an easy time finding just one or two frequent flier mile award seats, and they never have to worry if their taxi or rental car can accommodate them.On the other hand, families that aspire to earn and use their points and miles for award travel face a much more difficult challenge. Traditional airline programs don't often make more than two award seats available on the same flight, and families need far more points and miles than just one or two travelers.
How we do it
My wife and I have two children, and we aggressively earn points and miles while finding creative ways to redeem them. In the past two years, we have traveled overseas to Argentina, Hawaii, Israel, and Italy, plus numerous shorter trips within the continental United States. While volumes have been written on this subject, award travel for families breaks down into two challenges; earning enough points and miles, and finding award flights, hotels, and rental cars that will accommodate the whole family.
Earning points and miles for families
The key to earning enough points and miles to make family award travel happen, is volume. Compared to single travelers, families will need several times more redeemable rewards, and they often have less time to spend on earning them. Therefore, it is vital that all adults in the household work together as a team to earn the most rewards.
For example, those who have their finances in order and carry no credit card debt can earn a tremendous amount of travel rewards by signing up for new credit cards. Families need to consider that any credit card sign up bonus worth receiving once, is probably worth signing up for by all adults in the household. Brad's Deals maintains a list of the best credit card signup bonuses to make finding these cards easier.
Once acquired, credit cards need to be strategically used in order to maximize the bonus points and miles received. Cardholders, including any children that are authorized cardholders, should always be aware of which purchases earn a bonus with which card. Every family member should be on the same page so that the right card is used for the right purchase.
Families should probably designate one person to keep track of all of their points and miles, and be on the lookout for new earning opportunities. For example, I use a service called Award Wallet that keeps track of my all of my accounts in loyalty programs, as well as for those of all of my family. Naturally, I am also the person who is always on the lookout for offers and promotions that can boost our family's balances.
Redeeming points and miles for families
First, families should make sure that they are using as few points and miles as possible to get where they are going. For example, the British Airways Avios program allows you to book round-trip flights between cities under 650 for just 9,000 miles, where most other frequent flier programs charge 25,000 miles.
Another important strategy for families to consider are the revenue based frequent flier programs such as Southwest, Jetblue, and Virgin America. These programs offer any unsold seat as an award, using points that are worth a fixed amount. For instance, Jetblue points are worth about 1.1 cents, Virgin America's points are worth about 2 cents, Southwest points are worth 1.4 cents toward tickets in their "Wanna Get Away" fare class. The benefit to families is that they can redeem many award tickets on the same flight without having to search for scarce award seats.
My family is a big fan of Southwest in particular, as their Companion Pass offers the chance to double the value of their points. My wife and I both acquired the Companion Pass by signing up for their business and personal credit cards that each offered 50,000 points as a sign-up bonus. From there, we only needed an additional 10,000 points to reach the 110,000 necessary to earn a free ticket on any flight, be it an award booking or a paid ticket. Now, we redeem two awards and receive four seats, doubling the value of our points.
While these revenue based award programs can be great, they will not take you to all the destinations that the legacy airlines serve including Hawaii, Alaska, and just about any place outside of North America. This leaves award travelers dependent on Delta, United, and American/US Airways, along with their partners.
Thankfully, their extensive partnerships often hold the key to family travel awards. Each of the three remaining legacy carriers in the United States is part of a global airline alliance. Not only are these partners more generous with the number of award seats they make available, these flights are often hidden from the average traveler who relies on web searches to find award seats.
So the key is to look for so-called "hidden award seats" on airlines that do not display their award flights on domestic carriers. For example, United.com does not show seats flights on LOT Polish, Singapore, or South African Airlines. American's site fails to display awards on Iberia, LAN, or Qatar airlines, and Delta.com doesn't show flights on Aeroflot, Aerolineas Argentina,  or China Airlines.
To find these hidden flights, you can either call the airline and ask, or search on the web sites of other carriers that do show these flights. For example, ANA airlines of Japan will show many of the flights in the Star Alliance that United doesn't, British Airways will show many OneWorld partners that American doesn't, and Air France's site displays many missing Skyteam partners that are also partnered with Delta.
Other tricks
Relying on revenue based awards and searching for hidden partner flights will help, but it probably won't get every family where it needs to go every time. To connect all of the dots, you need to get truly creative and resourceful. Briefly, here are a few of my favorite strategies:
Split the team. There's no rule that says a family of five always has to sit together, or even be ticketed on on the same flight. By splitting a family in two groups, it opens up a world of new possibilities and may even be less stressful than having everyone together. Furthermore, schedule changes and flight delays may eventually offer the opportunity to be re-booked together anyways.
Look for new flights and schedule changes. Airlines are constantly introducing new routes and increasing the number of flights on existing routes. In these cases, airlines will load these new flights into their systems with plenty of award seats, so this is your chance to grab some before they are taken.
Split reservations between cash and award bookings. If there aren't enough available award seats, or you simply don't have enough miles, you can always consider splitting the reservation between awards and cash. Often, this works well because airlines are most likely to offer award seats on their least expensive flights anyways.
Travel on the holidays. The days before and after major holidays are some of the busiest of the year, and there are very few, if any award seats available with frequent flier miles. One trick is to travel on the day of the holiday. For example an early morning flight on Thanksgiving is usually available, and travel on New Year's day is also easier than the following weekend.
By being persistent, resourceful, and creative, you can do find always find a way to make your dreams of family award travel come true.