Buying incredible wine cheap is easy as 1… 2… (there is no 3)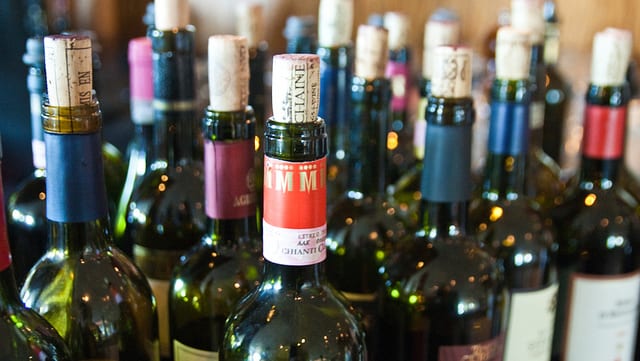 If your eyes have ever glazed over while trying to make sense of an incomprehensible wall of wine bottles at the liquor store, unsure what to get and terrified of buying something that tastes like rancid cough syrup, this post is for you.
Take a deep breath and step away from that plonk with the cutesy footprints and kangaroos with the hipstery names that some clever marketing intern dreamt up to peddle a substandard product. I'm going to let you in on my foolproof wine buying system and you're never going to buy that swill again.
From this point on, your friends are going to think you're a wine prodigy. They'll come to you for recommendations because who better to ask than their friend the wine genius?
There is one basic truth you must embrace before we begin, and it is this:
The price of a bottle of wine tells you absolutely nothing about its quality.
Something that every oenophile knows and that many casual drinkers don't is that expensive wine does not taste any better than cheap wine, and cheap wine is not necessarily bad wine. There is very bad expensive wine, and there is very good cheap wine. The price tag has nothing to do with it.
Well, sort of. In many ways, wine quality is all in your head. A few years ago, psychologist Richard Wiseman conducted a blind taste test of several wines with about 600 participants and found they correctly identified the more expensive wine only 53% of the time. In fact, when it came to a particularly cheap Bordeaux, tasters chose incorrectly 61% of the time. On the flip side, studies have shown that when tasters are served the same wine but told that one is more expensive, they prefer the expensive glass even though it's exactly the same wine. And finally, when pitting two wines against each other when the taster doesn't know the price of either, the cheaper wine often emerges as the favorite, as the Huffington Post discovered last year.
Wine snobbery is all about psychology.
Perhaps the best example of wine psychology and the placebo effect is the infamous Judgment of Paris, which was documented in the movie Bottle Shock. Back in 1976, everyone knew that French wine was the best in the world. California winemakers were sneered at by wine enthusiasts who essentially regarded them New World hillbillies on inferior terroir. So when British wine merchant Stephen Spurrier arranged a wine competition and invited some California wineries to participate, the entire European wine community laughed at the idea that a California wine could ever stand up to French perfection. The tasting was blind, and conducted by French judges who insisted they knew which wines were French and which were from California terroir. So when the results were tallied and two California wines won, it sent shockwaves through the industry. The winning wines were a cabernet sauvignon from Stag's Leap Wine Cellars and a chardonnay from Chateau Montelena, both of which are now world renowned wineries.
The Judgment of Paris, where highly educated French judges couldn't tell the difference between good French wine and supposedly inferior California wine, is what put California on the map. 
And there you have it – no one can actually taste the difference between cheap and expensive wine, and your enjoyment of an expensive wine is heavily influenced by the fact that you know it's expensive.
So how does wine scoring work, anyway?
That's a good question, and a very pertinent one. There several different systems, and most operate on a 100-point scale. The higher the number, the better the wine. For Wine Spectator, a wine scored 80-84 is "good", 85-89 is "very good", and 90+ ranges from "outstanding" to "classic". Or as I prefer to think of it, 90+ is basically heaven in a wine glass. Judges consider structure, flavor and typicity. If you have no idea what that means, don't worry. You really don't need to know unless you want to get into wine judging. (Which, I've got to admit, sounds like a pretty awesome gig.) Wine Spectator also notes that their tastings are conducted blind to eliminate bias. That may not always be the case – professional reviewers probably know what they're drinking more often than not, and unscrupulous reviewers may even take bribes for higher scores. But for the most part, scoring is a pretty solid indicator of quality. If you're looking for a wine score, you'll find it sometimes on a shelf tag below the bottle at the liquor store. In my experience, you won't usually see them at grocery stores or smaller liquor stores of the sort that turn more of a profit in cheap beer, but a liquor store with a decent wine selection generally posts them. You can also find scores online at sites like Wine.com.
Which leads me to my foolproof wine buying trick.
When I'm buying wine, if I don't know what I'm looking for, I look for two things:
1. It has a score of 85 or higher.
2. It's under $15.
Seriously, that's it. No special wine knowledge required! All you need is to know your budget and to look for the shelf tags with the wine scores. Use this system to sample wines you'd never have tried before, like an Australian Barossa Shiraz, an Oregon Pinot Noir, a Chilean Malbec… trust me, it's almost impossible to buy a bad bottle.
Here are 10 killer wines that you can buy right now.
Cono Sur Reserva Especial Sauvignon Blanc 2012 – $12.99
Peter Lehmann Art Series Shiraz-Cabernet 2010 – $12.99
Evodia Old Vine Grenache 2012 – $9.99
Pennywise Petite Sirah 2012 – $10.99
Jacob's Creek Reserve Riesling 2012 – $12.99
King Estate Signature Collection Pinot Gris 2012 – $14.99
Maipe Reserve Malbec 2012 – $14.99
Matchbook Chardonnay 2012 – $10.99
The Royal Chenin Blanc Old Vine Steen 2013 – $10.99
Leacock's Rainwater Madeira – $15.99
Check out Wine.com's fantastic list of 90+ Rated Wines under $20 for these and many more.