How to Fly Semi-Private for Coach Prices with JetSuiteX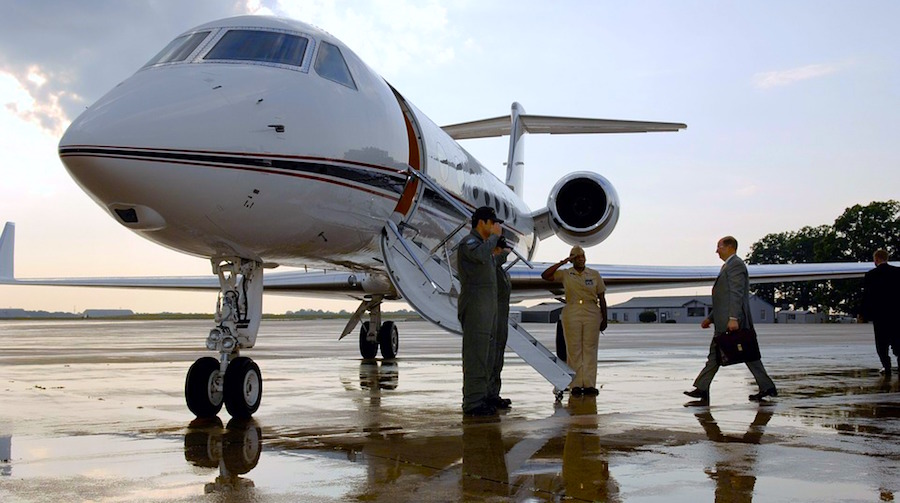 I had the pleasure of flying JetSuiteX from Burbank to Las Vegas, an experience I can't wait to repeat! Here's how you can get the private jet experience for less.
While JetSuite started as a product for the wealthy where it flew Phenom 100 four and six-seater jets between private airports, JetSuiteX is the company's attempt at expanding their product to the mass market. JetSuiteX now operates several routes on the West Coast, including Burbank to Las Vegas, San Jose, Oakland, and Concord, CA. Orange County flights leave for Oakland and Las Vegas. Oakland also has flights to Seattle. Occasionally, the company offers flights to Mammoth and Coachella Valley. Pricing for a one-way flight on their 30-seater Embraer 135s starts at $99.
JetSuiteX from Burbank to Las Vegas
The difference between traditional commercial travel and JetSuiteX starts before you even arrive at the airport. The day before my flight, I received a personal email from an airline representative re-confirming all the details of my flight. It even gave me the option to respond to the email directly if I had any questions. Try getting that kind of service from American Airlines!
I live in Phoenix, so in order to get to Burbank, I had to fly American into LAX. I then took an Uber Pool across town from LAX to Burbank. I arrived to the private hangar that JetSuiteX operates out of BUR about an hour before my 1:40 p.m. departure time. I've flown in and out of Burbank in the past, and while it's a small airport compared to LAX, it's usually a very stress-free experience.
This time, my experience was even more stress-free than usual. Why? No TSA screening! Because JetSuiteX operates scheduled charter flights, they are not required to screen passengers in the same way as traditional commercial flights. I simply walked through the doors of the terminal, handed the lovely check-in agent my driver's license, and she took my bag and handed me my boarding pass.
What normally follows a security checkpoint is a long walk to the airline lounge or crowded boarding gate. Not with JetSuiteX! Here, you simply turn left and find some couches, a foosball table, and some air-conditioned rooms outfitted with light snacks and drinks.
I settled into the lounge to get some work done and snacked on a few of their gourmet items, like an assortment of dried fruits. Unfortunately, they don't offer any alcoholic beverages, but I have to give props to JetSuiteX for keeping even the Keurig coffee in theme!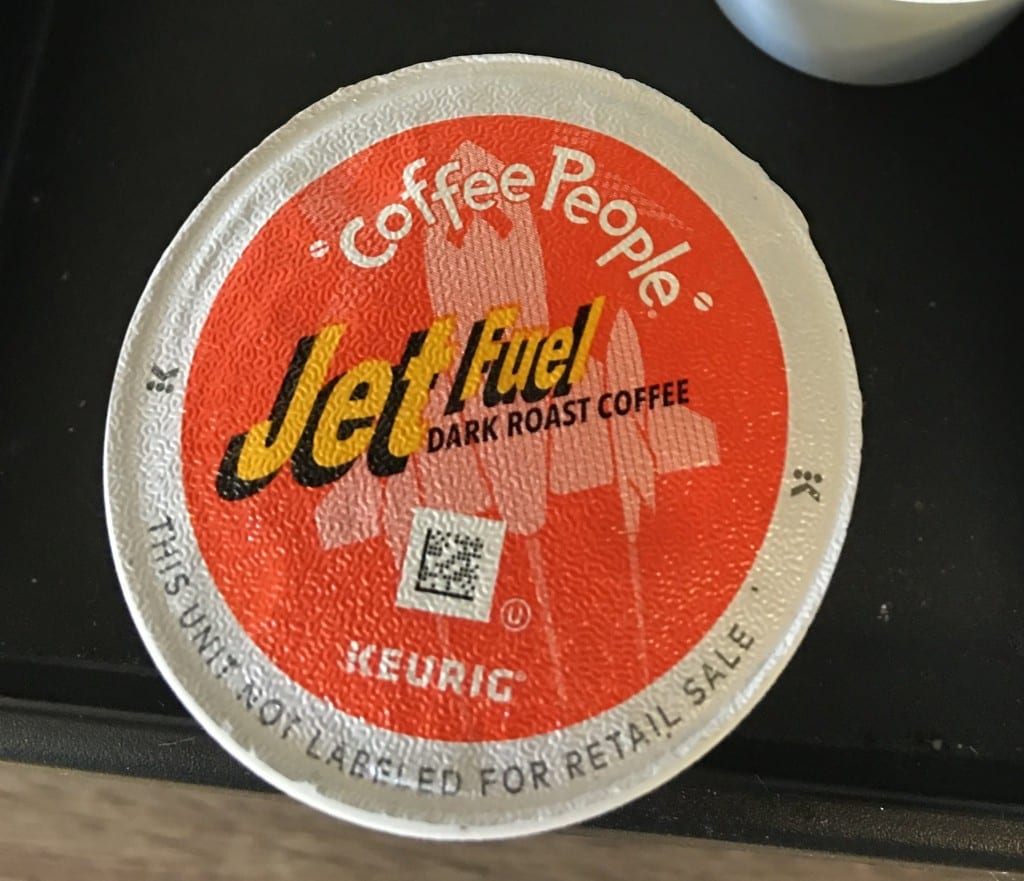 About 10 minutes before our scheduled takeoff time, it was time to board the plane. While the jet seats 30 comfortably, there were only nine of us on this Wednesday afternoon flight, which meant plenty of room for us to spread out on the short flight to Las Vegas.
The normal procedure in an airport boarding process usually involves hundreds of anxious travelers crowding the gate area. Here's a live shot from my American flight to LAX earlier that morning: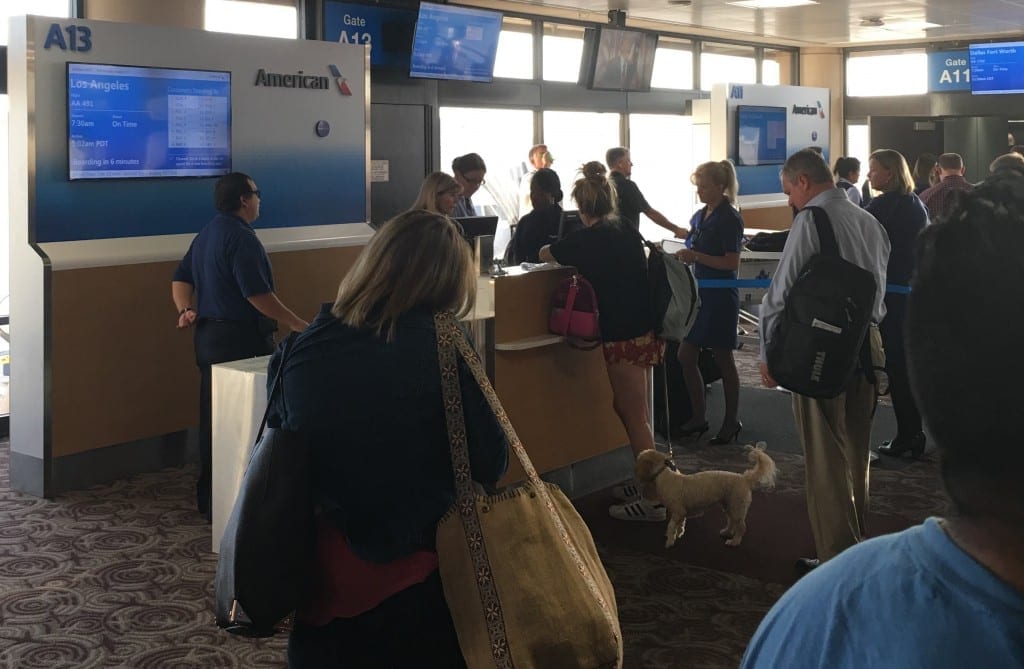 As a point of comparison, this is what the boarding area looks like with JetSuiteX: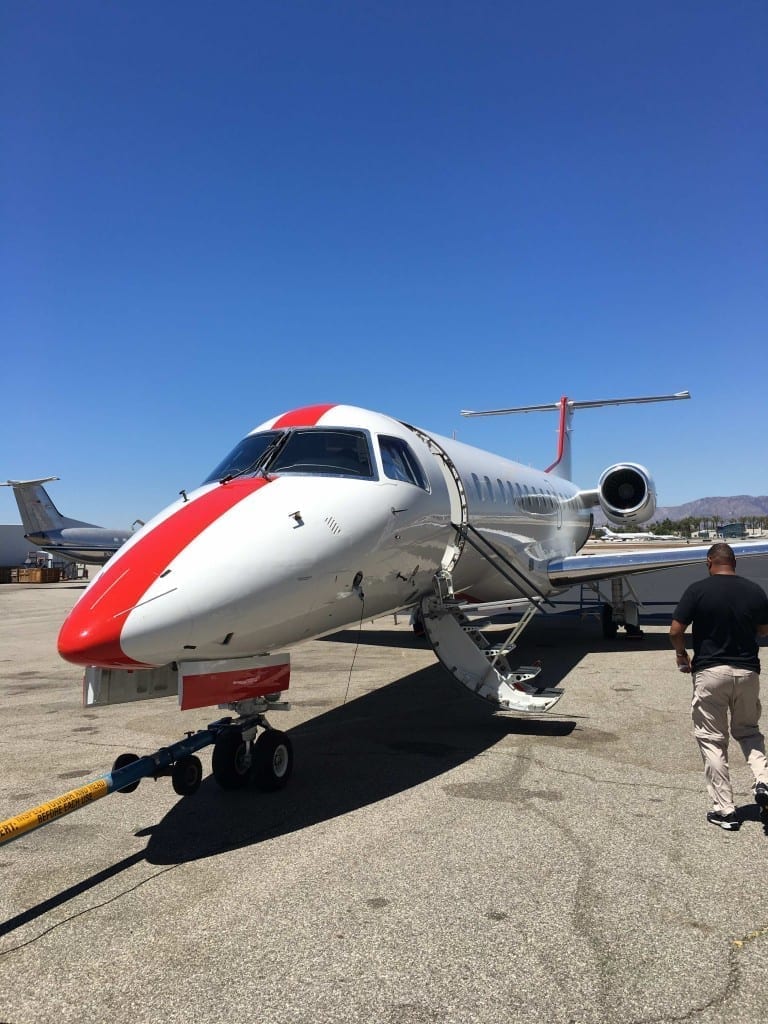 These Embraer 135s are not large jets, so all roll aboard baggage must go under the plane. This is because there are no overhead bins, which allows the cabin to feel nice and airy when you board.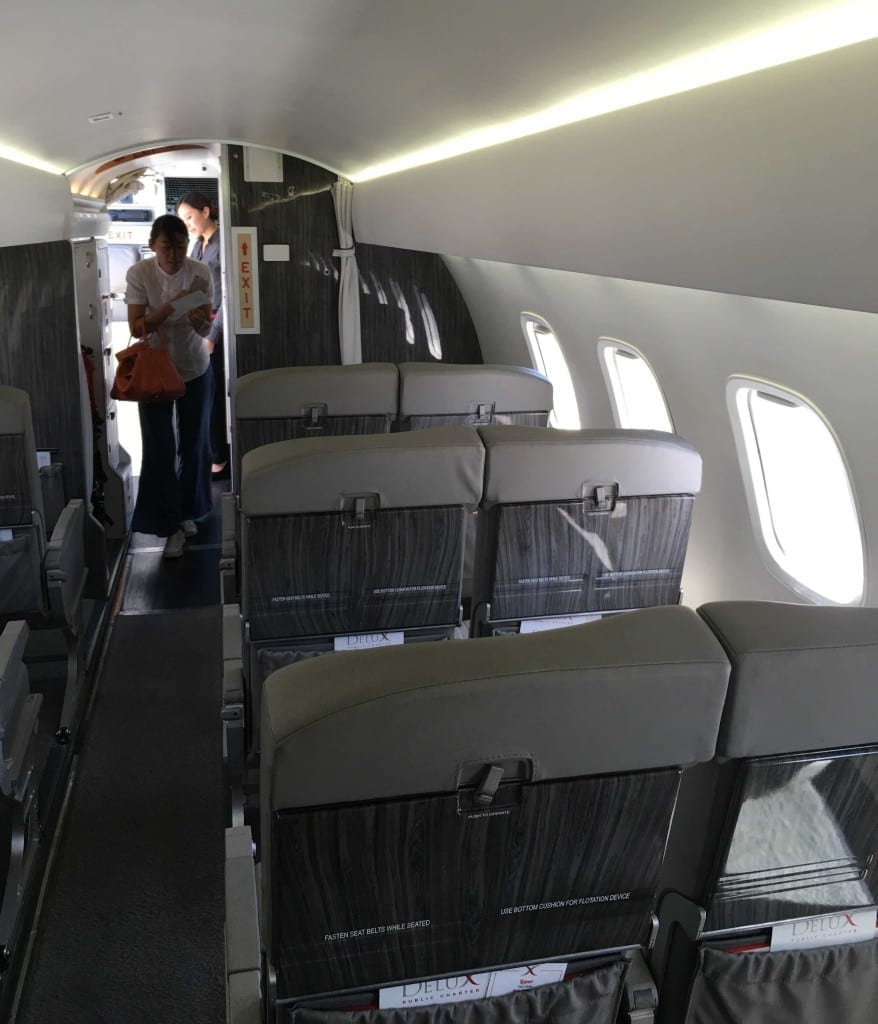 Seats are arranged in a 1-2 configuration, and I was alone in 5A for this flight.
I got seated and perused the menu, which is entirely complimentary.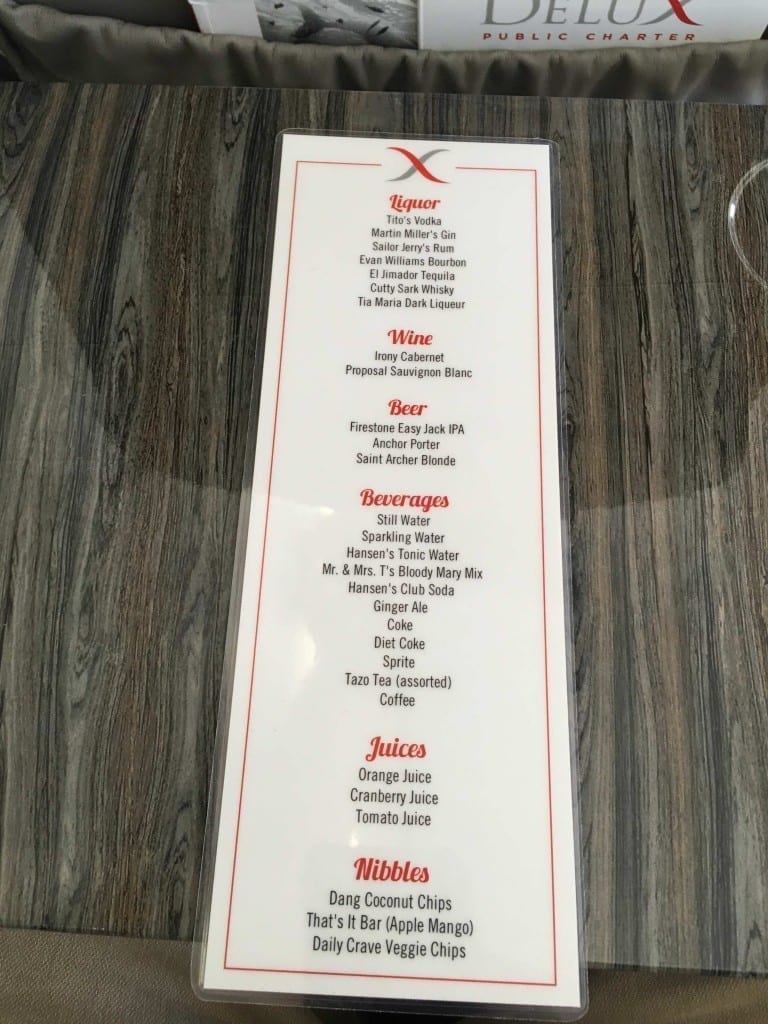 After a few minutes on board, the cabin door was shut and we were off. After a short taxi we were in the air for the 45 minute flight. After 10,000 feet, the free Gogo in-flight wireless became functional, another amazing perk of flying JetSuiteX! You have to pay for a one-hour pass for Gogo on an American flight, and prices for the service can be as steep as $16 for a 24-hour pass.
I was also pleasantly surprised to see that JetSuiteX has a selection of movies, TV shows, music, and e-books to watch, listen to and read for free. There was not enough time on this flight to watch a film, but this is a great option for longer flights.
Drink orders were taken, and then a snack basket was distributed throughout the cabin. I selected two items to try...you know, for the review.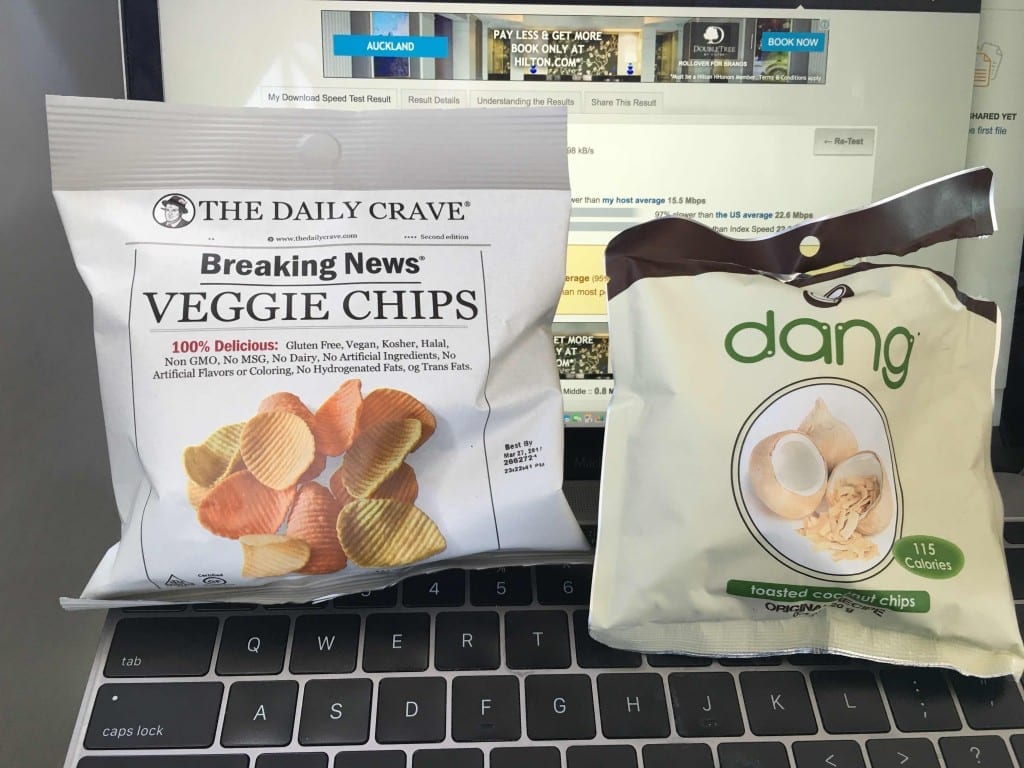 The only thing to do after that was sit back and relax. I knew this flight would go by fast, but with all the excitement, I was a little sad to see the mountains of Las Vegas come into view: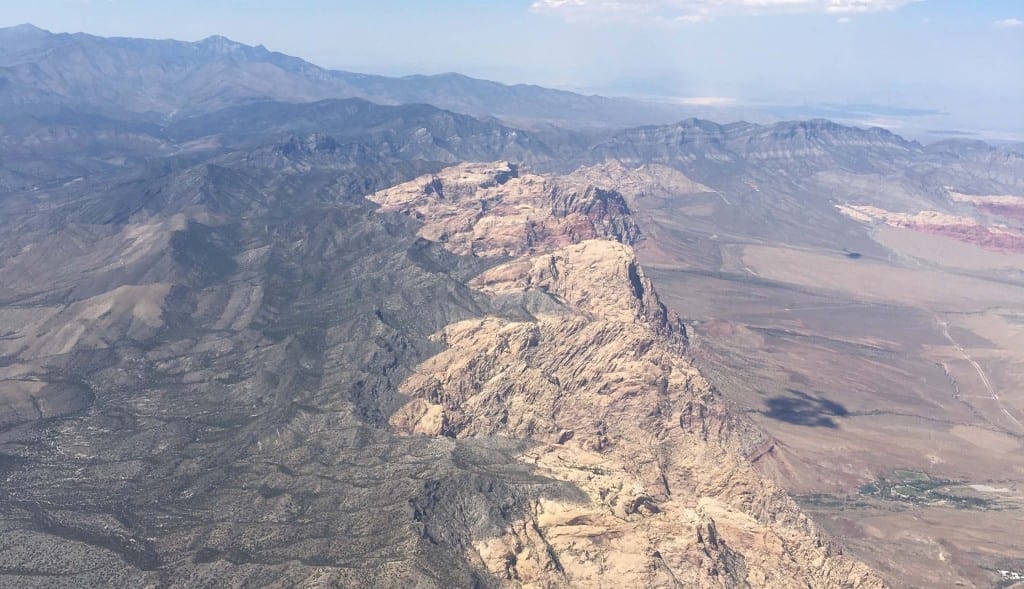 Only a few minutes past our scheduled arrival time, we landed and got a new view:
McCarran International Airport is located right on the Strip. This is frustratingly close for those arriving in the normal terminal, as it's just too far away to feasibly walk. However, our jet was parked at Atlantic Aviation, which is only a five-minute walk from the MGM Grand. This was very convenient for me as I was staying at the SLS Las Vegas, which is on the monorail, and the MGM Grand has a monorail station. No expensive taxis or Ubers for me, all I had to pay for was a $5 monorail ticket!
As we disembarked, we were handed our bags from beneath the plane. We then took a very short walk to a locked gate, which opened into the parking lot. I would estimate it took about 90 seconds total from plane to street. In fact, my check-in agent in Burbank advised me to call an Uber from the plane after we landed. I didn't have to do that, but if I did, by the time I reached the street, I would have had a car waiting for me.
Overall
JetSuiteX is an amazing product, and it's a timesaver for anyone geographically fortunate enough to be able to take advantage of it. While routes and scheduling won't appease the masses yet, 25% of all Las Vegas visitors come from Southern California, so the market is clearly there for a service like this.
Will you be trying JetSuiteX any time soon?