How to Use Hilton Honors Points in Hawaii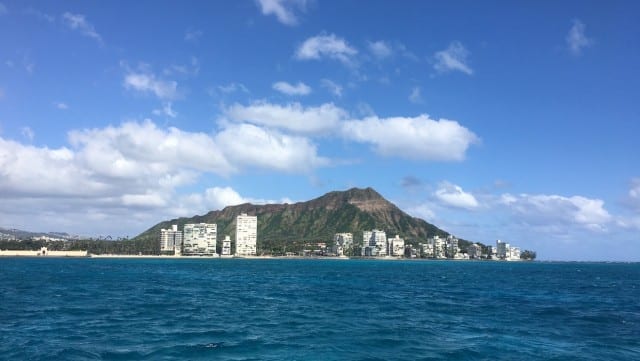 Hawaii is a great family vacation destination with lots of beautiful beaches, clear blue water, and unique culture to entertain you for weeks. But the costs of a Hawaiian vacation can definitely add up, between flights, hotels, activities, and dining on the islands. Thankfully, there are lots of ways to save using points and miles, especially when it comes to hotels. The Hilton Honors program is one of the best hotel point options, due to reasonable redemption rates and hotel availability on all the major Hawaiian islands. Let's dig in a little deeper.
First, How To Rack Up Hilton Points Quickly
If you're not familiar with the nuts and bolts of Hilton's program, we have a handy guide to get you up to speed. Our best advice to rack up Hilton points quickly is to take advantage of one of Hilton's credit card sign-up bonuses. Once you're on one of their properties, any on-property expenses will earn a lot of bonus Hilton points, depending on the card you hold. Many of the cards listed below offer Gold or Diamond status, just for holding the card, which gets you free breakfast and bonus points while on the property among other benefits.
American Express Hilton Aspire Card
The Aspire card has a 150,000 point sign up bonus, and earns 14 Hilton Honors points per dollar at Hilton properties. It also gives card members top-tier Diamond status, just for having the card. There's also a $250/year resort credit, which many of Hilton's properties in Hawaii qualify for. Additionally, there's a yearly free weekend night certificate you may use at any Hilton property worldwide, which I used last year at the Waldorf Astoria Grand Wailea in Maui.
American Express Hilton Surpass and Hilton Business Card
The American Express Surpass Card and Hilton Honors Amex Business Card both currently have a 125,000 point sign up bonus (that's 25 nights at the properties below!) and earn 12 points per dollar at Hiltons. They also give you Gold status just for holding the card.
American Express Hilton Honors Card
The Hilton Honors American Express Card has a 75,000 point sign up bonus, earns 7 points per dollar, and gives you Silver status for holding the card.
American Express Platinum Card
The Platinum Card by American Express only gives you one Membership Reward point per dollar (worth 2 cents) for your Hilton spending.
One added benefit in Hawaii for Amex cards is the frequent posting of "Amex Offers" for various Hilton brands and specific discounts for Hilton hotels and resorts in Hawaii. I've been able to take advantage in the past, saving me hundreds on my vacation. These offers would work on both points and paid reservations, but keep in mind you'll need a lot of on-property spending for points-only reservations to hit the threshold.
If you and your significant other both received the top-tier Aspire card bonus, you'd have 300,000 points which are enough for potentially seven nights at the cheapest points property below!
Hilton Properties in Hawaii
There are 19 Hilton properties spread across four main islands in Hawaii: the Big Island, Oahu, Maui, and Kauai. Of those 19 properties, 8 are Hilton Grand Vacation properties, which are sometimes connected to a regular resort property and are detailed at the end of this article. If a timeshare property is of interest, consider taking advantage of a timeshare presentation offer, which can drastically reduce the price of your vacation. Points are typically not a good option for booking these timeshare properties.
For the 11 "normal" hotel and resorts, Hilton uses a dynamic pricing model for their hotels with a lower range and an upper range. Your points redemption for your travel dates would fall somewhere within those boundaries.
Oahu Hilton Hotels and Resorts
Oahu is home to one of the most famous beaches in the world, Waikiki, and as a result, it is the most popular island to visit for mainlanders. One of my favorite "hacks" in my three visits to Oahu has been to book a property off the beach, as many hotels offer beach perks for a fraction of the price or for a cheaper points redemption.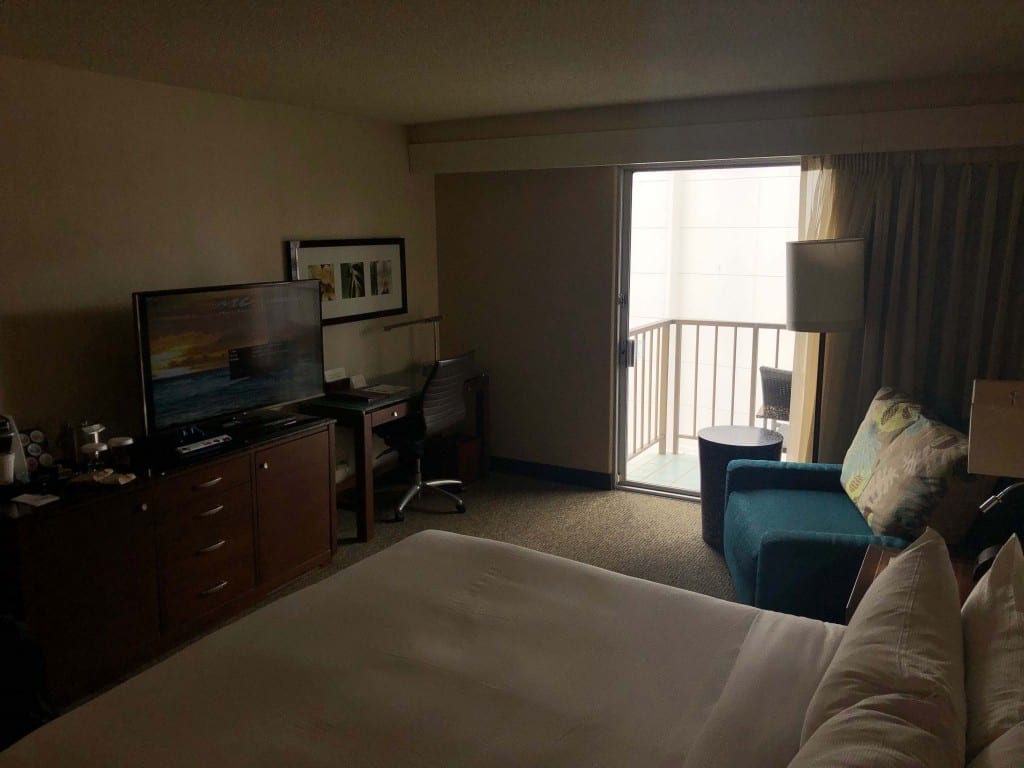 Our stay at the DoubleTree by Hilton Alana – Waikiki Beach in September of 2019 was practical for several reasons. I had only 50,000 Hilton Honors points left in my account for redemption and we needed a place to stay before checking in at the Hilton Hawaiian Village the next day. Fortunately, the DoubleTree is located down the street from the resort, so the location worked for us as well.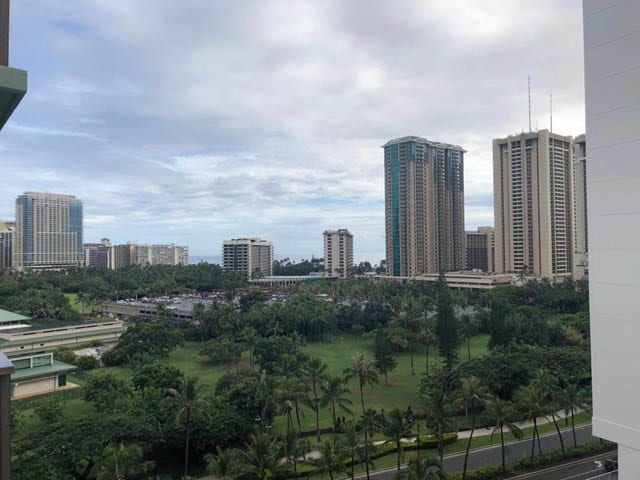 The property itself feels more like a city property, with the lobby up an escalator from the ground floor. At check-in, we were given a view room, which overlooked Fort DeRussy Beach Park. Diamond breakfast was continental only, but an upgrade was available for $8/person. There was also a PS3 in every room that you could use for DVDs, which were available to rent for free in the lobby. The hotel charges a resort fee of $18/night, which is more a function of its location than it qualifying as a resort. Your Aspire $250 resort credit would work here.
In 2017, we took advantage of an Amex Offer, coupled with our $250 Aspire credit card resort credit, and stayed three nights at the Embassy Suites by Hilton- Beachwalk. Our out-of-pocket costs would have been $700 for the three nights, but we ended up only being responsible for $150 after our discounts.
The rooms are true suites with a living room and bedroom. We had an oceanview overlooking Waikiki (about a block away) as well as the hotel's pool. One great feature of all Embassy Suites is the nightly happy hours, which include alcoholic beverages and light appetizers. It was very popular, given drink prices in Hawaii, but we found the alcohol quality to be quite poor. Breakfast was also included, which was a pretty large buffet with hot items. There were plenty of Japanese options as well to cater to the many guests from that country that visit Hawaii. You don't need status to take advantage of the happy hour or breakfast. It's free for all guests at Embassy Suites properties.
This property is located west of Honolulu, near the Ko Olina development. It is far away from the touristy Waikiki, but not close to any tourist attractions within walking distance. Parking is free and the property doesn't charge a resort fee. The property opened in 2016, so it is relatively newer than other options on the island. Don't expect anything "Hawaiian-inspired" separating this hotel from a mainland hotel, though. Expect free breakfast and a nightly happy hour for all guests regardless of status.
Located next door to the Embassy Suites, the Hampton Inn and Suites Oahu/Kapolei is also new, but don't expect a resort when staying at this property. All guests do get free breakfast.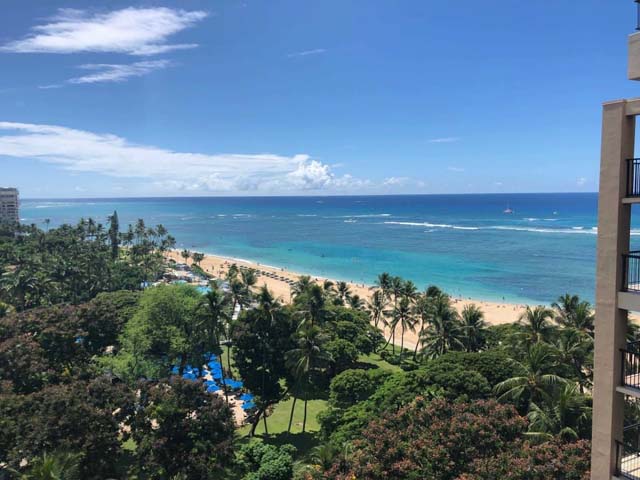 I have to admit, I didn't expect much from this property when I stayed in September 2019. For one, the hotel is massive, with 3,386 rooms it is the largest hotel in Hilton's portfolio (and 17th in the world by room count.) There's a lot of history here, having opened in 1955 and famously played host to Elvis when he shot Blue Hawaii. 
We redeemed 60,000 points for a one-night stay to check it out. I was especially curious to see what kind of room we'd receive, as the property was close to sold out while we were there. Despite that, we received a suite with one of the best views I've ever had from a hotel, right down Waikiki Beach!
Check-in is as chaotic as you'd imagine, with several lines depending on what status you are (and even what language you speak.) My Diamond status probably saved me 15 minutes in line, at least. Once at the desk, we learned we were given a suite in the Diamond Head Tower, which was close to the check-in desk. Other towers could be as much as a 10-minute walk. We received a welcome package with some free waters as well as our Diamond breakfast coupons, which could be redeemed at several different restaurants on property (or used as a resort credit of $15 per person.)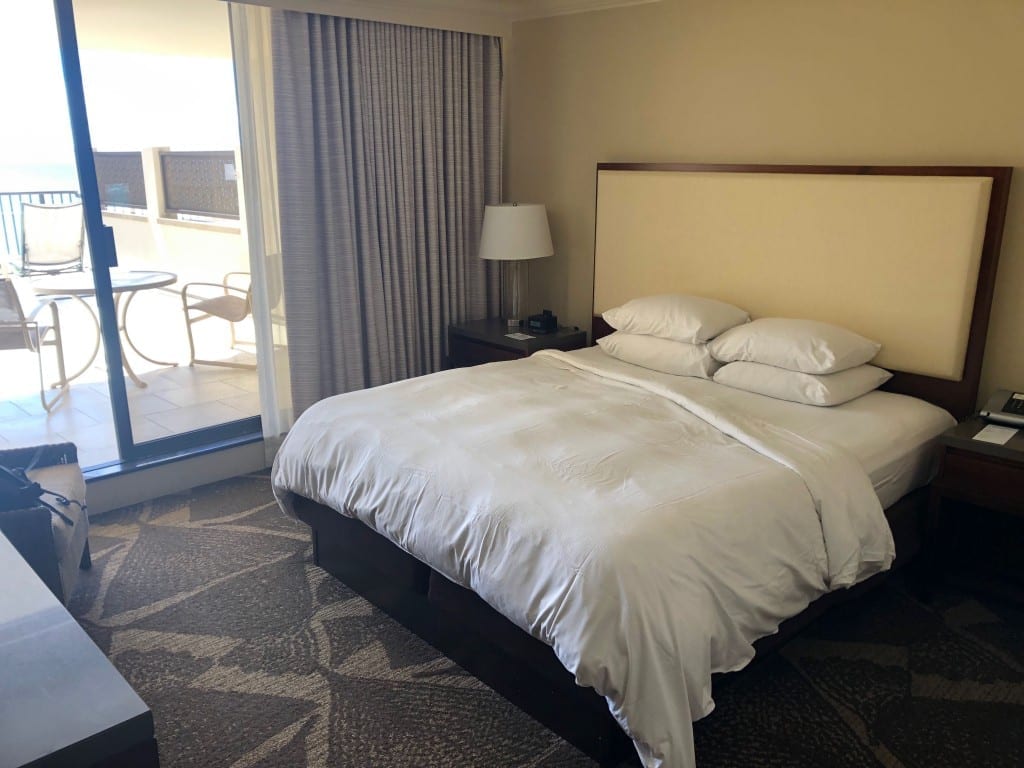 The room itself needed some renovations, but nothing beats the large balcony with reclining chairs and the view!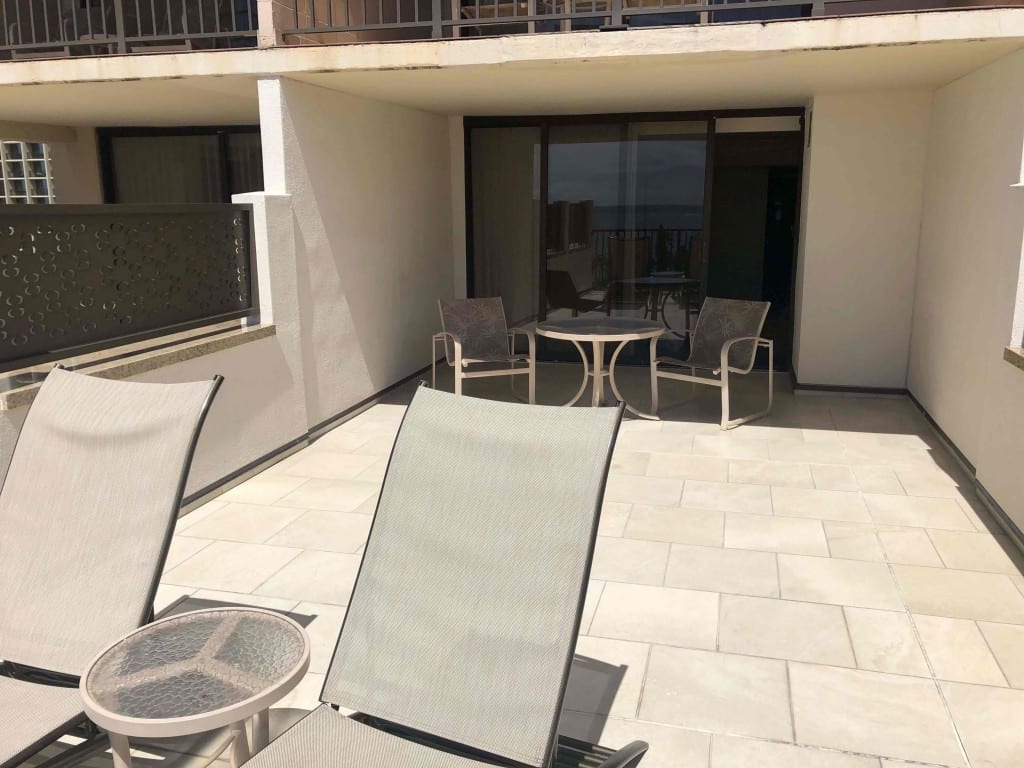 With five different pool complexes, including a large lagoon for paddleboarding and other water sports, 22 restaurants, dozens of shops, and entertainment everywhere, I couldn't help but get wrapped up in how fun and touristy the resort was. Though, I wouldn't want to stay here for my whole vacation unless I was in the Alii Tower with its own pool and extra perks. Keep in mind, there's a $40/night resort fee, but it is waived for points reservations.
Located down the beach from the Hilton Hawaiian Village, the location of the Hilton Waikiki Beach is great. It's in the center of the action, though not on the beach as the name would suggest. There's a $25/night resort fee, waived for points reservations. One great feature for Diamond members is the Executive Lounge, which is where breakfast and nightly hors d'oeuvres would be served.
Also located off the beach, but within walking distance, the Hilton Garden Inn Waikiki Beach is a good "budget" choice for those that want to stay in Oahu. There's a $29/night resort fee (despite the property not being a resort,) but includes morning yoga, wifi, sunscreen, and pool toys. Breakfast for Golds and Diamonds is in the property's restaurant, the TR Fire Grill.
Maui Hilton Hotels and Resorts
Maui is very different from Oahu. While Oahu features the business center of Honolulu, Maui focuses more on tourism on the island. While we were there, we drove the Road to Hana, which was spectacular, as well as to Hawaii Volcanoes National Park's Haleakala.
There's just one Hilton property on Maui, but it's one of the most famous (and expensive) hotels there.
Waldorf-Astoria Grand Wailea, Maui (95,000 Hilton Honors Points)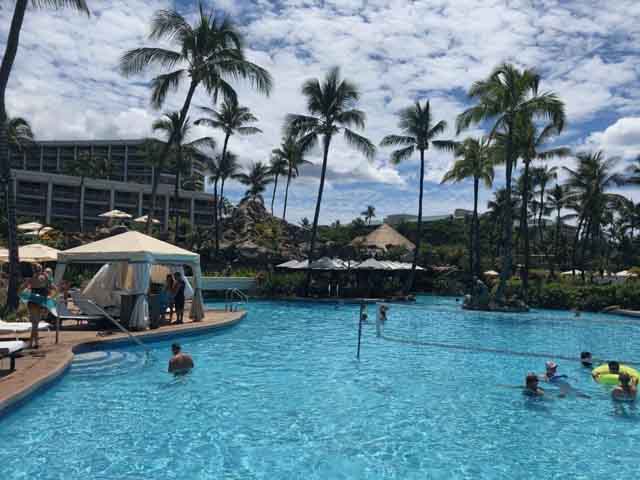 We stayed here in September 2019 to celebrate my 30th birthday. We did a 6-night stay, with one night paid with a free weekend night certificate from my Aspire card and a 5th-night free award stay, bringing my per-night price down to 76,000 points per night.
First, the positives of the resort. The pool complex is really unique, with a water elevator that allows guests to reach the top of their water slides without ever leaving the pool. Much of the food was very high quality, though very expensive and we had some issues which are detailed below. The location of the resort is great as well, with many other resorts located nearby for more dining options.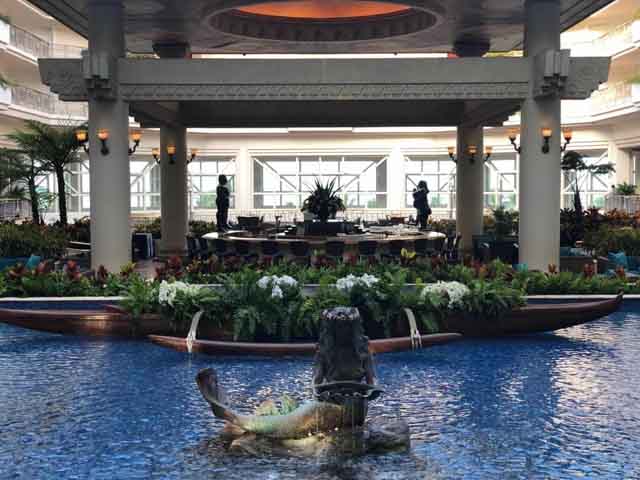 The negatives of the resort are probably too long to list here. For one, the resort advertises itself as a luxury resort, but with 780 rooms the service was truly lacking. Check-in took a while and we had to fight for a partial oceanview upgrade, which is completely within the guidelines of Hilton's program. The room itself needed a lot of renovation, with chipped paint, dated furnishings, and chipped tiles in the bathroom. At breakfast, which is free for Diamonds, but strictly continental and plated, we had mold on our blueberries. Dealing with the resort for these service issues was frustrating and took away a great deal from the experience.
The main issue is that the resort is terribly overpriced. While Hawaii is an expensive destination, food and drinks at this resort were as high as in the Maldives but without much of the personalized service, we received there. We did experience some hotel employees that went the extra mile, but they were few and far between. The pool complex needed renovations as well, with slides almost ripping our swimsuits, but it's my understanding that those issues have been fixed now.
Kauai Hilton Hotels and Resorts
Kauai is my favorite of the Hawaiian islands, with beautiful jungles and a laid-back vibe. While there are some very fabulous resorts on the island, there are fewer options than on Maui or Oahu. In fact, there's just one Hilton option on Kauai.
Hilton Garden Inn Kauai/Wailua Bay (44,000-50,000 Hilton Honors points)
Relatively new (opened in 2016,) the Hilton Garden Inn Kauai/Wailua Bay is an excellent option for those visiting the island, but who don't absolutely need to be on the beach to explore the island. Golds and Diamonds get a full breakfast at this hotel. There's a $22/night resort fee, waived for award reservations, that includes bike rentals.
Big Island Hilton Hotels and Resorts
The Big Island is the most "active" island, meaning there are still erupting volcanoes! That's one of the main draws to the island, but other draws include golf and tennis. There are two Hilton hotels on the island.
Hilton Waikoloa Village (54,000-60,000 Hilton Honors Points)
The Hilton Waikoloa Village is a pretty unique hotel and has a boat transport system as well as a tram to take you through the resort. There are also snorkeling, pools and waterslides to keep your kids busy. While I haven't stayed here yet, I do know that the Gold and Diamond breakfast is continental, with a $12/person upgrade to the full breakfast. There's a $40/night resort fee, waived for award reservations.
Grand Naniloa Hotel Hilo – A DoubleTree Hotel (48,000-50,000 Hilton Honors Points)
Located on the east side of the Big Island, this hotel has recently been renovated. Continental breakfast for Elites, with a $10/person upgrade to full breakfast and a $30 resort fee.
Hilton Grand Vacations Properties
Oahu Hilton Grand Vacations Properties
There are five properties on Oahu, all in the Waikiki area, and most situated around the Hilton Hawaiian Village Resort. The Lagoon Tower, Grand Waikikian, and the Kalia Suites are located on the Hilton Hawaiian Village grounds, while the Hokulani Waikiki and Grand Islanders by Hilton are located a short walk away.
Maui Hilton Grand Vacations Properties
Maui has only one Hilton Grand Vacations resort. The Maui Bay Villas, which has 27 acres of fun for families, includes pools, bars, restaurants, and a fitness center.
Big Island Hilton Grand Vacations Properties
There are four properties on the Big Island, and all four are either on the property of the Waikoloa Village Resort or has access to the facilities. Those properties include Kings' Land, Kohala Suites, the Ocean Tower, or the Bay Club at Waikoloa Beach Resort.