I tried Amazon Dash so you don't have to.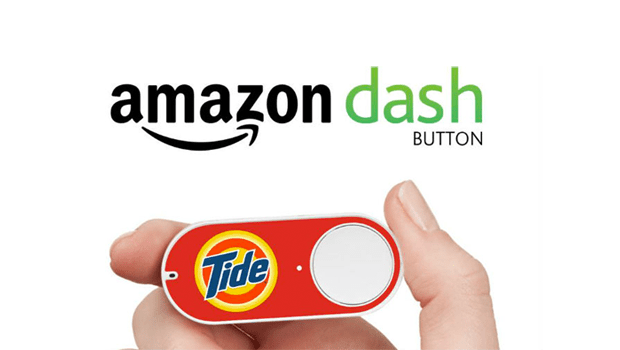 We seriously thought this thing was an April Fools joke when it was announced on March 31 earlier this year.
The idea that you could run out of laundry detergent and just hit a button next to the washer to order more seemed too much like something out of the Jetson's to be real, let alone scalable. So when the buttons became available for purchase, of course, we had to give it a try.
After completing an order, one thing is clear: Amazon Dash has nothing to do with saving money and everything to do with convenience. Which, of course, is what you're really paying for here.
Dash all the things!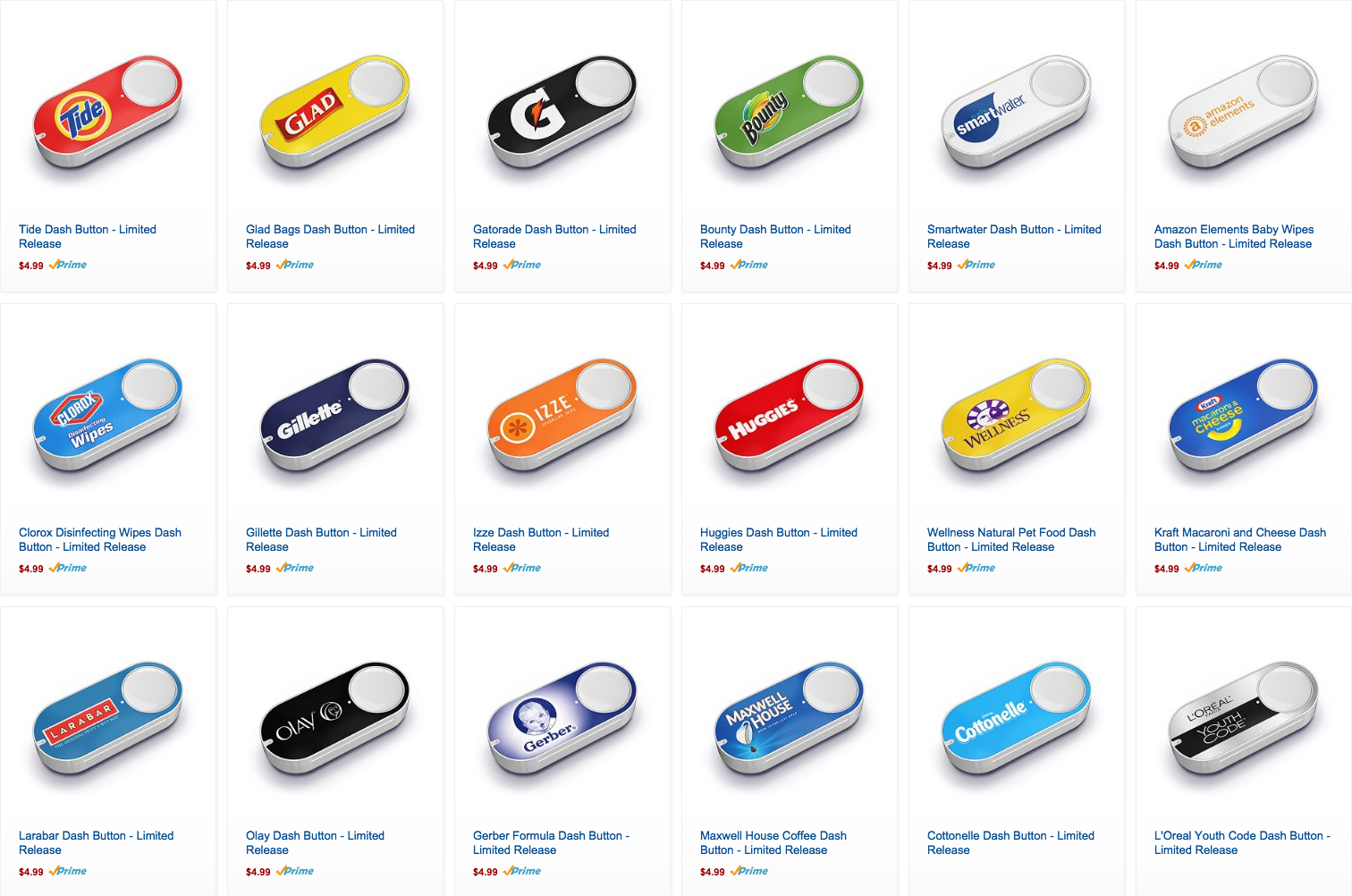 Dash buttons are available to Amazon Prime members for $4.99 each, up front, before you ever use it to order any product. And that's on top of your annual $99 Amazon Prime membership.
(UPDATE: For a limited time, Amazon is trying to coax more members to give it a try, offering a $4.99 credit on your first order, basically making the button itself free so long as you actually use it at least once.)
It all seemed just a touch ridiculous until I remembered a story I once heard about Steve Jobs and the creation of iTunes.
"But Steve, people already download music free," someone told him, referring to the practice of illegally downloading MP3s. "Why would anyone pay for that?"
"Easy is better than free," he allegedly said, cool as a cucumber.
Now, I haven't ever found anything that proves Steve Jobs ever actually said that (please hit me up with a source if you have one, it seems to be more urban legend than anything), but it's still absolutely true: If you make something easy, consumers will pay more for that every single time.
As of right now, "dashable" items include a very limited selection of products from these brands:
Tide
Glad Bags
Gatorade
Bounty
Smartwater
Amazon Elements Baby Wipes
Clorox Disinfecting Wipes
Gillette
Izze
Huggies
Wellness Natural Pet Food
Kraft Macaroni and Cheese
Larabar
Olay
Gerber
Maxwell House Coffee
Cottonelle
L'Oreal Youth Code
Ziploc Bags
Finish Dish Washing Detergent
Optimum Nutrition Whey Protein
Dixie Paper Products
Hefty Bags
Ice Breakers Mints
Orbit Gum
Depend
Digestive Advantage
Greenies Dog Treats
Mrs. Meyers
It's pretty obvious looking at this list that Amazon is catering to the relatively affluent 2.5 kid household. Mrs. Meyers, Larabar and Wellness Natural are all premium brands that appeal to a more upscale demographic, after all. And if you're excited because you totally need a Dash button for your Izze soda addiction, you're probably not all that price sensitive to begin with.
Unboxing the Amazon Dash Button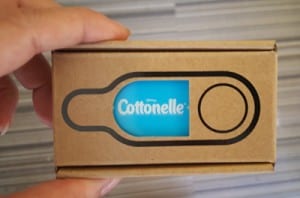 I opted for the Cottonelle Dash Button for my experiment since carrying an awkwardly shaped 12-pack of double roll toilet paper home from the grocery store is something I despise and generally prefer to avoid. If anything on Amazon's list of things that could magically show up on my doorstep at the touch of a button spoke to me, this was it.
As promised, the button arrived within 2 days (yay for good ole Amazon Prime). When I showed it to my co-workers, they totally started laughing. "You mean it's actually a real thing?" said one. "I thought that was an April Fools joke," said another.
At home, I threw it on my coffee table, where it sat for nearly a week before I bothered to set it up because I had no idea how long it would take and it's not like I was almost out of toilet paper right then, anyway.
Amazon Dash Setup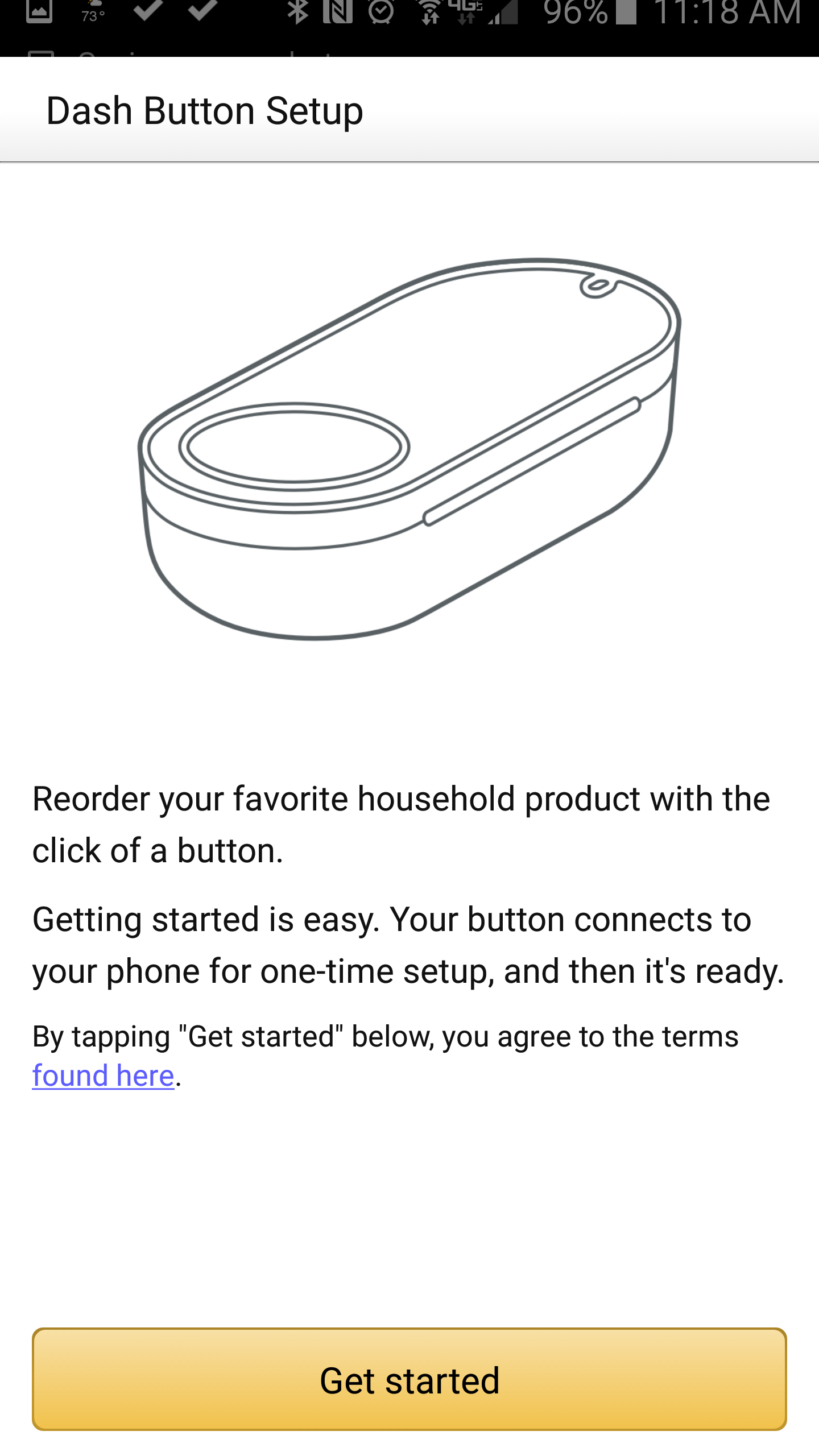 When I finally got around to the setup, it was easy, seamless and relatively fast. The only hiccups were that I needed to install the Amazon app on my phone first and one slightly distressing moment when it temporarily couldn't connect to my wifi. The app is required to set up your button, and later so you can confirm Dash orders inside the window they give you to change your mind (or cancel the order your toddler placed when you were distracted for 30 seconds).
My Cottonelle button had four product options available, only 3 of which were Prime-eligible. Of course, the one that wasn't Prime was the one I actually wanted, and I wasn't willing to pay shipping on anything I could get myself at the grocery store within 10 minutes, so I compromised on a 32-pack that worked out to $.50 per roll and wondered where I was going to find space for that much toilet paper.
I hid my button inside a bathroom cabinet door, where it's away from curious little fingers and unlikely to turn into a conversation piece for houseguests.
Placing an Order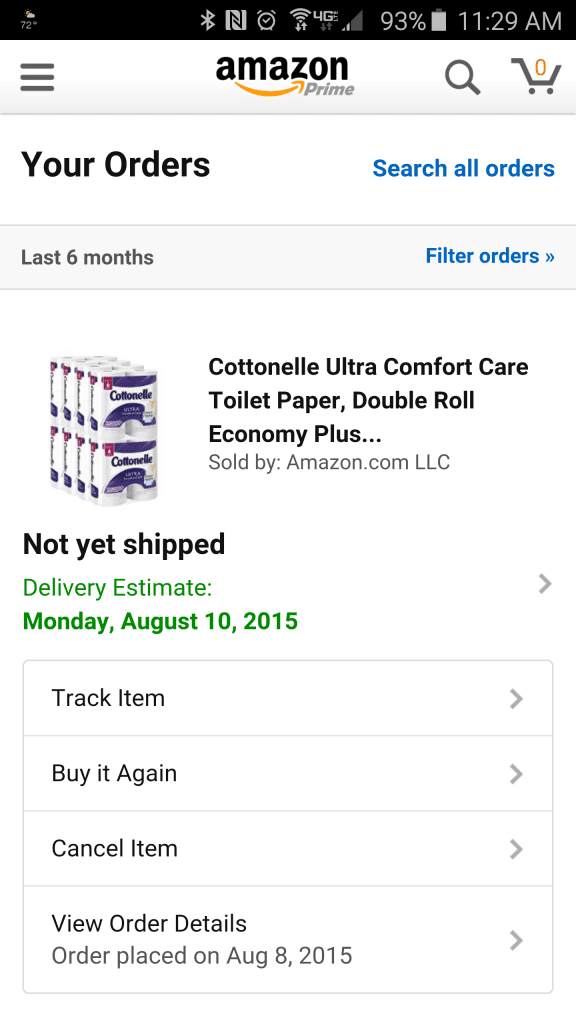 Once my Dash button was set up, all I needed to do to place an order for way too much toilet paper was press the button. An old Animaniacs sketch popped into my head, "You no push the button, I push the button!"
Hitting the button triggered a push notification through the Amazon app on my phone to alert me that an order had been placed.
Two days later, like clockwork, I had a giant box of Cottonelle that I didn't have to lug home from the grocery store on foot. Huzzah!
Amazon Dash Pros and Cons
The good part is that it's easy and convenient. Amazon is clearly banking on this being enough to convince their Prime customers to use it.
However, I don't like that it's not easy to check out product options before I buy the button. I was pretty sure when I bought the Cottonelle button that at least one option would work for me, but I hesitated over the Wellness Natural button when I didn't immediately see a list of what I could order. (I decided I was better off without that one.) You can find a link to this info on the button pages, but you have to look closely: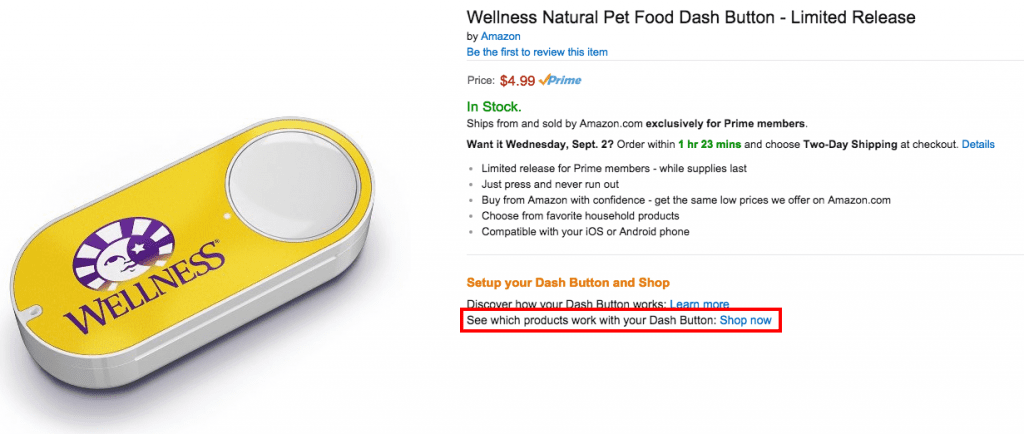 Once I've navigated to that product list, it's not clear to me if this list is accurate - and it's unlikely that you would realize that it's confusing until after you've already bought and set up the button. For example, taking a look at Cottonelle and what was available when I set up my button vs. what's currently listed on Amazon, the options and prices are clearly different. In fact, the 32-pack I set as my default appears to be selling right now for $7 higher than the $15.96 I paid, and that makes me wonder whether or not I'll be paying the same price as before - if I use it again.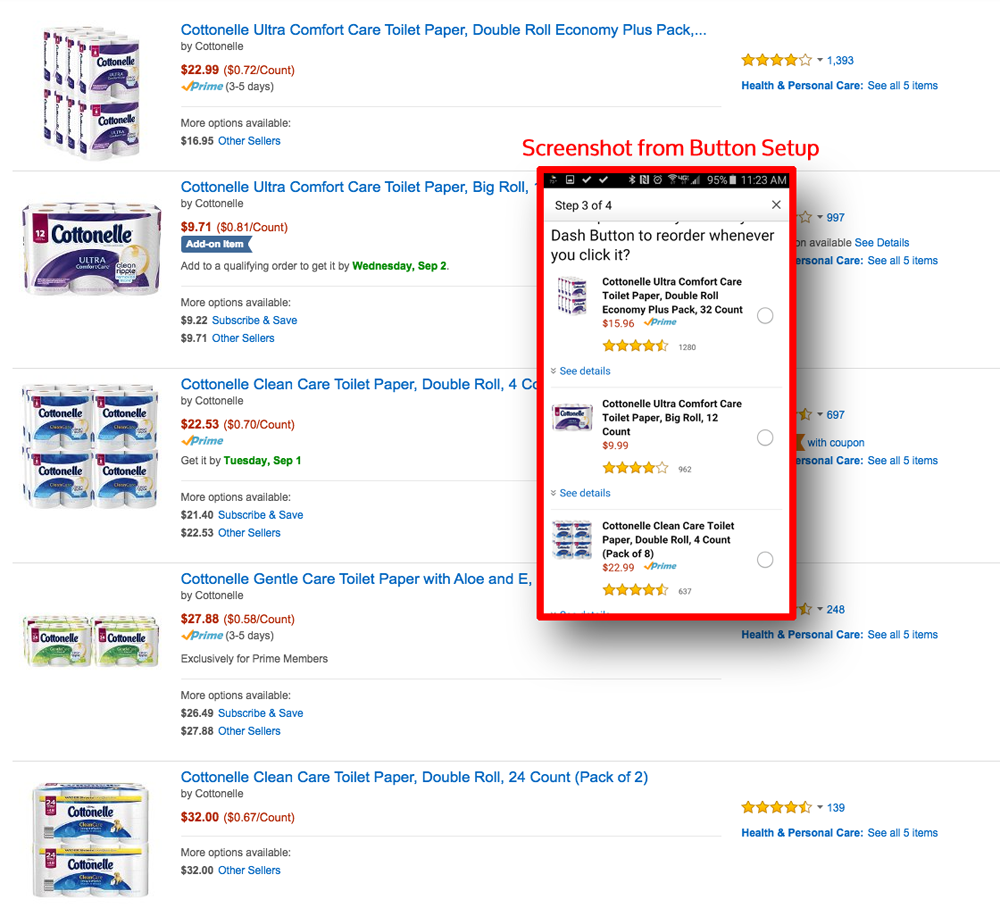 At the end of it all, even having gone through the setup and order process, I have more questions than answers, mostly about how much my next order will cost me. If I place another order, that is, because as much as I hate carrying that fat pack of toilet paper home, my neighborhood grocery store, where the pricing is less ambiguous and I'm not locked into a single brand, is just a block away.
But not everyone has such convenient grocery options as I do. And in the dead of winter, when the thought of trudging through snow and ice and subzero temps makes me want to cry, even I might give it another shot just to avoid stepping outside.