15 Best JCPenney Black Friday Deals for 2019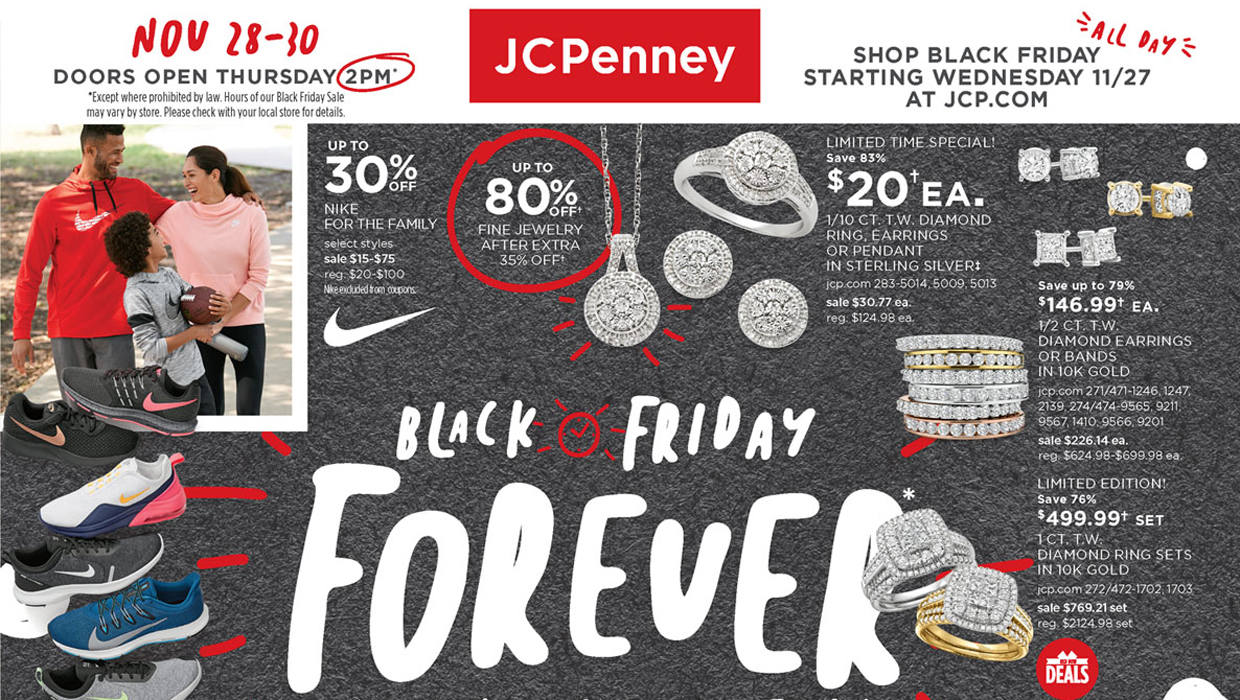 If you stopped caring about JCPenney's Black Friday sale when they stopped handing out Disney snow globes, we totally get it. They were such a cool, quirky Black Friday tradition and all of us were sad to see it go. So how does the JCPenney Black Friday ad hold up now that the Disney snow globes are no more? We find it to be a fairly standard-issue sale,  with a handful of gems hidden amidst more ordinary fare.
When does the JCPenney Black Friday sale start?
For the third year in a row, JCPenney is starting their Black Friday sale at 2pm on Thursday.
There are great incentives for shopping in-store.
JCPenney is giving a limited number of coupons away, first come first served, to shoppers who actually visit in-store. Most coupons will be for $10 off $10, fewer will be good for $100 of $100, and many fewer will be worth $500 off $500. This offer will not be available online.
However, we're not ruling out the possibility of unannounced coupon codes, so be sure to check our collection of JCPenney coupons before you shop, just in case.
Watch out for the rebates.
Here's where we issue our warning to always read the fine print on JCPenney's Black Friday deals. Many of them require a mail-in rebate to get the advertised price, and we include several of these on our list below.
Our Favorite JCPenney Black Friday Deals of 2019

Original Price: $579
Black Friday Price: $179
Never mind that original price – we regularly see the RV761 priced between $260 and $300. That makes $179 an exceptionally good price for this model.

Original Price: $100
Black Friday Price: $29.99 after rebate
Anyone who loves to dress a table needs a set of versatile white dishes in their collection. This 40-pc set from JCPenney includes service for 8. We've posted deals on similar white dish sets as recently as last month for $50, so this is truly an incredible bargain.

Original Price: $160
Black Friday Price: $49.99
You'll see weighted blanket deals from a lot of retailers this year, and we expect all of them to be popular. We think that $50 is a good price for a 15 lb. blanket compared against what we've seen so far this season.

Original Price: $70
Black Friday Price: $7.99 after rebate
It's hard to pass up any small kitchen appliance for $8. We'd give this toaster a serious look at 2-slices, but it's packing in the value with 4 slots to satisfy all your bread and bagel toasting needs.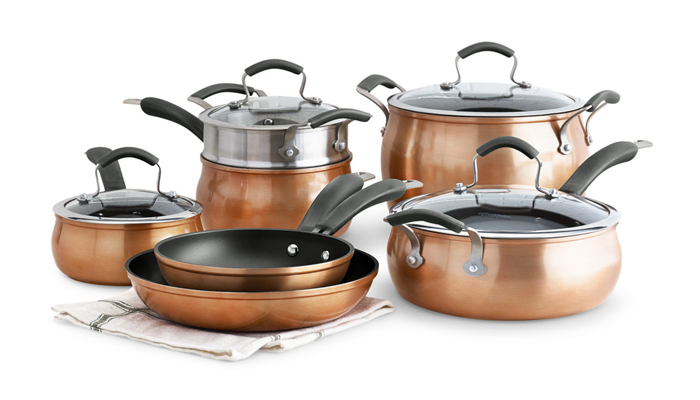 Original Price: $320
Black Friday Price: $79.99
This aluminum nonstick copper cookware set is a steal at its closeout price of $80, and it's beautiful. It's earned 4.5 stars from its reviewers, including one who says that it's "sturdy, well constructed and has a nice, hefty feel in your hand."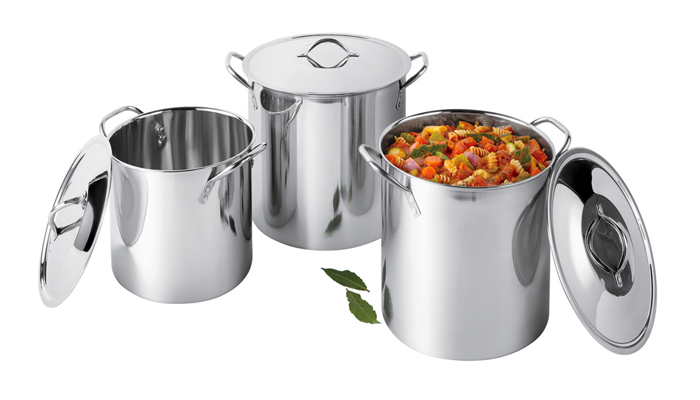 Original Price: $60
Black Friday Price: $7.99 after rebate
We know that stock pots aren't exactly the stuff of your wildest dreams, but trust me, it's nothing until you need one, and then it's everything. If you've ever priced them out, you know that good stock pots are not cheap. Buy this 3-pack and find a place for them in your cupboards. Your future self will thank you.

Original Price: $30
Black Friday Price: $9.99
Any time we see denim priced this low, we get excited.

Original Price: $50
Black Friday Price: $7.99 after rebate
When they're discounted, we usually see these Cuisinart knife sets going for $17, even through Black Friday and the holiday shopping season. The $8 price tag is an absolute steal. On a personal note, I have a set of these knives at home, use them daily, and they're pretty great.

Original Price: $40
Black Friday Price: $7.99 after rebate
Honestly, if you can get a 6-qt. slow cooker for $8, buying it is just a moral imperative. Any home cook will tell you that having more than one slow cooker isn't a bad thing at all. And if you're still not convinced, it makes an excellent gift for that one person on your list who's impossible to buy for.

Original Price: $24
Black Friday Price: $12
We're always glad to see the Black Friday discounts on these sweet Disney toddler dolls. There are thirteen toddler princesses to choose from.

Original Price: $70
Black Friday Price: $17.99 after rebate
Deep fryers are generally tough to justify in a home kitchen given their bulk and price tags, but this one is just $18 and small enough to store.

Original Price: $120
Black Friday Price: $29.99
The lowest price we've ever posted for a 5.5-qt air fryer is $50. This doorbuster model from Cooks blows that price low out of the water.

Original Price: $100
Black Friday Price: $29.99
Smokeless grills can be rather expensive. We were thrilled to be posting deals for $50 last Black Friday and, well, this one is better.

Original Price: $180-$220
Black Friday Price: $39.99
Black Friday is always a good time for luggage deals. This one doesn't disappoint. Pick up a large suitcase for the price of a discounted carry-on.

Original Price: $40
Black Friday Price: $9.99
If you haven't hopped on the packing cube bandwagon, $10 is an easy price point to give it a try. Buy several to give away as stocking stuffers.