Snag a Jimmy John's sandwich for just $1 on 4/21!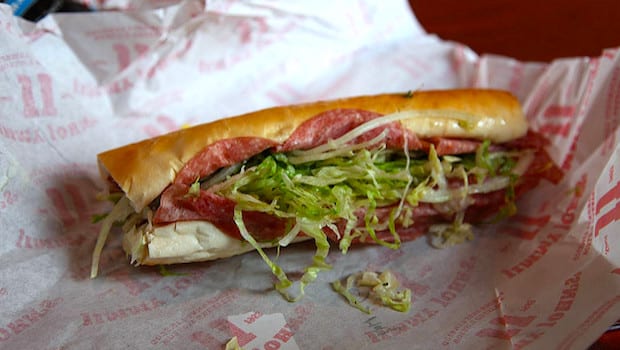 In my 26 years on this planet, I think it's safe to say that I've tried every single thing on the Jimmy John's menu more than once, and I've never been disappointed. Their aromatic French bread is crispy on outside, and perfectly chewy on the inside, their meats are fresh and salty, their tuna salad is to die for, their tomatoes are crisp and they somehow always know just how much mayo to put on for that extra fatty, tangy kick. Suffice to say, I love the place, but if I ate there every day, I'd be broke. 
Imagine my elation when I heard the news: as a token of appreciation for loyal customers like myself, Jimmy Johns will be selling its sublime submarine sandwiches today (4/21) for just $1 between 11 a.m. and 3 p.m.! Here's what you need to know:
Check out the list of participating stores on Jimmy John's website to make sure you can get a $1 sub at your nearest JJ's location.
This is an in-store offer only. You cannot get the $1 sandwich by ordering online or over the phone for pickup or delivery.
The $1 sandwich deal only applies to Slims and regular menu items (#1-6 + the J.J.B.L.T.), and NOT to the J.J. Gargantuan or the Giant Club sandwiches.
All $1 subs come with French bread or wrapped in Unwich lettuce. Nine-grain wheat bread will be available for an additional fee.
One $1 sandwich may be purchased per customer, BUT according to their FAQ, customers who want more than one can go through the line as many times as they want.
So there you have it, fellow sandwich lovers! I know where I'll be at lunchtime, will you be participating in $1 sandwich day?
UPDATE: A few Brad's Deals team members braved the line around the block and CAN CONFIRM this is currently happening! Just look at our happy faces and expertly-wrapped sandwiches. Get out there, guys!