Three Ways to Throw the Perfect Kindergarten Graduation Party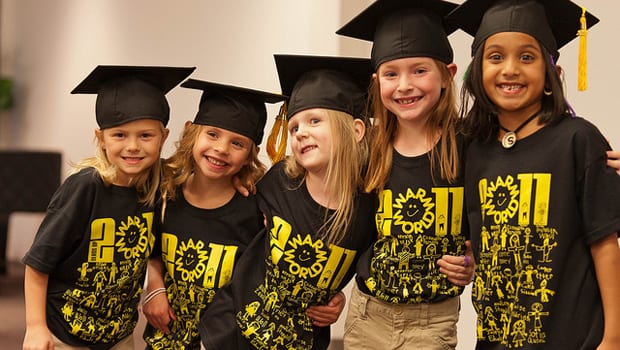 There is a school of thought which suggests that the kindergarten graduation ceremony is one of those silly unearned rewards that encourage children to develop nasty senses of personal entitlement: a trophy for showing up to most of your tee-ball games, a consolation present for sitting through your siblings' birthday parties, a ride-on pony for managing to stay off the no-fly list until high school, and so on. There is another school of thought which suggests that six-year-olds in tiny mortarboard caps are adorable and it's nice to have an excuse to kick off the summer with a family get-together, and with that in mind we present three ideas for a killer kindergarten graduation celebration.
Option I: Party Planning by Pinterest
Kindergarten graduation is an institution of such questionable necessity and undeniable cuteness that if it did not exist, Pinterest would have to invent it. If your favorite part of any party is the time you spend putting together a custom-crafted centerpiece the night before, this should be the obvious first step in your journey - a quick search reveals that the internet's #1 repository of cake pop glamour shots is teeming with more graduation-themed recipes, DIY decor tutorials, and inspirational photos than any one hostess could possibly need.
You'll have to make some tough choices: Should the party's theme appeal to parents or kids? Will your treat bags be stuffed with bubbles or bookmarks? Do Reese's Cup graduation caps look better on cupcakes or lollipop sticks? Are rolled diplomas best represented in edible form by tuile cookies, tortillas, or Ho-Hos?
Once you settle on a theme, a menu, and a set of architectural blueprints for your handcrafted pop-up book invitations, it's time to go shopping for supplies. If you've got baked goods to crank out, you'll want to check out Jo-Ann's 25% off sale on cupcake-making supplies, and if you're planning for paper crafts, you may be interested in their 40% discount on Cuttlebug machines and accessories. If you prefer to shop in-store, Michaels releases a fresh batch of printable coupons every week, and if you only need to pick up one big-ticket item, Hobby Lobby always offers a 40% off coupon that's good for a single online or in-store purchase.
Of course, not all crafty Pinterest addictions translate into real life. If you like looking at sculptural cakes and meticulously-assembled tablescapes a little bit more than actually constructing them, why not try...
Option II: The Budget Blowout
If you prefer your party supplies pre-made, you're in luck - we're pretty deep into graduation season now, and you can only sell "Class of 2012" beer cozies at full price for so long. In particular, Oriental Trading Company has slashed their already-low prices on seasonal graduation items, meaning that you can go pretty nuts with the theme on a very reasonable budget. "Cheers to the
Grad" party packs, which include disposable plates, napkins, cups, and invitations for eight, are actually cheaper than similar plain solid-color tableware sets; throw in a $0.99 yard sign, a set of bubble bottles, and a pack of balloons, and you've got decor and favors for a party of 24 for under $20.
Of course, you don't have to stop there. With over 200 graduation gifts, accessories, and novelties on sale at up to 70% off - and many more at regular dirt-cheap prices, this is a great one-stop way to stock up on supplies for parties of any size. Oriental Trading also boasts the single lowest price we could find for a  Class of 2012 autograph dog, a charming way for your little graduate to remember the classmates they may not see again for up to three months.
Having said that, the thing about OTC that's bedeviled me since I was a kid browsing through the print catalog is that you can't just get out of there with a pack of discounted Silly Bandz for $.99 - shipping charges tend to put a dent in the fantastically low prices in your shopping cart. The good news is that if you're throwing a big party or just going all out, you can use our exclusive coupon code BRADSDEALS to activate free shipping on orders over $49. If not, consider throwing together an impromptu backyard carnival or a modest wedding to round out your order. Or just forget the idea of throwing a party that includes adults, and embrace...
Option III: The Kids' Choice
This one is pretty low-intensity in the planning stage, but the follow-through may take some grit: round up your grad and a few of their best friends, head to Chuck E. Cheese's, and paint the Skee-Ball alley red.
There's no reason to pay full price for a trip to Chuck's - there's always a selection of printable coupons in rotation, and participating locations even offer free tokens year-round for good grades and completed reward calendars. With deals like those, it's easy to spend an entire Saturday afternoon there without blowing your budget! On an unrelated note, a pair of earplugs and a 250-page book of crossword puzzles will run you about $10 at Amazon.
Want to see more great ideas for party planning on a budget? Sign up for Brad's Daily Deals to get the best daily deals delivered right to your inbox!
Cover photo: Bill Wilson via Flickr