It's Your Last Chance To Save: Shop The Last Deals You'll Ever Need!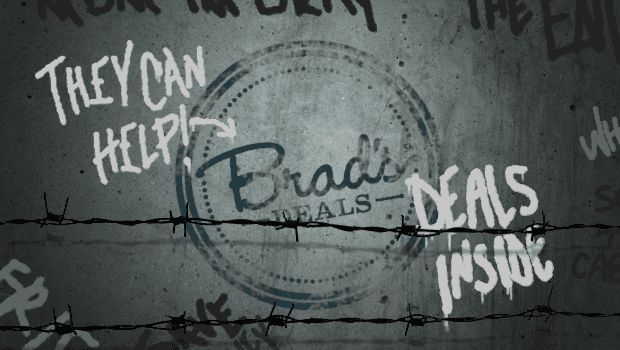 Well, Planet Earth, it's been a good run, but we're at the end.
With news leaking out that the end is nigh, we at Brad's Deals did the only thing we know: We found some killer (no pun intended) deals on everything you'll need to get you through the apocalypse. Check 'em out, and remember, just because the world is ending doesn't mean you should pay full retail price for anything!
Happy shopping, and sayonara!



This bar of zombie repellent soap from Etsy is the only zombie repellent soap we could find on the internet! Soon, the internet will cease to exist and you'll be unable to obtain this online-only item, so act fast. Without it, you'll be forced to mix zombie repellent with soap to create your own 2-in-1 soap/repellent, and let's face it: you forgot everything you learned in high school chemistry. Shipping adds $3 but may vary by location. Zombies, however, will not vary by location. SOON THEY'LL BE EVERYWHERE.
Get It at Etsy




Check out this JL421 Land Cruiser from Amazon - it's equipped with a 6 horsepower engine (that's fast, right?) and is your first line of defense from impending doom! This was the lowest price we could find on such a tank by, well… we're not entirely sure. But we CAN guarantee that these things are going to skyrocket in price as the harbingers of the apocalypse draw nigh. Editor's note: This thing would be WAY cooler with a grenade launcher, but sales on those don't start 'til November. Rats!
Get It at Amazon




There's no telling whether you'll need a riot squad vest as the world ends, but if these truly are our last days, don't you want to look like a badass? You remember Samuel L. Jackson in the movie S.W.A.T? That can be you - for just $40! Pepper spray not included.
Get It at Amazon




Check out this multi-purpose respirator by MSA Safety Works, available at Amazon for $22.99 (it's eligible for free shipping if you spend at least $35). The price drops from $39.99 and is the lowest we could find by $19. We're not sure this mask will defend against an airborne zombie virus (only one way to find out!), but it will protect you from the toxic pesticides in the old barn where you will eventually have to seek shelter. Better than nothing!
Get It at Amazon




Defend your homestead against undead attacks with this functional flamethrower for $897, including free shipping, at FlameThrowerPlans.com. The tank on this flamethrower can hold enough gas for about 55 seconds of continuous flame-throwing action. Price may vary with subtractions (passing on the included backpack harness will save you $40) and add-ons (choosing a tank color adds $150). We think a world where you can purchase a flamethrower in your choice of six colors is a world worth fighting for.
Get It at FlameThrowerPlans.com




Stock up for dark days ahead with this 80-roll case of Georgia-Pacific bathroom tissue at Amazon, which drops from $104.16 to $45.16 with free shipping. Each roll contains 550 durable, two-ply sheets for everything post-apocalyptic life throws your way (you're going to be eating a lot of beans). Plus, the giant box it comes in could double as an impromptu suit of armor.
Get It at Amazon




Ever wanted to experience what dessert's like aboard a space station? Order this Astronaut Neapolitan Ice Cream from Amazon and you'll be feasting on space's finest dairy dessert as you fight for your life! Amazon Prime members qualify for free shipping, so be sure to order some before massive fuel shortages drive up shipping rates and make this stuff harder to come by. Do you want to live in a world where it costs over $3 to have spaceman ice cream delivered to your door? We know we don't.
Get It at Amazon




Check out this elliptical tricycle from DHGate - it's available in a range of sizes starting at $472. Soon, our infrastructure will begin to crumble and our supply of fossil fuels will be among the first casualties. With this elliptical trike, though, you'll have a mode of transportation that gets you around and helps maintain that killer bod. This is a great item to pair with the Astronaut Neapolitan Ice Cream shown above. Those calories won't burn themselves!
Get It at DHGate.com