Like To Complain? You Can Get 8,000 Free Miles From Spirit Airlines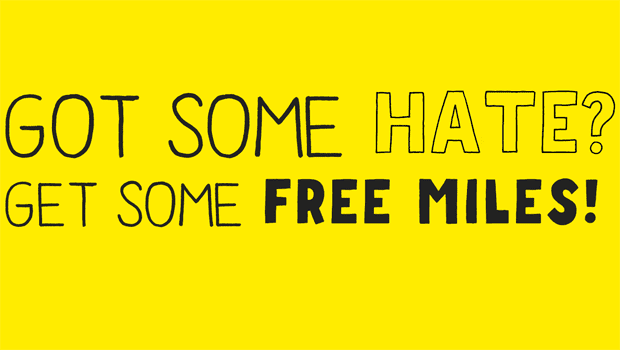 Spirit Airlines recently rolled out an interesting promotion. They're giving away 8,000 free rewards miles for writing a 140-characters-or-fewer complaint about any airline. 
Seriously - that's all you have to do, provided you've already signed up for a Spirit Rewards account (which is free, so you might as well). Go to hatethousandmiles.com, select the airline you'll be hating on, and type your tweet-sized complaint.
Spirit's campaign is actually pretty admirable. They're fully aware of their reputation for lackluster service, and they rationalize it by saying: "Hey, we know we kind of suck, but at least we're cheap!"
Here's their promo video for the giveaway.
So, what will 8,000 miles from Spirit get you? Not a whole lot. An economy-class domestic flight on Spirit costs anywhere from 30,000 to 75,000 miles, and given Spirit's lackluster amenities and notorious nickel-and-diming, the offer of 8,000 freebies is even less enticing.
Still, you're not of luck. You can spend your free miles on magazine and newspaper subscriptions. The Mags for Miles program lets you redeem miles for a number of subscriptions. Here's the full list.
Magazines Available from Spirit
Cigar Aficionado
Conde Nast Traveler
Details
Entertainment Weekly
Entrepreneur
ESPN The Magazine
Essence
Fortune
Glamour
Golf Digest
Golf Magazine
GQ
Health
InStyle
Money
Outside
People
People En Espanol
Sports Illustrated
Sport Illustrated KIDS
The Economist
The Wall Street Journal
TIME
Vouge
Western Horseman
Wine Spectator
Not a bad list, eh? Subscriptions cost between 600 and 4,800 Spirit miles, so depending on your tastes, you're getting handful of free subscriptions for your short complaint. It's definitely a better way to go than actually using the miles toward a cramped Spirit flight.
Act Fast! Those Miles Expire
Keep in mind that your free miles expire 90 days after you submit your complaint, and they take as long as 10 days to be credited to your Spirit rewards account. Be ready to pounce on the free magazine offer and redeem right away once you're credited.