Macy's Just Recalled Some Very Popular Martha Stewart Cookware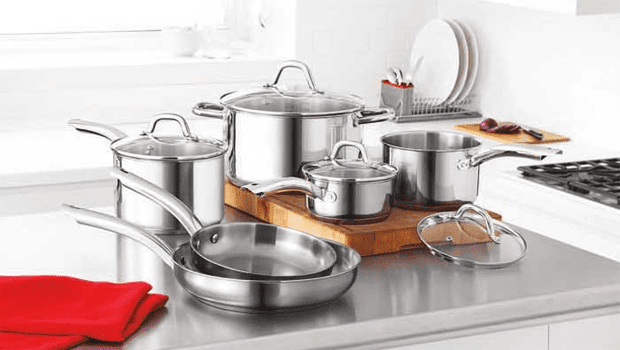 Got some Martha Stewart cookware in your kitchen cabinets? We've got some bad news for you. Citing consumer safety concerns, Macy's is recalling certain pans from its popular Martha Stewart Collection 10-pc stainless steel cookware sets.
We know many of our fans have bought this set for themselves or as gifts. We've posted many deals for this specific set over the years, as recently as August 2015 and as far back as November 2011. If you've ever bought Martha Stewart cookware from Macy's via Brad's Deals, please take the time to check your pans.
What exactly is being recalled
The recall specifically refers to the 8 and 10-inch frying pans that come in the stainless steel set. Porcelain enamel and hard anodized sets are not mentioned in the recall. According to the Consumer Product Safety Commission, "the metal discs that cover the frying pan's rivets can pop off and hit consumers, posing an injury hazard."
The discs they're referring to are circled in red in this photo: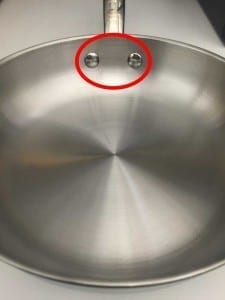 The CPSC reports seven known incidents, including three known injuries including bruises, burns and welts. That makes it sound like the discs basically turn into hot projectiles when they pop off.
All other pans and accessories in the set are safe to use, but consumers should stop using the frying pans immediately.
How to tell if your cookware is affected
The affected cookware sets were sold at Macy's and military exchanges between January 2011 and September 2015, and includes the following UPC numbers:
0733003518899
0733003623326
0766370840959
0766370980334
These numbers can be found on the packaging or your purchase receipt.
If you don't have the packaging or receipt handy after cooking with these pans for the last 5 years (and frankly, why would you?) you can still figure out if your pans are subject to the recall. Flip your pans over and look for one of the following date codes inscribed on the bottom of the pan:

This photo shows where to look for the date code: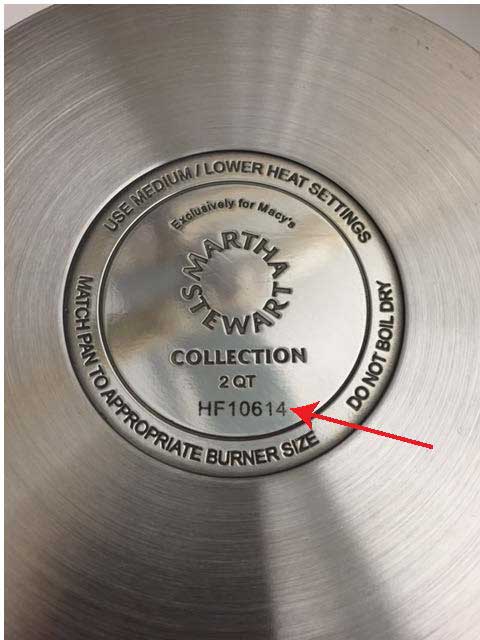 Your pans are being recalled. Now what?
The CPSC advises consumers should return the frying pans - and just the frying pans, not the rest of the set - to Macy's or Macys.com for a store credit for the full value of the frying pans. No receipt or proof of purchase is required. There is no form to fill out, and no dedicated place on Macys.com to contact them about recalls, and no good place to contact Macy's online with general questions. Order numbers are required on the best-fitting contact options, and most consumers affected by the recall are unlikely to have one. We recommend calling Macy's Customer Service at 1-800-289-6229, or taking the frying pans back to your local Macy's store. 
If you bought your pans from a military exchange, take them back to the exchange for a refund of the full value of the frying pans. We'll note here that if you have access to one, then returning the pans to a military exchange offers the best value, even if you bought them at Macy's. Your military exchange is offering a refund, while Macy's is offering only store credit, and no receipt or other proof of purchase is required. On the flip side, if you bought them at a military exchange and no longer have access, returning them to Macy's instead should work out just fine.