Macy's Closing 100 Stores in 2017 | Brad's Deals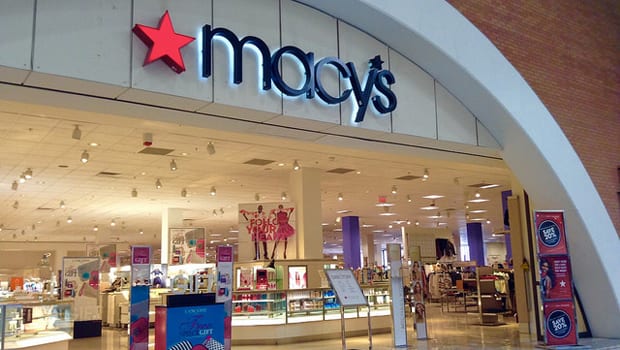 Following the success of online retailers like Amazon and discount chains like T.J. Maxx and Marshalls, which sell designer duds for less, Macy's is having trouble keeping up with the crowd. After six consecutive quarters of declining sales, the department store has opted to close about 15 percent of its retail locations. 
By 2017, there will be 100 fewer Macy's storefronts taking up space in your local mall, and the Macy's brand is being forced to undergo some serious changes. According to a press release the department store put out last Wednesday, after the new year: "Macy's will operate fewer stores and concentrate its financial resources and talent on our better-performing locations to elevate their status as preferred shopping destinations. Stores will remain critical customer touch points for Macy's, along with online shopping and mobile apps, as omnichannel retailing continues to evolve."
This switch in tactics towards a more digital approach is indicative of our changing times. Household spending may be up 4.2 percent over last year, but as more and more consumers are choosing to shop from the comfort of their couches, the store's 20th century model is quickly becoming obsolete.
Sure, some Americans still head out to malls to do their shopping, but when they get there, it's hard to compete with the prices stores like H&M and Forever 21 offer for wardrobe basics. The fact of the matter is, shopping online has become the new normal. Malls as we know them may not be long for this world, so if Macy's wants to stay in the game, it's going to have to adapt -- and fast!
While the store's makeover will be largely focused on improving the experience of their digital storefront on both desktop and on their app, the remaining physical locations are also being updated. According to the press release, "Macy's will be adding new vendor shops, bringing new businesses onto the sales floors through additional license agreements, increasing the size and quality of staffing through programs such as My Stylist personal shopping services, infusing new technology, accentuating high-potential businesses such as fine jewelry, and creating new in-store events and experiences."
For the moment, the company is staying silent about exactly which 100 stores will be closing their doors in the early months of 2017. However, the Macy's Men's Store in downtown San Fransisco was called out as a location that is currently being considered for sale and redevelopment.
We will update this article to include the full list of 100 closing stores once Macy's releases this information. Check back for more information!