May the Fourth be With You: Where to Buy (& Binge-Watch) the Star Wars Movies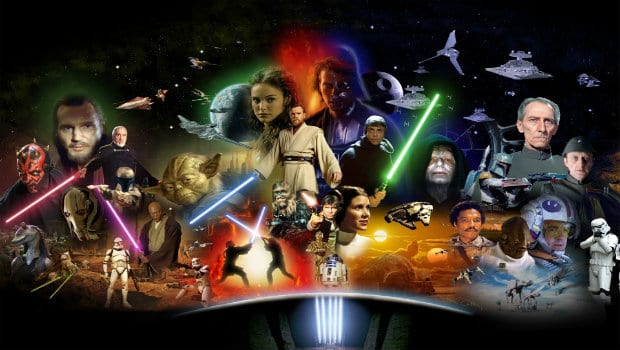 Happy Star Wars Day, Brad's Dealers! If you went to see Avengers: Age of Ultron the Star Wars: The Force Awakens trailer this weekend, you're probably freaking out and counting down the days (234!) until the film's premiere on Christmas Day.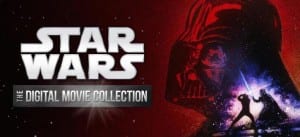 But if you need some distraction in the meantime, why not relive the magic of the first six films through the wonder of online streaming? No, sadly you won't be seeing Luke and Leia fighting the Empire on Netflix any time soon, but if your VHS copies are on the verge of ruin, there are several places on the interwebz where you can buy all six Star Wars films and stream them over and over to your heart's content.
This collection includes all six films in HD and more than nine hours of bonus features, including behind the scenes documentaries, deleted scenes, interviews with the cast and crew, and original trailers. If you don't need the whole trilogy, you can also buy each movie separately for $19.99 each.
Same collection, different platform. And each movie is also being sold individually for $19.99.
It's more expensive because...? I'm honestly not sure, because it looks like the exact same collection to me--the only differences are the price and the streaming platform. Buy them individually for $19.99.
Why, when you can get the same movies for $89.99 on Amazon and Google Play would you want to pay an extra $10 just to get these movies on iTunes? Well, if you want to do your marathon watching on an Apple TV, this is your only option. As always, you can buy each movie individually for $19.99 each.
Yes, fellow nerds, I am aware that this collection features not the well-loved original films, but the controversial remastered versions. But despite the (perhaps unnecessarily) added CGI, the story is the same, and if you have no other way to watch, at least now you've got some options.
Our best value pick is the Amazon bundle, because if you're a frequent Amazon shopper with a Prime membership, you can rack up Prime Video credits by waiving your two-day shipping.
Yeah, you can't watch it directly from your Apple TV, but if you have a Mac you can use the screen mirror AirPlay function, and if you have a Roku, a PlayStation, an Xbox, a Wii or a Fire TV you don't have to worry about how to watch your favorite movies your big-screen TV.
How will you be marathon-watching Star Wars today? Let us know in the comments!
---
Check out this Star Wars deal through 5/15/15: