Military Veterans Finally Get In-State Tuition for College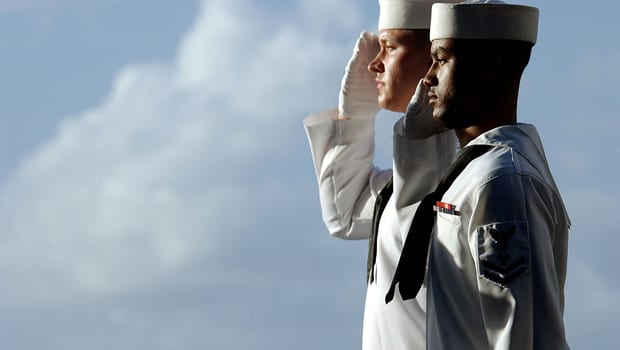 Starting in 2015, U.S. Veterans will qualify for in-state tuition at most public colleges, regardless of their permanent residence. The approval of these changes can help make college more affordable for veterans while reducing the outrageous $1.2 trillion in U.S. Student Loan Debt.
Currently, it can be difficult for a veteran returning home to qualify for the in-state tuition rate at public universities since they can't establish the residency requirements because of deployment. In-state tuition averaged $8,655 last year versus $21,706 for out-of-state tuition, according to College Board.
The new law, which comes as the result of a little publicized provision in the recently passed Veterans' Access to Care through Choice, Accountability, and Transparency Act, will allow veterans to avoid two issues they currently face. First, it allows them skip paying the out-of-state tuition rates, which are much higher. Second, veterans who can't afford out-of-state tuition no longer need to wait around until they become a permanent resident of the state for the college they wish to attend. Not having to wait makes the transition back to civilian life much smoother.
To qualify a veteran must have 90 days of active duty and enroll within three years of being discharged or released. In addition to veterans having access to in-state tuition rates, it also will apply to their spouses and dependents. This is all part of the $16.3 billion Veterans Administration reform bill that also strives to make improvements to veteran health care.
Past education initiatives for veterans include The Montgomery G.I. Bill, which CollegeScholarships.org estimates veterans can receive assistance up to $37,000 or $11,000 for reservists and members of the National Guard. The Post 9/11 G.I. Bill includes 36 months of assistance for full-tuition, housing, books, and fees.
Find scholarships for veterans.
Scholarships are available based on your merit, specific groups and organizations you're associated with, ethnicity, extracurricular activities, and career goals. Another huge piece of the scholarship pie is awards for veterans. Here are ten examples of scholarships available for veterans, but you can find hundreds more:
AMVET National Scholarship Program
Disabled War Veterans Scholarship
Afghanistan and Iraq War Veterans Scholarship
Army Aviation Association of America Scholarships
American Patriot Scholarship
Purple Heart Scholarship Program
Horatio Alger Military Veterans Scholarship
Pat Tillman Foundation Scholar
Ranger Memorial Foundation Scholarship
ThanksUSA Scholarship Program
Search associations and databases for scholarships.
Research the scholarships offered by specific organizations and groups. Check your specific state and city to find out what scholarships are available.
Army Scholarship Foundation
US Marine Corps Scholarships
National Association for Uniformed Services
Veterans of Foreign Wars Scholarships
U.S. Air Force ROTC Scholarships
Military.com Scholarship Finder
In addition to specific searches for veterans, also search on general websites such as FastWeb and Scholarships.com. When creating your profile, be sure to include as much detail as possible including your veteran status.
Find scholarships based on career.
Many times a scholarship is offered based on the career path you're seeking. The SVA-NBC Universal Wounded Veteran Scholarship is for veterans specifically pursuing a degree in journalism, film, media, television, or communications. The Disney – SVA Scholarship is awarded to veterans seeking a degree in science, math, technology, or engineering. Troops to Teachers is an organization that awards scholarships and training to those veterans interested in pursuing a career in education.
Meet with an advisor at your college's finance department.
A financial advisor at the college of your choice is a huge asset. First, they can inform you of specific scholarships at your college. Many colleges not only offer scholarships for specific majors and academic achievement, but also for veterans, such as the John and Joanne Fisher Scholarship at Hodges University. They can also assist with applying for grants and other financial aid options specifically for veterans.
Search and apply for grants.
Like scholarships, receiving a grant is literally getting free money for your education. The first step to qualifying for many grants is to fill out the FAFSA, which is also beneficial for other financial aid. For veterans, your Expected Family Contribution will be dropped to zero so it increases your Federal Pell Grant eligibility. Other grants include the Iraq and Afghanistan Service Grant, Arnold Education Grant Program for Air Force Members, and Iowa Injured Veterans Grant Program.
Explore better loan options.
Sometimes student loans just aren't avoidable. But as a veteran, you may have the benefit of more desirable loans. You may be eligible for a loan with a limited or even no interest rate, no accrual of interest for a certain duration, and more flexibility with deferments, such as being able to defer your loans while on active duty. Filling out the FAFSA allows you to see what federal loans you qualify for. You can also contact your specific lender to ask what benefits and loans are available to veterans. Check out the Navy-Marine Corps Relief Society and AFAS Loan Program to learn more about better loans for veterans.
Consider the VA Work Study.
The VA Work Study Program is available to veterans who are enrolled at least three-fourths time at an accredited college. Veterans are able to gain employment to help alleviate some of the financial burden of tuition and living expenses. You can work part-time at 20 hours per week for a VA related activity. These positions can include working at a VA hospital, outreach services, benefits center, a VA cemetery, or a community center for veterans. Some colleges may also have VA positions right on campus such as a cooperative learning program for veterans at the school, providing assistance and information to other veteran students, or maintaining and organizing any veteran-related files. To apply for VA Work Study, fill out the application and send it to the same VA Regional Processing Office that will handle your education claim.
Check out other resources.
The American Legion offers the Need A Lift? Campaign which includes extensive information for veterans on scholarships, fee waivers, grants, and tax incentives from higher education.
The U.S. Department of Veteran Affairs is an essential resource for veterans seeking college. Here you can apply for your education benefits, use the GI Bill Comparison Tool to compare college programs to find which is right for you, and file a complaint when a school isn't cooperating with you. You can also take the CareerScope assessment to determine what career path may be right for you.
Don't forget about military discounts from retailers!
Once you're enroll in school, you'll need school supplies, textbooks, and maybe even a new laptop to assist with your studies. Then of course there are every day living expenses that all add up during one of the most financially strapped periods in your life. Many retailers show their appreciation for your military service by offering discounts on goods and services that can make it just a little easier. Check out our military discounts page for a comprehensive list.