Movie Night: Orange is the New Black, Season 3 + Prison Cheesecake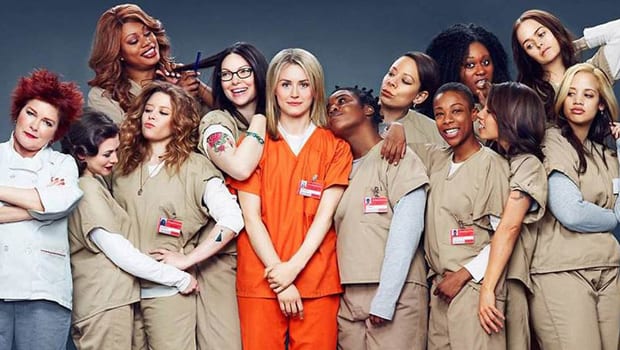 Is there really anything better to do on a Friday night in June? I didn't think so.
What we're watching: Orange is the New Black, Season 3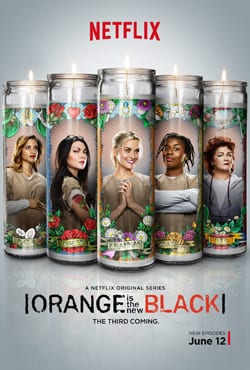 Netflix dropped Season 3 of Orange is the New Black today, and if you didn't already call off work to get a head start on your binge-watching, chances are excellent you'll be firing up your account the moment you get home. AM I RIGHT?
Seriously, there really is no other thing worth watching tonight. But if it's not your thing, I'm also hearing some great things about Sense8 and the entire world seems to be enjoying Gracie & Frankie.
You can watch Orange is the New Black, Seasons 1-3 on Netflix.
What We're Eating: Prison Cheesecake
We've seen other blogs touting Pinterest-worthy food inspired by the series, but none so authentic as the real life Piper's Prison Cheesecake recipe. While serving her sentence, Piper Kerman mastered the art of the perfect prison cheesecake, and it is by all accounts a near identical dupe for the cheesecake you can get out in the free world at restaurants like TGI Fridays. Craziness!
Looking at the recipe, it's clear that while it's not exactly glamorous, the dish is a scavenger's creative masterpiece, and hopefully as close to prison haute cuisine as any of us will ever get.
Three Must-Haves
If you're streaming your shows on a tablet, you can improve your audio experience by connecting it to a Bluetooth-enabled speaker like the Jawbone Mini Jambox. Select colors are on sale for $79.99 at Verizon Wireless, a $20 discount off the original price and the lowest price we found by $10. Trust me, having a speaker makes a huge difference.
It's 80 degrees! Oh wait, not so fast, it's 40 again. Welcome to June. Keep a sweater handy just in case your summer temps take a nose dive on you. This cute open front cardigan is marked down from $42 to $29.90 at Nordstrom right now.
To make Prison Cheesecake properly, you have to do it in a food storage container. Take it as a good opportunity to finally toss the flimsy, ratty looking stuff in your cabinets that was meant to be disposable and replace it with a more permanent solution. This 50-piece Rubbermaid Easy Find Lids set goes for $23.80 at Amazon, $14.19 below its original price, and shipping is free.