Movie Night: Parts Unknown + Spicy Crab Tostadas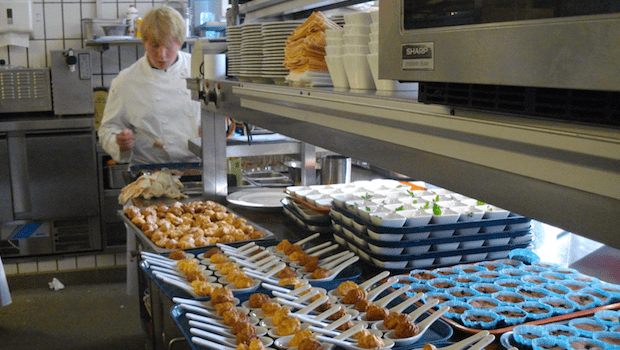 I hope I'm as cool as Anthony Bourdain when I'm 58. I probably won't be, but I'm holding out hope.

What We're Watching
Season four of Bourdain's CNN series, Anthony Bourdain: Parts Unknown, is on Netflix as of today. Throughout season four, our favorite chef/author/travel dude visits Vietnam, Paraguay, Jamaica and The Bronx, to name few. If you're not familiar with his angle, Bourdain is former high-end chef who, despite his affinity for French cuisines I can't pronounce, has a special place in his heart for street food, dives, and counterculture. He's also a great interviewer.
What better way to spend the night than watching an episode or two of Parts Unknown? Or all nine. Your call.
Even if you're not interested in eating porcupine or cuchifritos (traditional Puerto Rican friend pig parts), you'll like the authenticity of Bourdain's interviews and the originality of the cuisine. This sounds a bit cheesy, but Parts Unknown is a series about people and neighborhoods as much as it is about food. When in Iran, Bourdain shifts the focus from the Iranian government and instead focuses on the Iranian people, their traditions and even their nightlife.
Fans of No Reservations, Bourdain's previous TV series that aired on the Travel Channel, will find a lot in common on Parts Unknown. That's a good thing — both series have won a Primetime Emmy (No Reservations for Outstanding Cinematography for Nonfiction Programming; Parts Unknown for Outstanding Informational Series or Special).
What's For Dinner: Spicy Crab Tostadas
This recipe is right in line with tonight's theme of gourmet street food. Here's what you'll need:
1 lb cooked crabmeat
1 jalapeño pepper
1 serrano or hot banana pepper (your choice)
4 scallions, sliced thin or minced
1/2 lb diced tomatoes
2/3 cup steamed corn kernels
1/3 cup lime juice
1/4 cup chopped cilantro
2 tablespoons extra virgin olive oil
6-10 corn tostadas
Don't be put off by the number of ingredients — this recipe is really easy to execute. Take all ingredients except for the crabmeat and heat in a pan over medium-high. After that, mix it with the crabmeat (but don't re-cook the crab or it'll become tough) and serve immediately over tostadas. If you like the dish as an appetizer, you can cut the tostadas into halves or triangles. You can add sliced avocados if you'd like.
Three Must-Have Items
Non-Stick Pans
If you're in need of new cookware, check out this set of 3 non-stick pans from Boscov's. After shipping they're just $6. That's a deal.
Eddie Bauer Travel Gear
After a few episodes of Parts Unknown, you might find yourself with the sudden urge to get off the couch and travel. Before you do that, take advantage of the sale currently going on at Eddie Bauer. Shop today and take 30% of select luggage, sleeping bags, tents and more.
Southwest Airlines Rapid Rewards Card (25,000 bonus miles)
...and if you're serious about seeing the world, why not book your trip(s) with rewards? Sign up for the Southwest Rapid Rewards Visa card  from Chase Credit Cards and get 25,000 bonus miles after spending $1,000 in the first three months after activating your card. The card has no foreign transaction fees and you'll get 6,000 bonus miles on your anniversary of becoming a cardmember. What's not to like?