On Valentine's Day, It Really Is the Thought That Counts.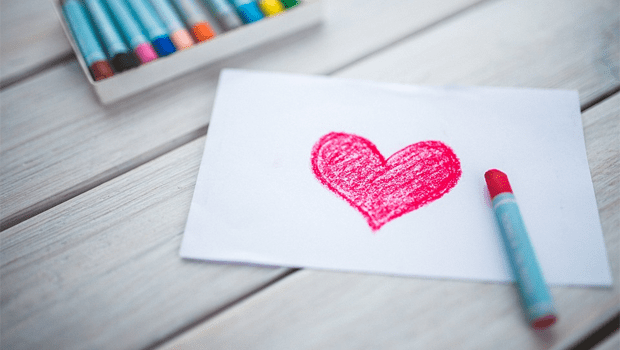 There's a cheesy but magical scene in Spielberg's "Always" in which fire pilot Pete (Richard Dreyfuss) gives girlfriend Dorinda (Holly Hunter), a rough-edged character typically seen in blue jeans or a greased-up flight suit, a beautiful white sparkly dress. It's fire season, and the bar is full of fire jumpers, pilots and ground crew. Everyone is covered in soot. The dress practically glows in its box. "Pete… Girl clothes…" she gushes breathlessly, barely daring to touch it. "You like the dress?" Pete asks, amused and surprised and pleased with himself all at once. "It's not the dress," Dorinda purrs. "It's how you see me." Cue the warm fuzzies.
Last month, we asked our friends, family and fans to tell us about their favorite Valentine's Day gifts. We didn't want to know what was most popular, or what people were planning to buy or do. We were exclusively interested in what gifts the survey takers themselves had received and liked best. Our survey was admittedly unscientific, and we knew a lot of the people taking it would be our own friends and family, but we wanted the painfully honest answers. In order to allow everyone to avoid the pressure to say the "right" thing, we made sure respondents had the option to remain anonymous.
The picture that emerged from the 70 stories they told us looks a lot like that scene with Pete and Dorinda and the sparkly dress. Even when given the chance to remain anonymous, respondents nearly always focused more on the memory of feeling loved than on the gift or its cost. 
Some of the most common answers are precisely what you'd expect to see on a list of common Valentine's Day gifts. Jewelry was the top favorite for both men and women, with necklaces being most popular with the ladies and watches with the men. (We counted engagement rings separately as "proposals.") Flowers were high on the list, but were universally accompanied by a sweet story.
But many of the answers were considerably less material. Survey takers listed handmade cards from both children and adults, hugs, smiles, romantic nights, and the resulting babies as favorite Valentine's Day memories.
My own favorite Valentine's Day story comes from my childhood, when my dad had a single red rose in a vase delivered to me at school. I vividly remember being called to the principal's office over the intercom, then walking back into the classroom to a chorus of "oohs" of the sort your 10 year old jerk classmates give at the slightest hint of anything vaguely romantic. "It's from my DAD," I protested, probably a little too adamantly. But I absolutely loved it. You can't put a price on that.
Our survey takers had some great stories, too.
"I'm a sucker for scavenger hunts. My boyfriend created a list of 20 clues which ultimately led me to a ring he had bought me! Loved the adventure, suspense and ultimate gift at the end. Side note: It didn't need to be a ring at the end, it could have been anything thoughtful, really." - Lilly P.
"One year I was working in a medical office and the whole week, leading up to Valentine's day, flower arrangements and dozens of roses were being delivered constantly. I was sort of blue because I knew our budget wouldn't allow that extravagance. Friday afternoon I was leaving work still feeling kind of sorry for myself. When I opened my car, there on the seat was a rose bush with the note that instead of one dozen roses, now I could have dozens of roses. It has been many, many years but I think of this gesture every time I look at my rose bush." - Shannon S.
"My girls, 4 & 7 at the time, gave me a decorated paper bag with a kitty in it. Mind you, I told them earlier that they couldn't keep it. So they turned it into a Valentine's Day surprise for me. How could I say no?!? They got me!" - Relada M.
"When my sons were elementary-school-aged, they found me heart-shaped rocks and wrote love notes on them in marker. Precious."  - Nancy E.
In our very unscientific survey, 31.4% of favorite Valentine's Day gifts cost the giver nothing, and 38.6% were of the DIY variety, either involving a craft or some creative scheming to make it extra special.
Here's how the survey tallied up:
What's your favorite Valentine's Day memory? Add it to the comments – and please keep it rated PG.