5 Ways to Plan & Prepare for a Trip to Cuba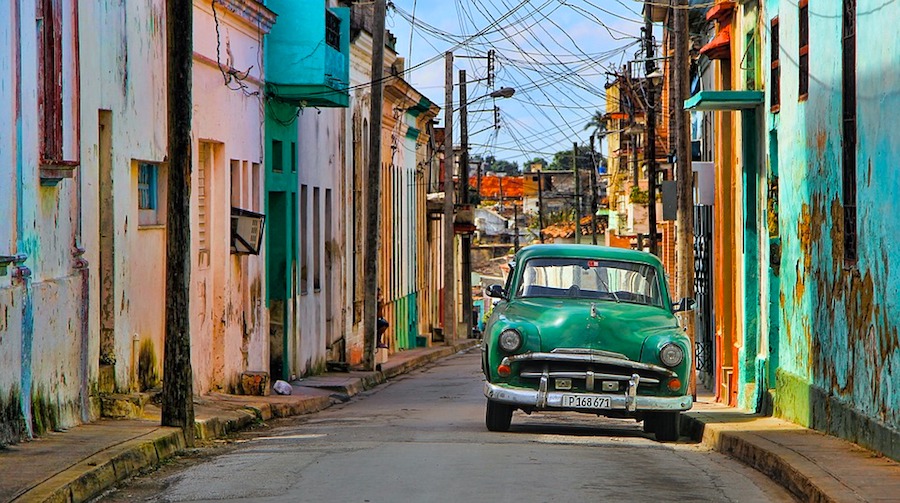 Last week, I flew into Cuba on the first flight from Miami to Havana since the 1960s. This marks a new era of travel to the island nation, and I'm here to give you the information you need to go there yourself!
This is part two of a three-part series on my travels in Cuba. You can read part one here, which details my historic flight, and my budding friendship with Lester Holt. If you want to plan you own trip to Cuba, here's how to do it:
Step 1: Find a reason to go.
As I mentioned in my previous article, it is still illegal for Americans to travel as tourists to Cuba, which is a U.S. law, not a Cuban law. In the past, you had choose one of 12 reasons why you wanted to go, and apply for a special license, which took time, effort and money. While the 12-reason restrictions are still in place, you don't need a license anymore. Now all you have to do is check a box on the check-in screen at the airport on the day of your flight.
I was a little confused as to whether anyone would verify that I was, in fact, traveling to Cuba to write a story, but there was no such verification. I noted the 12 reasons you can travel to Cuba in my first article, but here they are again for reference:
Family Visits
Official Business of the US Government, Foreign Government, or Intergovernmental Agency
Journalism
Professional Research or Professional Meetings
Educational Activities
Religious Activities
Public Performances, clinics, workshops, athletic or other competitions, and exhibitions
Support for the Cuban people
Humanitarian Projects
Activities of private foundations or research or educational institutes
Exportation, importation, or transmission of information or informational materials
Certain export transactions
As you can see, these categories are very broad. Easiest way to go legally? Start up a blog (it's free!) and write about it after your trip. Voila -- you're a journalist. The government's definitions are so broad that it would be difficult to prove otherwise.
Step 2: Book your flight.
Several airlines now fly direct from the US to several cities in Cuba. These include Southwest Airlines, United Airlines, American Airlines, JetBlue, Frontier, and Alaska Airlines. Departure cities in the US include Miami, Fort Lauderdale, Houston, Los Angeles, and New York City. In addition to Havana, travelers can fly into smaller cities, like Santa Clara, Varadero, Camagüey, and Santiago de Cuba.
Booking a flight to Cuba is just as easy as booking any other flight, and I booked directly on AA.com. Cuba requires that all travelers have Cuban health insurance, which is conveniently included in your ticket price. The addition of the insurance added $20 onto my total, which came out to $250. This is actually pretty expensive for a flight to Cuba, but remember, it was the first flight from Miami to Havana in 55 years. JetBlue flights to Cuba from Fort Lauderdale will typically run you around $120 round trip, for example.
Step 3: Get a visa.
This was the most laughably ridiculous visa I've ever gotten. Essentially an unfilled questionnaire the size of two index cards, you pay $85 for the privilege of filling out your name and passport information yourself. American Airlines partnered with Cuba Travel Services for all the visa paperwork, and they'll give you a call about a month before your flight to make arrangements for sending you the visa. Mine was sent to me via FedEx, and arrived in about three business days.
Step 4: Opt for an Airbnb.
There are hotels in Cuba, including a Four Points by Sheraton, but they are incredibly expensive for what you get. For my trip, I couldn't find one for less than $250/night, and Four Points by Sheraton is pretty far away from the touristy areas in Havana, and is instead situated next to many of the foreign embassies.
I recommend using Airbnb instead, where I found a two-bedroom apartment with a kitchenette and private bathroom for just $65/night. For one thing, renting a home or staying with a Cuban family will help you to really experience the country in a way you wouldn't if you stayed in a cookie-cutter hotel room. For another, this puts money directly in the hands of Cuban nationals, and not the government, which profits off the hotels. Using Airbnb in Cuba is a great way to be a humanitarian while traveling.
Booking my Airbnb was easy, and worked exactly the same as it does in other countries. I found the place I wanted, reserved online, and that was that.
Step 5: Prepare for no internet, and stock up on cash Euros.
THERE IS BARELY ANY INTERNET IN CUBA! As an always-connected American blogger, this was quite a shock. Without constant access to the internet, you can't Yelp where the best restaurants are, you can't look up how to get to your hotel, and you can't check in for your flight. In order to get around, you'll have to revert back to a mid-90s lifestyle. This means printing out directions, calling for reservations, and doing a lot of planning before you go so you'll know what to do when you get there.
Now, there are ways to get some internet in Cuba, but it's one of the strangest systems I've ever seen. First, you need to find out where to buy an Etecsa card (usually from one of their stores, or from the front desk of many hotels). These cost about $4-$10 an hour depending on where you buy from.
Next, take a look around the street for a group of people who are staring at their phones -- you know, like literally everyone does in the states. As you don't see this a lot in Cuba, it will be obvious, and this is an indication that a location is one of several WiFi hotspots where you can use your newly-purchased Etecsa card. Scratch off the code on your card, login, and enjoy a blissful hour of internet.
I also recommend getting a cell phone. My Verizon plan worked in Cuba, but it was very expensive, and you can get a Cuban cell phone for much less. My data never worked, but phone calls and texting worked reasonably well.
There are two currencies in Cuba: the Cuban Convertible Peso (CUC) and the regular Cuban peso. The regular Cuban peso can be used to buy things from government-run restaurants, stores, and used as change (about 25:1) when there aren't enough CUCs to finish the transaction.
You can exchange American dollars at the airport for CUCs, but are subject to a 10 percent tax. Instead, I recommend stocking up on Euros or other foreign currency beforehand, because they're not subject to this tax.
While there's a lot of preparation involved in taking a trip to Cuba, traveling there was ultimately pretty painless. If you're a quasi-seasoned traveler who can follow instructions, it's easy as pie.
Stay tuned for part three of my Cuba series, out later this week. Have questions? Leave a comment below or drop me a line at mark@bradsdeals.com!