Plastics 101: The 5 Best Credit Cards For College Students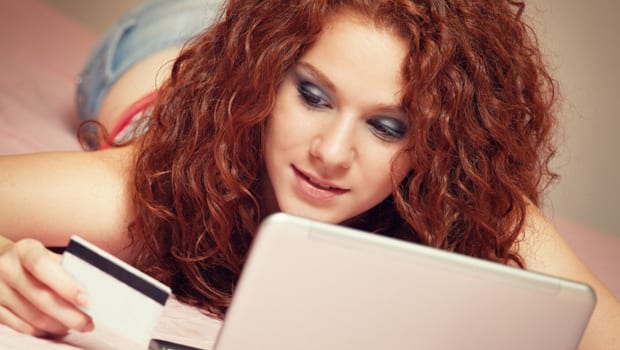 The first credit card to have graced the lining of my wallet was the most terrifying piece of plastic that I've encountered in my entire life. As a fiscally-uneducated 18 year-old freshman with no credit history, simply possessing an item that could seemingly make or break my financial future was absolutely daunting and something that was, initially, a burden. So, in anticipation of my impending departure for university in the fall, I sat down with my dad and asked for his advice on how to best use my new credit card.
His advice was simple and succinct: never purchase anything you can't pay for out of pocket. Thanks to a credit card plan without a spending minimum I was able to put his advice to use; I would make a point of going out and making a small purchase, be it a pack of gum or a slice of pizza, then paying it off almost immediately. I slowly but steadily built up good credit and confidence in my ability to wisely regulate my spending.
College students are ideally placed to begin developing a fiscally responsible lifestyle and spending habits in order to build a strong credit score, if you haven't already. The first place for any student to start is by signing up for a credit card that meets your needs and complements your anticipated expenditures. But with the myriad of credit cards available to today's students, how can you be expected to do the research necessary to find out which card is the best fit for you, especially when you could to be studying and discovering the effects of C2H6O on physiological processes and biological development (remember kids: moderation in all things, especially moderation)?
Well, we loaded up on 5-Hour Energy and sugar-free Red Bull, holed ourselves up in the library, and pulled a few all-nighters in order to find the five best credit cards available to students. For this profile, we focused on cards with minimal fees, opportunities for cash back on regular purchases, and programs that reward responsible spending and money management; all important traits with practical applications that any student looking to build their credit should seek in a credit card.
Note: Thanks to the Fed's Credit Card Act of 2009, anyone under the age of 21 is required to have a cosigner or proof of steady, reliable income by way of full-time employment, so most students will likely need a parent or guardian with a good credit history to help them acquire any of the following credit cards.
Discover it Chrome for Students: The most lenient credit card on the list, Discover it Chrome for Students takes a lot of the stress out of credit card ownership. This Discover card doesn't have an annual fee, you won't be charged any over-limit fees, nor late fees on your first missed payment, and there's no penalty APR. You'll get a 2% cash-back bonus on gas and restaurants up to $1,000 each quarter, as well as 1% cash-back on all your other purchases.
Citi ThankYou Preferred Card for College Students: With a sign up bonus of 2,500 ThankYou Points, this card isn't the largest, but with 0% intro APR for the first 7 months, 2X points on dining out and restaurants, and 1X per dollar on everything else, this card could save you money each month on the purchases that every college student makes.
Journey Student Rewards from Capital One: Another card for students that want to be rewarded for building their credit, the Journey Student Rewards Card from Capital One gives you the tools necessary to monitor your credit and stay on track. With free monthly access to a TransUnion credit score, not to mention text and email alerts to help you keep track of your spending, students should have no problem staying on top of and managing their credit. There are no annual, balance transfer, foreign transaction, or over-the-limit fees. Additionally, you'll receive 1% cash back on all purchases and a 25% cash-back bonus you can earn each month that you pay your bill on time. This is also a great credit card for students planning on studying abroad, as the Journey card offers 24-hour travel assistance services and travel accident insurance.
BankAmericard Cash Rewards Credit Card for Students: The ideal card for current Bank of America account holders, you'll earn a 10% cash rewards bonus when you redeem your rewards directly into a BofA checking or savings accounts. The BankAmericard for Students gives users 1% cash-back on all purchases, 2% cash-back on groceries and wholesale clubs, and 3% cash-back on gas for the first $2,500 spent in combined gas and grocery purchases per quarter. Bank of America will also reward you with a $100 cash rewards bonus once you make $500 in purchases in the first 90 days of opening an account. This card is also great for commuter students, students who regularly use a car on and around campus, and even students opting out of a campus meal plan.