These Airlines Will Rebook Your Storm-Affected Flight for Free This Weekend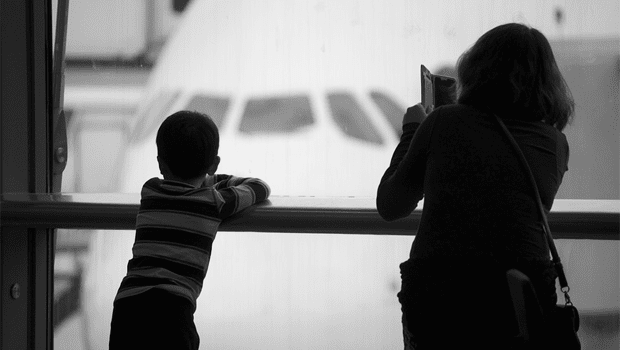 The big snowstorm hitting the East Coast this weekend is predictably wreaking havoc on travel plans for thousands of airline passengers across the country. Several airlines are waiving change fees to rebook passengers now instead of waiting for flights to be canceled. 
These are the airlines that we know are offering waivers on rebooking fees:
American Airlines
Check American Airlines' Travel Alerts to see if your airport is affected. Last we checked there were 46 affected airports on the list. To be eligible for the fee waiver you must meet the following criteria:
You purchased your ticket before January 21, 2016.
You expected to fly to, from or connect at an affected airport between January 22 and January 24.
You are willing to travel on or before January 26, 2016.
No changes to your arrival or departure cities.
Book the same service class. So your economy ticket stays an economy ticket, no upgrades.
If none of this works for you, ask about canceling for a refund.
Delta Air Lines
Delta's Northeast Winter Weather advisory page lists 38 affected airports. Delta's page explicitly states, "If your flight is canceled or significantly delayed, you are entitled to a refund." This is the known rebooking criteria:
You must be flying from, to, or through one of the affected airports.
Your ticket must be rebooked on or before January 27, 2016.
Your rebooked travel must begin no later than January 27, 2016.
The change fee will still be waived if your travel happens after January 27, but you may be coughing up some extra cash anyway to cover any difference in fare.
Frontier
Frontier specifically calls out just 8 airports for change fee waivers, but is keeping a running list of canceled flights on the same page. Passengers booked on cancelled flights are eligible for a refund. To rebook your flight on Frontier:
 You must be scheduled to travel to, from or through an affected airport.
Travel must have been scheduled on or between January 21 and January 24, 2016
Your ticket must have been purchased on or before January 19, 2016.
Rebooked travel must be completed by January 31, 2016, with no changes to your departure or destination airport.
Frontier also warns passengers flying out of Atlanta, Denver and Chicago about possible TSA screening delays. Note that the security delays out of Denver have been epic lately, and as a former Colorado resident I can tell you that security lines that wrap twice around the entire building are real things that I've personally experienced, usually when the weather gets bad and the delays start stacking up.
JetBlue
JetBlue will waive change fees for travel through 6 East Coast airports this weekend. Passengers on canceled flights may choose to have their ticket refunded instead of rebooking. To rebook a JetBlue flight for free:
You must be scheduled for travel on or between January 22 and January 24, 2016.
Rebooked travel must occur on or before January 29, 2016.
You must rebook prior to your original departure time.
Your ticket must have been booked on or before January 20, 2016.
Southwest Airlines
Southwest lists 23 affected airports with expected delays due to weather disruptions. Travelers have the option of canceling for a refund on the unused portion of any ticket affected by the storm. Check your airport for on this page for specific rebooking requirements, but this is the gist of it:
You must hold a reservation for travel to, from or through an affected airport on or between January 22 and January 24, 2016.
You must rebook in the original class of service.
No word on any "travel by" dates, though your customer service representative should be able to let you know when you call.
Spirit Airlines
Winter Storm Jonas is affecting 6 airports serviced by Spirit Airlines. This is what Spirit's Flexible Travel Policy covers:
You must be scheduled for travel on January 22 or January 23. Note that this is a day shorter than the other airlines we cover in this article.
Your rebooked travel must occur on or before January 29, 2016.
Note that unlike the other airlines on our travel waiver list, notoriously stingy Spirit is not including travel on January 24 for waiver eligibility. The page also makes no provisions for canceling tickets for a refund in lieu of rebooking. The FAQ page about ticket cancelation led to a broken page that only linked right back to the same unhelpful Travel Advisory we linked to above, so we advise calling to ask.
United Airlines
United Airlines's Travel Notices includes 35 airports affected by Winter Storm Jonas. United's travel waiver criteria:
Your flight must be scheduled to depart on or between January 22 and January 25, 2016.
Rebooked travel must occur on or between January 20 and January 29, 2016.
Travel must be rescheduled in the same cabin class.
Origin and destination cities must be the same as the original booking.
According to United's flight cancelation policy, "If you decide to no longer travel either because your original flight was canceled or you are delayed two hours or more, you can receive a refund to your original form of payment."
Virgin America
Inclement weather is disrupting travel at 6 airports serviced by Virgin America. Passengers who would rather cancel their itineraries may do so for a full refund without incurring cancelation fees. Travel waiver criteria:
Original travel dates must be on or between January 22 and January 24, 2016.
Rebooked travel must take place on or before March 10, 2016.
Rescheduled flights must be booked on the same route and in the same service class as the original ticket, though you may choose to upgrade and pay the fare difference.
You must rebook before your original scheduled departure time.
You must have booked your original ticket on or before January 20, 2016.
Airline Contact Info: