What to Wear: Designer Dresses to Rent for Any Kind of Summer Wedding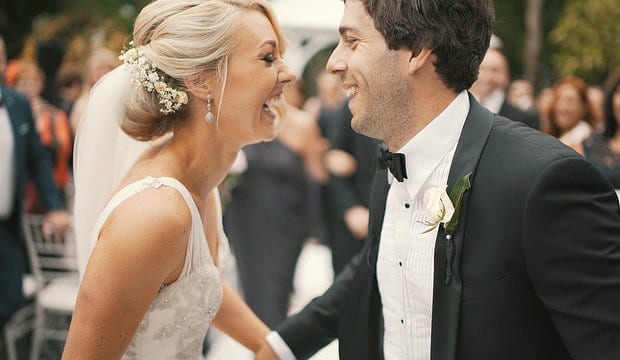 It's wedding season, and as frequent readers of the Brad's Deals Blog will know, I have several weddings to attend in 2015, and maybe you do too! Whether you're the bride, a bridesmaid, the mother of the bride or just an average guest, buying the perfect dress for every wedding can get expensive. So why buy a dress you'll only wear once when you can rent it and send it back when you're done?
For those who don't already know, Rent the Runway is an online service that rents out clothing and accessories from designers like Moschino, Versace, Vera Wang and Dolce and Gabbana at a fraction of the retail cost--most under $100. You can rent items for either four or eight days, or you can pay $99/month and get unlimited monthly dress and accessory rental. My favorite part about RTR? People who've rented the dress previously often upload reviews featuring pictures of themselves wearing it, so you can see how it looks on different body types instead of just on the stick-thin model.
So Rent the Runway is pretty much the perfect solution to all the classic wedding-apparel woes. Bridesmaids can be decked out in bride-approved dresses that won't sit in the back of their closets for the rest of eternity, brides can wow the crowd in designer looks for less, and frequent wedding guests can have a different look for every kind of wedding theme.
So if you're in need of a little inspiration, look no further! I took on the daunting task of scrolling through all the adorable styles on RTR (rough life, I know), and put together a dress suggestion guide for brides, bridesmaids, mothers of the bride (or groom), and wedding guests at six of the most popular theme weddings of 2015. Enjoy!
Beach Wedding Styles
Waves lapping into the shore, blue skies as far as the eye can see, and soft sand under your toes--sounds like a dream wedding to me, but what to wear?

Strapless and flowy with a shimmering silk pattern overlay, this dress is lightweight enough to keep you cool in the hot sun, and is, according to reviews, extremely comfortable.

I love the idea of a floor-length, soft blue gown for bridesmaids at a beach wedding, and this style even mimics the look of the sun reflecting off the water with a pattern of silver detailing across the dress. Keep it plain or add a skinny belt to define the waist--whatever floats your beachy boat.

This look is modest without being matronly, and has a flow to it that covers up problem areas. Its floral pattern is perfect for a casual beach-side wedding, and the ankle-length adds a bit of formality without forcing you to worry about getting sand all over the hem.

This dress has a formal cut, but its halter tie in the back, pattern and light-weight material make it well-suited for a relaxed beach wedding on a sunny summer day. In fact, many of this dress' reviewers say they wore it to just such an occasion!
Traditional Wedding Styles
A traditional church wedding might seem old hat these days, but honestly, you can't go wrong with a classic.

How adorable is this dress? With its strapless, sweetheart neckline, poofy tulle princess skirt and natural waist-cinching fit, it's the quintessential, no-frills, traditional wedding gown of your dreams.

This dress is simple, modest and flattering on all body types. The color is a beautiful deep pink, and the light floral detailing on the bodice and skirt make it stand out from crowd. Plus, what bridesmaid wouldn't be stoked about a $35 dress?

Mothers of the bride or groom typically wear deep colors, like blue or purple, which compliment the lighter shades worn by the rest of the bridal party. This royal blue lace number is perfect for a mom in a more traditional wedding ceremony--it's high-necked for modesty, but knee-length to show off your legs and statement shoes.
There's no shortage of appropriate dress styles for a traditional wedding: just pick a dress formal enough for a cocktail party, demure enough to not upstage the bride, and outside of the range of the bridal party's colors. I like this skater style because it's chic, simple and flattering on most body types, and the color is perfect for a summer wedding.
Rustic Country Wedding Styles
Rustic country weddings are currently the toast of all your friends' Pinterest wedding boards. They're casual, cutesy and heavy on the DIY mason jars and light strings delicately hung from weeping willows. Chances are, you'll be attending at least one of these before the end of the decade (spoiler alert: it might be mine).

I absolutely adore this look for a country bride. It's casual enough for the outdoor setting, but the lace detail and fit are delicate with a formal feel. Pair with a flower crown and bouquet picked fresh from the fields and feel free and comfortable as you and your guests barn-dance the night away.

Who says bridesmaids can't rock floral? If the wedding is outdoors in a natural setting, a flowy floral dress is a lovely choice for your 'maids. This style is girly without being too frilly, and has a longer-in-back cut that makes it fresh and modern. Plus it was apparently featured in a Carrie Underwood music video, so if that doesn't scream COUNTRY CHIC I don't know what does.

Several RTW reviewers used this dress for their bridesmaids, but if you're going with floral for those, I think this is a good option for the mother of the bride or groom. The fabric has a nice flow and ruffle that will look nice in a country breeze, and the light grey color and subtle pattern will photograph well next to the bridal party's bright colors. Plus, the one-shoulder style is an unexpected but fashion-forward choice.

I love this simple sundress with a geometric lace overlay for a guest at a country wedding. The color is bright and modern, but the style is perfect for the setting--I'm picturing the contrast between this dress and the green trees, a deep brown dirt road, and perhaps a peeling red barn and swooning to myself.
City Hall Wedding Styles
More and more couples are opting out of paying a full year's salary for what is essentially a giant party, and deciding instead to get hitched at City Hall with just a few close friends and family in tow. This venue opens up the possibility for a lot of bold fashion choices, so let's see what RTW has to offer.

Getting married at City Hall is a bold move, and this amazing white jumpsuit is perfect for a chic modern bride who wants to look fancy but not out of place in a government building. I'm not usually a jumpsuit fan but this one is adorable, and if there's ever an occasion for a white jumpsuit, a City Hall wedding is it.

Keeping with the understated but high-fashion theme, this form-fitting black dress is perfect for a bridesmaid in a City Hall wedding. It's elegant without being too formal, and the ruffles at the bottom are a girlish touch on a dress that's otherwise made for a high-powered executive. Normally black isn't a great color for bridesmaids, but for an informal wedding, I think it's an appropriate choice.
Even though it's a City Hall wedding, mom is still going to want to get dressed up for the occasion. This gorgeous sky blue dress has a flattering cut and a mid-shin length that's fancy but not over-the-top.
There aren't usually many guests at City Hall weddings, but if you're invited to one and are stumped about what to wear, try out this cobalt blue cut-out dress. I like the idea of all parties sporting solid colors at this imaginary wedding, and this dress is conservative enough to fit in at City Hall, but flirty and fun at the same time.
Black Tie Wedding Styles
Black tie weddings mean class with just the right amount of sass. Appropriate dresses for such an event are floor length, slinky and high fashion.
This dress is called "Monroe" for a reason: the neckline, waistline and white fabric bring to mind Marilyn Monroe's iconic flowing dress from The Seven Year Itch, and the shine and close cut is reminiscent of her famous "Happy birthday Mr. President" gown. This dress is simple, elegant and almost dangerously sexy--a great look for a black tie bride.

This floor-length navy dress with a one-shoulder ruffle strap will look stunning but refined alongside the bride's slinky white style. According to reviews this dress is comfortable and flattering on lots of different body shapes, which is always a good thing.
Let mom shine for the night as the lady in red. This stunning gown makes a tasteful statement, and is somehow both conservative and daring at the same time.
I love the bold color, asymmetrical cut and flowing skirt on this dress. A great option for anyone who wants to stand out at a black tie wedding.
Romantic Retro Wedding Styles
The romantic retro wedding is a nod to days past. You'll see all kinds of styles here, from 1950s cocktail dresses to 1920s flapper attire. The feel of these kinds of weddings is very fairy tale princess meets Mad Men secretary, whatever that means to you.
This dress looks like it was designed by Aphrodite herself. With a shimmering silver sheen (see review photos), a delicate bodice embroidery and a flowing tulle skirt, it's the perfect dress for a goddess...or a bride at a romantic retro wedding.
Doesn't this gown look like something out of a chic '70s wedding album? I love the dreamy draping of the fabric, the ruffled cap sleeves, and the longer-in-back cut of the skirt. Also the color is so pretty and romantic, it might as well have been made to be a bridesmaid dress in a retro-themed wedding.
Love the soft pinks and the subtle floral pattern on this dress, plus the shiny, a-line skirt and high neckline look like something straight out of Betty Draper's closet. It's a great stand-out dress that will make mom look like a '50s socialite, and it will photograph well with the bride's shiny white dress and the light pink worn by the bridesmaids.
For the Guest: Lela Rose Pump Up In Plum Sheath -- $40 rental ($1,595 retail)
First of all, $40 to rent a $1,600 dress? All I can say about that is YES. This dress is a beautiful combination of retro and modern, the neckline and knee-length hem are modest and vintage, while the flouncy peplum and deep plum color give it a contemporary twist.
So there you are! If you love my picks, go grab 'em from RTR. If you hate them, scour the site yourself and I bet you'll find something you like. Either way, sound off in the comments!