Don't Get Scammed! 7 Handy Tips for Dealing with Rental Car Companies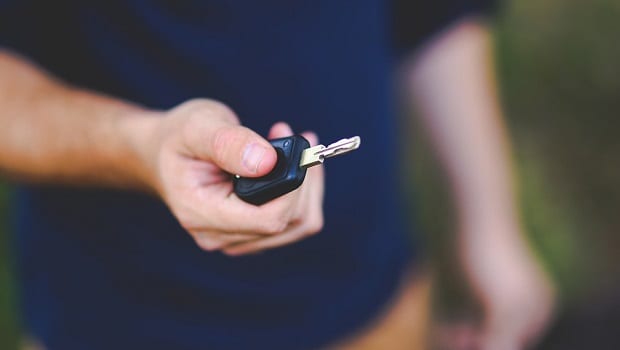 It's a tale as old as time. I walked into the car rental company, flustered after my mile hike from the Kia dealership. My car was in the shop, and I needed a rental, stat. The young man at the counter was wearing a cheap tie and a fake smile. 
He was a real people-pleaser (or so he thought), handing out "free" days to customers left and right as if it was Christmas morning, not bothering to mention that they could be used on future rentals only and that they came with an expiration date and a long list of restrictions.
"What brings a classy gal like you to this joint?" he said with a tip of his hat. Okay, I'm embellishing a little.
"I found myself between a rock and a hard place," I replied. "The only way out is on four wheels. Care to help a lady out?"
He lowered his gaze sternly, realizing he held all the power. "I don't have a single car." And then, "Let me see what I can do." He wanted it to look like he was doing me a favor, but this wasn't my first trip around the track; I could see through his tricks. I'd already had my heart broken by plenty of sweet-talking car rental company employees, and I wasn't about to be fooled. No, this baby-faced community college student was messing with the wrong customer, and I intended to beat him at his own game. Here's how I did it:
Don't fall under their "relative pricing" magic tricks.
While car rental prices vary according to the season and coinciding holidays, your rate should not be influenced by the demand for cars. But car rental employees will try to scare you with the threat of not being able to get a car when you really need one, in the hopes of making you so desperate that you're willing to pay almost anything. They'll even inflate the price and then claim to discount it especially for you.
"We don't have any cars, but for you, honey, I will make one appear out of thin air! I now have several options, but they are flying off the lot. I must charge you more than $100 a day for that economy vehicle you've got your heart set on. But surely, for a damsel in distress such as yourself, I can reduce the price 30%. No no, don't mention it, I know I'm a saint."
Always check the rate at several car rental companies, even if you're in a bind, and show the employee what you find. You're not getting a good deal just because you're getting a discount.
Even if you reserve your rental ahead of time and search for coupon codes to apply, be mindful of the final price instead of focusing on promotional discounts. You'll notice that most promotional offers, including coupon codes, AAA discounts, and credit card member offers, lead to the same final price, regardless of the advertised discount. Depending on what kind of car you plan to rent, there may be slight differences in value, so you should still try all of the promotions that are available to you - but don't assume that the highest percent discount is going to be your best bet.
Ask for the taxes and fees upfront.
Car rental companies often try to hide taxes and fees until the final stages of your reservation, whether you are at a physical location or trying to rent online.
"We'll give it to you at the ripe price of $12 per day, with all the oysters you can eat!"
"I smell something fishy. Give me the lowdown. What's the total after tax?"
He chuckled for a long while and specks of saliva landed on his polyester suit jacket. Gee, I'd really love to get home and watch Notorious on Netflix again, I thought. If this clown doesn't settle down, I'm going to give him a piece of my mind.
Be sure to ask the car rental employee if taxes are included in the price estimate, and, when booking online, go to the final stage of checkout when comparing prices between companies.
Stay away from unnecessary insurance coverage.
"Hey little lady, how about some insurance coverage? Most people purchase this basic insurance package. It'll nearly double the cost of your rental, but can you really put a price on peace of mind?"
"In fact I can, good sir. The price is $0 and not a penny more. I'm an American Express cardholder, and car rental insurance is included if I book this rental with my card, so I don't need any additional insurance. I'll forgive you the oversight of neglecting to let me know that might be an option for me."
"But you will have to file a claim. Getting in an accident will be much more convenient for you if you purchase our additional insurance. And, most people do."
"Am I required to purchase the additional insurance?"
"Most people think it is a wise choice."
"I'd prefer to not pay for coverage I'm already getting."
"I am very upset with you now, and the rest of your customer service experience is going to be miserable."
Without directly answering your questions, car rental companies will usually try to persuade you to purchase additional insurance, even if you already have the coverage you need. Be sure to check what is already available to you through your credit cards, AAA, AARP, etc. An employee may even offer to discount your rental further if you purchase insurance, but double-check the final price. Most likely, it will still be a higher price, and you will be paying for insurance you already have. If you do need insurance, ask for all of the options, as there is usually a lower-priced option available. Be aware that you may have to stand up for yourself and that the car rental employee attempting to sell you the insurance may not be happy with your decision. It might create some awkwardness, but shouldn't raise the price of your rental.
Don't upgrade.
"I can make all your dreams come true in a compact car!"
"No, economy is fine."
You chose a car that fits your needs. Don't pay more for a different one when you get to the dealership, even if they offer you a discount on the upgrade. It's just another unnecessary cost.
You may have to wait for a car even if you reserved it ahead of time. Sadly, this is normal and unavoidable. However, do not let a salesperson convince you to upgrade on the basis of getting the car sooner. With most policies, car rental companies will give you a free upgrade when they run out of the car you requested, so you shouldn't have to pay for the upgrade beforehand. This is just one of several tactics that car rental companies use to get you to upgrade. Just don't do it. Don't upgrade. Just don't.
Be aware of damage to the car before you rent.
Make sure the salesperson who hands you the keys also walks around the car with you and records any damage to the vehicle. When a car rental company claims damages to a vehicle after you return it, it's very difficult to prove that you weren't responsible. This is a popular scam for companies that rent out poorly maintained vehicles, but it's easy to avoid if you report any and all damages beforehand. Look for small dents and cracks in the windshield that would be easy to miss at first glance.
"Ain't she a beauty?"
"Is this a beauty mark?"
"That's a dent."
"Wise observation."
Fill up on gas and return it on time.
Most car rental companies will overcharge you for gas if you don't fill up the tank as full as when you first received the car. This often comes in the form of a surcharge, and they can be sticklers, so you're better off topping off the car with too much gas than not enough. In most cases, if you come back with a full tank, they'll give you a discount on your next rental. If you return the car without enough gas, on the other hand, you'll pay through the roof.
Your final rental price was based on a specific period of time, so if you're late to return the car, the final charge on your credit card could be higher than you expected. This sounds obvious and easy to avoid, but what if your flight is delayed? Or what if, like me, you return the rental car on time only to find that location closed early for the holidays, and you have to go to the airport car rental return and not only pay for an extra day but also pay an unspecified fee for returning the vehicle to another location? Just make sure there is a fainting couch nearby for this conversation:
"Good evening! Did you have a good trip?"
"I did not take a trip. I needed a replacement for my broken down car. To be quite honest, I'm having the most dreadful week. Can I return the car here?"
"Oh, absolutely! Not a problem! Not to worry. Now, since you are returning the car at a different location, there might be a fee. Of course, the fee is determined by the original location and can vary by branch, so I can't tell you what it will be. It could be anywhere from $10-$70. You will not know until your credit card is charged, and by then, it will be too late. Did you say you were traveling for business or pleasure?"
It's always best to plan ahead and call the location to make sure you understand when and where the car can be returned.
P.S. Don't forget to put that final fill-up on a credit card that gives cash back on gas.
Read the reviews (and the fine print) first.
Some car rental companies are better than others, and customer service can vary from branch to branch, so check out reviews for a particular location before renting. Also, look through all of the documents you sign and keep an eye out for bizarre policies and hidden fees.
I got my rental on the cheap, but as I drove off into the sunset after I returned it, I came to appreciate the comfort of my crumb-covered Kia, and I asked myself where the honest, hard-working fellows had disappeared to in the automotive age. Good thing I know better than to fall for the chumps.