Restaurant.com Beats Groupon for Dining Out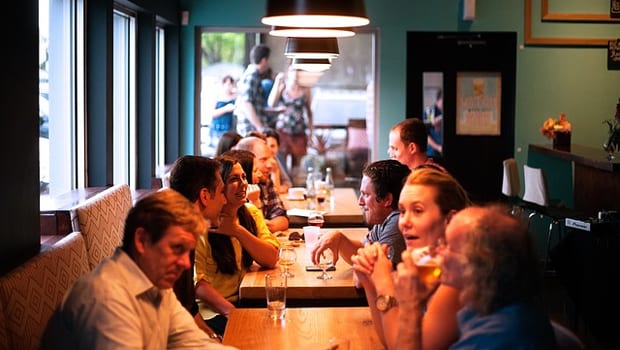 Let's face it, Groupon and Living Social have hypnotized us with fantastic daily deals since their debut a few years ago. These deal of the day websites have a talent for making anything, from a spa pedicure to sky-diving, enticing and affordable. But when it comes to your sushi craving or pizza night, daily deal websites like Living Social, Groupon, and Amazon Local miss the mark.
Why you ask? Because Restaurant.com is the ONLY place to go to save a buck at your favorite restaurant. We've broken down the reasons why Restaurant.com is your best bet to satisfy your wallet woes and taste bud cravings.
Any Cuisine, Anytime!
Restaurant.com offers dining certificates from over 18,000 restaurants nationwide. With those odds, finding the meal that you're craving is a cinch! Unlike Groupon or Living Social, dining certificates from all kinds of restaurants from pizza to sushi to hamburgers are available for purchase 24/7, 365. Restaurant.com allows you to search for your breakfast, lunch, or dinner by cuisine, average entree price, atmosphere, entertainment, required attire, and much more. So you can easily find your perfect meal. Along with their dining certificates, Restaurant.com offers gift cards, which make a wonderful gift for any occasion!
Deep Discounts
Sure Groupon boasts 50%-90% off their daily deals, but how often do you find a restaurant deal that you are interested in buying? Restaurant.com not only offers 50% off dining certificates every day, they also feature coupon codes varying from 60%-80% off your dining experience.
We did an experiment to find a restaurant deal in the Chicago area using both Groupon and Restaurant.com. Using the same restaurant, we found that Groupon is currently offering $15 for $32 worth of food. However, a dining certificate from Restaurant.com worth $25 costs $10, which then drops to just $3 with a 70% off coupon code FRIENDS! With a little math we found that Groupon's $15 deal you will get $32 worth of breakfast, but with Restaurant.com you can get the same $32 worth of food and spend a total of $10 (the $3 certificate + $7 balance = $32)!
| | | |
| --- | --- | --- |
| | Groupon.com | Restaurant.com |
| The Deal: | $15 for $32 | $10 for $25 |
| Coupon Code: | N/A | 70% off with FRIENDS |
| You Spend: | $15 | $3 |
| You Save: | 54% | 88% |
Convenience
Unlike Groupon or Living Social, Restaurant.com's dining certificate deals are ALWAYS available for your use. There is no need to wait for a daily deal to arrive in your email inbox. Looking to save money before you go out to eat? Choose your restaurant, print your dining certificate, and you are good to go! However, it is important to note that Restaurant.com offers a limited number of certificates per restaurant each month. If you have a specific restaurant you wish to try, make sure to visit Restaurant.com towards the beginning of the month, which is when they have the best inventory.
All of the above are awesome reasons to use Restaurant.com for your dining deals, however there are a few drawbacks. Restaurant.com dining certificates include some rules and exclusions such as: a minimum purchase, dine-in only orders, alcohol is excluded, some certificates cannot be used on weekends, and gratuity is added to your bill before payment. Just keep in mind that (unfortunately) there is no such thing as a free lunch!
Do you already have a craving for saving? Sign up for Brad's Daily Alerts to receive our favorite coupon codes and deals, like Restaurant.com, directly to your inbox!