Everything I Did with a $6.99 Rotisserie Chicken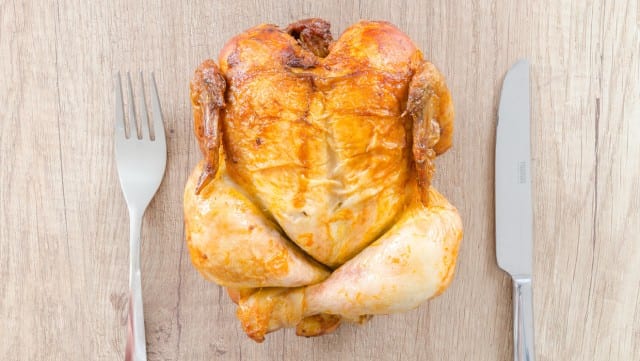 Don't those rotisserie chickens from the deli always look amazing? I always think so, but I wondered, is it really a good value? Just how far could I make it stretch? And would I be completely sick and tired of chicken by the end?
I decided to give it a shot, documenting every recipe as I went. In the end, I used this one chicken to make eight distinct meals, ten overall servings, plus nine cups of chicken stock made from the carcass when the meat was gone.
The one thing we didn't want to do with this project was just end up with a random list of chicken recipes. It's been done many times before, doesn't tell us anything about how far a single chicken can go, and they don't usually take into account how real people cook on a day-to-day basis, and all three of those points were very important to me. So I set two important ground rules.
1. I didn't plan out my meals beyond knowing that I would use the rotisserie chicken somehow. There would be no lists of recipes to try, and that was important to me. I didn't want to spend money on any groceries I wouldn't normally buy just for the sake of a single recipe, and I wanted to cook the way I normally cook.
2. All meals would be made from my usual pantry staples. I always have grape tomatoes, random fresh fruit, whatever fresh vegetables looked good on my last grocery trip, frozen corn, frozen edamame, and bags of broccoli slaw on hand, for example. Using whatever I've got on hand to cobble together some kind of reasonable sustenance on the fly is how I tend to roll. The only thing I bought special for a recipe on my list was a small tub of pineapple poblano guacamole that I used in the tacos. (And it was pretty awesome.)
With the plan, or lack of plan, in place, I picked up a rotisserie chicken from the deli at my neighborhood grocery store for $6.99. (Note: You can stretch your dollar even further with a credit card that gives extra points or cash back for groceries.)
Note: It's important for anyone reading this account of my rotisserie chicken adventure to keep in mind that I live alone, so I'm cooking for one. It wouldn't be hard to extrapolate any of this into extra servings, but of course one chicken for one person is always going to stretch much further than one chicken for four people. Additionally, FoodSafety.gov recommends storing cooked chicken in your refrigerator no longer than 3-4 days, and how closely you adhere to that suggestion depends on your risk tolerance. For a week-long stretch like mine, you can get around this by cleaning all meat off the bones immediately, then storing half in the freezer.
Let the hunger games begin!
Day 1: Fresh and Simple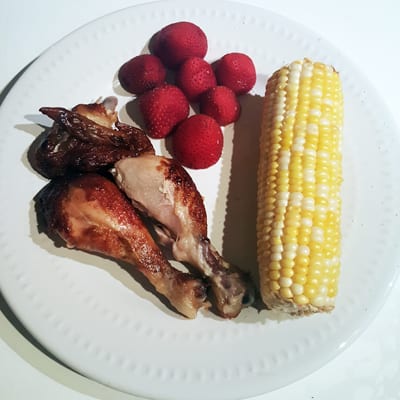 For my first rotisserie chicken dinner, I kept things simple with two drumsticks and one wing, ripped directly off the chicken and onto my plate.
The first ears of the sweet corn crop are just starting to arrive at my local grocery store and were on sale to boot, so pairing my chicken with fresh sweet corn and strawberries was an easy call.
There may not have been a ton of preparation involved, but it sure was tasty.
Day 2: Chicken Fried Rice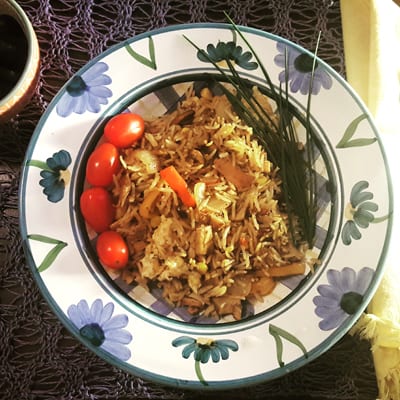 Fried rice is one of my weeknight go-to dinners. It's appallingly easy since the only two required ingredients are rice and an egg. Everything else is added at the cook's discretion, making it a great way to use up odds and ends from the fridge and produce that's on it's last legs. My version here included fresh chopped mushrooms, a handful of chopped onion, two sweet mini peppers, and frozen corn, spiced with curry powder, ancho chili powder, and a teaspoon of chili garlic paste. And the chicken, of course. Served with a side of grape tomatoes and black grapes, and garnished with fresh chives.
I ended up with two generous servings, so the leftovers came to work with me on Monday in my BentGo lunch box.
Day 3: Taco Night!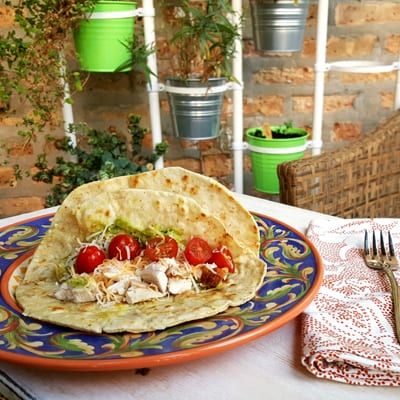 Tacos are a rather special thing for me since I make my own flour tortillas from my grandmother's recipe rather than buy them. That said, one of the reasons I picked tacos for Day 3 was that tortillas are something that people just tend to have in the house. Whether you go for soft flour tortillas, crunchy hard taco shells, or make your own like I do, they're a common pantry staple, and chopped and shredded chicken goes into them beautifully. I topped mine with halved grape tomatoes, pineapple poblano guacamole, and a finely shredded Mexican 4-cheese blend. The guacamole was a compromise when the grocery store was sold out of the pineapple salsa I wanted, and it was wonderful.
Day 4: BBQ Chicken Sandwich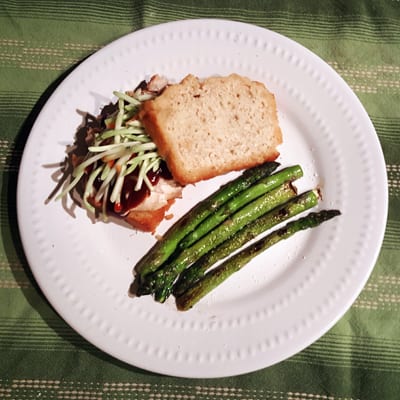 A guest left a bunch of beer in my fridge over July 4th, and I kinda hate beer. (I know, this is tragic.) I've been slowly baking my way through my supply, using it to make loaves of beer bread, so hot barbecued chicken sandwiches seemed like a pretty great idea. I cut off some chicken, stuck it in the microwave for a few seconds, poured some Sweet Baby Rays over it, topped it with a handful of broccoli slaw (my secret ingredient in so many things), and served it between two slices of warm, buttery, homemade beer bread with a side of asparagus. It looked nice and light, but was actually quite filling.
Day 5: Cold Chicken Lunch Box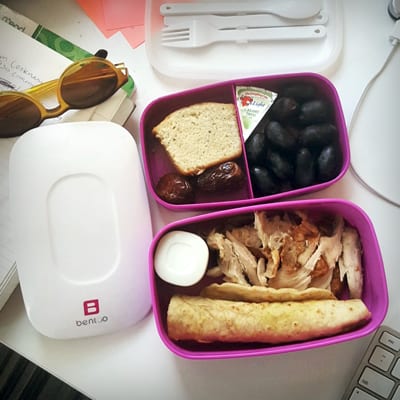 I was scrambling this morning to piece together a lunch from odds and ends in the fridge, something my trusty BentGo makes incredibly easy. I came up with cold chicken, a flour tortilla and guac left over from taco night, a wedge of Laughing Cow cheese, black grapes, a slice of cake-like poppy seed bread, and two medjool dates. The beauty of this lunch is that I don't even need to heat it, really, though 10 seconds in the microwave for the tortilla doesn't hurt. I've really grown to love my packed lunches - they're higher quality than most of the affordable restaurants around the office at a fraction of the price.
Day 6: Chicken & Veggies over Vermicelli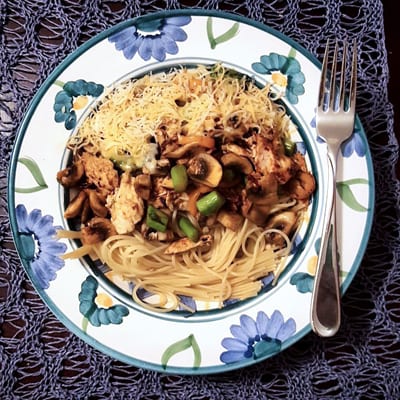 I'm not usually a big pasta eater, but tonight I went for easy. I stir-fried some of the vegetables on hand in the fridge while the vermicelli was boiling - mushrooms, asparagus and an orange mini pepper, with some chili garlic sauce and a little smoked paprika for flavor. Then I added some chicken when the veggies were halfway cooked to warm it, and topped the whole thing with some shredded cheese. It's not terribly inventive, but it was tasty enough after a long day and a post-work run.
Day 7: Sweet & Spicy Chicken with Edamame & Mushrooms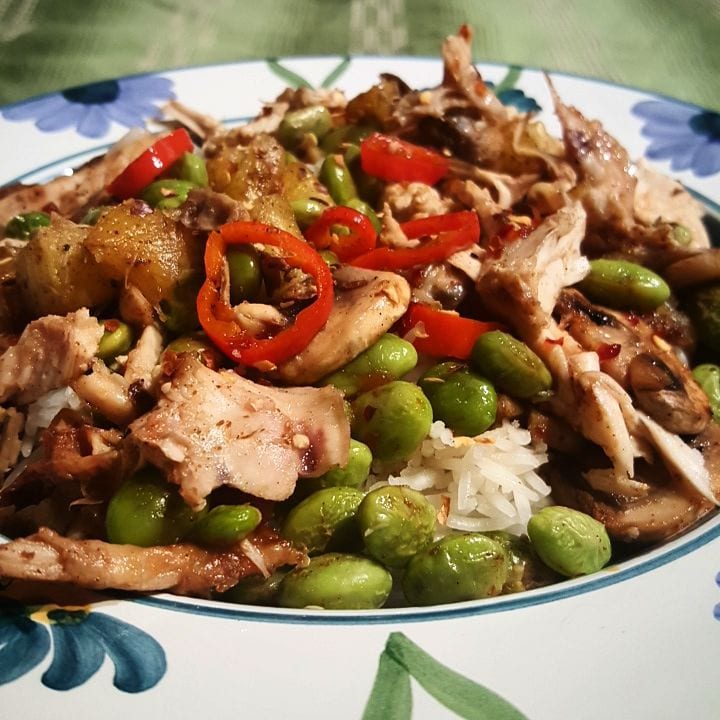 I was in the mood for something vaguely Asian and had my heart set on making a teriyaki-inspired sauce. Then I opened the fridge and discovered that I was out of soy sauce. Well, drat. But what happened next was one of my favorite improvised dinners that I've ever created, so it's serendipitous that I just happen to be documenting my rotisserie chicken meals this week. I stir-fried edamame, mushrooms and a red sweet mini pepper with some garam masala from my spice drawer, adding the chicken at the end to warm it up. Then I served it over jasmine rice and topped it with a sweet and spicy sauce made from honey, lime juice, and a smidge of chili-garlic sauce. This one's a keeper.
Day 8: Open-Face Curried Chicken Salad Sandwich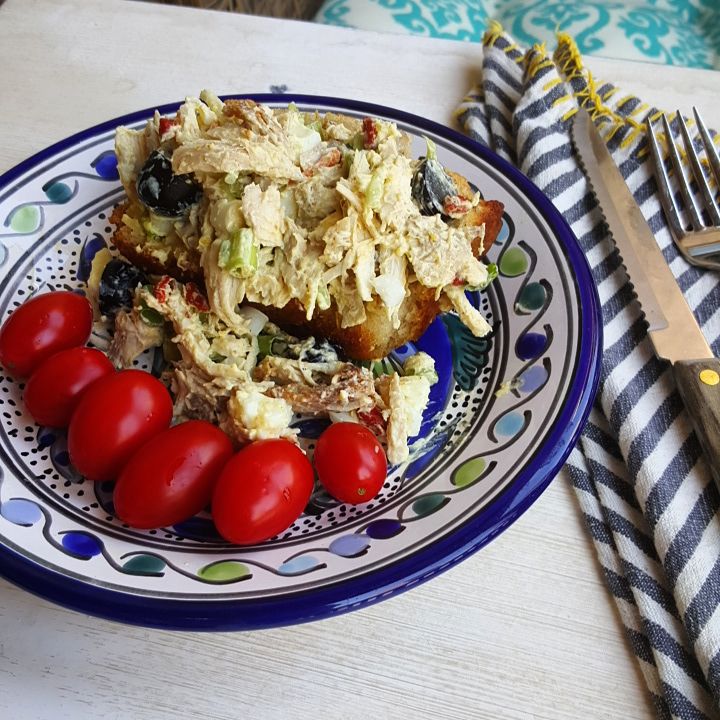 After a full week of preparing meals from this one rotisserie chicken, I picked what was left off the bones, which amounted to a little less than 2 cups of shredded chicken. I added chopped broccoli slaw, goji berries, a scallion, a chopped hard-boiled egg white, and a few halved black grapes. The dressing is simple - equal parts light mayo and sour cream, mashed and mixed with the yolk from the hard-boiled egg, plus curry powder added to taste. The result is creamy, lightly sweet, and accented with curry. I served it open-face style over fresh rosemary beer bread, made with the last of the leftover 4th of July beer. It was enough for two servings, and the leftovers found their way into my box lunch on Monday.
Bonus: Homemade Chicken Stock in a Slow Cooker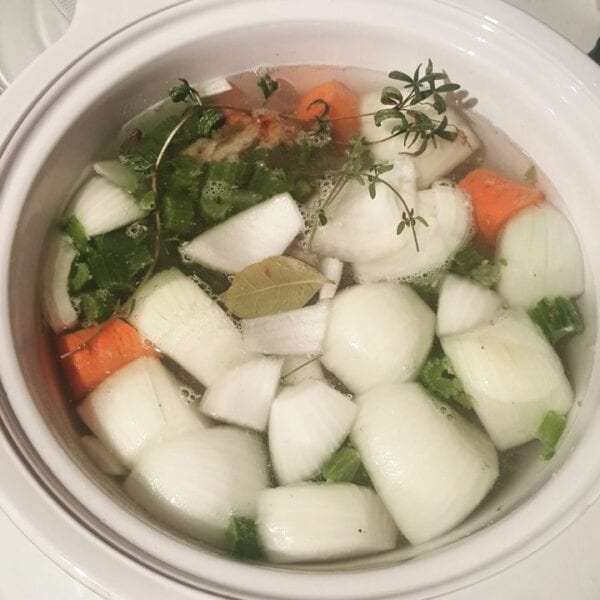 Inspired by the turkey stock my mother always makes after Thanksgiving dinner, I was careful to stash all of my chicken bones in a container in the freezer throughout the week, hoping to make some chicken stock once the bones were picked clean of their meat.
I hadn't used my stock pot in at least ten years, and I actually gave it away a few months ago, so I hopped online to look for a small pot alternative. And lo, the internet delivered unto me the secret for making chicken stock in a slow cooker. I was pretty excited to find this recipe, the only one I actually looked up for the rotisserie chicken project.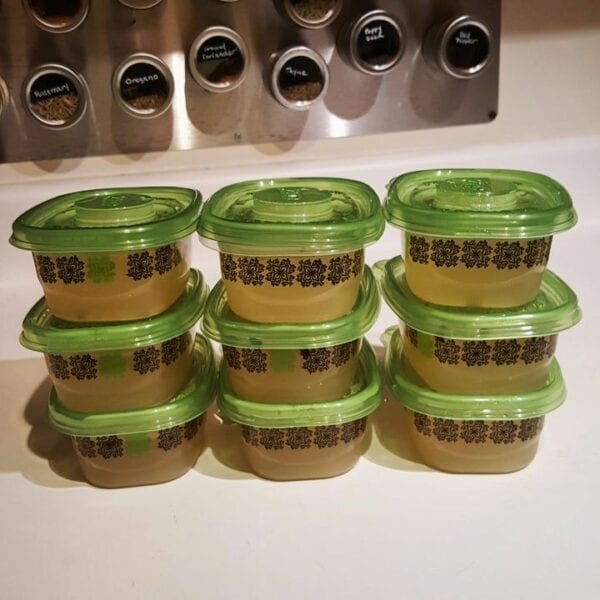 This is where keeping an herb garden on my deck this summer came in handy. A sprig of fresh thyme? No problem! The only thing I didn't have on hand for this recipe was fresh parsley, and I swapped it for a sprig of fresh rosemary instead. There are several recipes I make in the winter that call for chicken stock, and it's pretty cool that this little $6.99 cooked chicken from the deli will keep on giving long after the experiment is over.
Storing the stock did present a problem - I wanted to freeze it, but in 1-cup servings so that I could pull out only as much as I needed, and I didn't have storage to accommodate that. I popped over to the grocery store to see what I could find in a hurry and turned up these 5-packs of 9 oz. Glad Designer Series Plastic Containers. I'm sure there are less expensive options out there. I don't think I paid Amazon prices for them, but it was an unanticipated expense.
In the end, for me, the value was definitely there. I ate well all week, I stuck to my usual pantry staples, and the meals were diverse enough that I never once thought "Ugh, chicken AGAIN!" And knowing that I won't need to buy chicken stock for quite awhile pleases me.