Save Hundreds On Award Flights By Avoiding Fuel Surcharges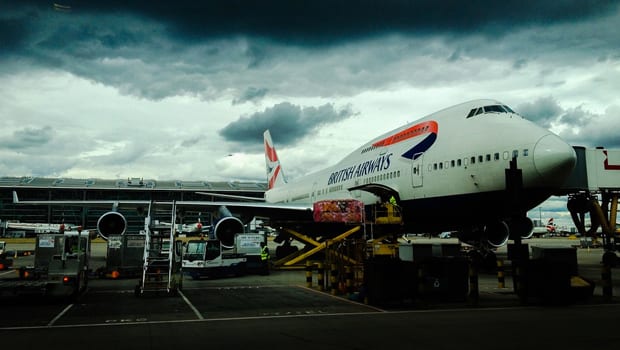 It feels like a scam. You save your frequent flier miles for an award flight for your dream vacation, only to be forced to pay hundreds of dollars in taxes and fees. In fact, some airlines have been caught charging more fees for an award flight than they would charge you to just buy a ticket!
Of course, many of the charges are imposed by governments, but some airlines are disguising the fact that they are pocketing fuel surcharges to award tickets. So how do you avoid being taken for a ride when you redeem your miles?
Here is the inside scoop:
Avoiding Fuel Charges Using Miles To Fly British Airways
British Airways (BA) serves more cities in America than any other European airline, but they impose the most egregious fuel surcharges of any airline.  It is not uncommon to have BA add fuel surcharges of between $500 and $1,000 each way on flights from North American to Europe, depending on the distance flown and the class of service. For those prices, travelers can sometimes purchase economy class tickets, and earn miles instead of spending them. In fact, BA even forces its OneWorld Alliance partners, such as American Airlines, to add fuel surcharges to when they issue a ticket for a flight operated by BA.
So how do you get around this? US Airways joined OneWorld Alliance in April, and has not been collecting surcharges for award flights operated by British Airways. Right now, redeeming US Airways miles is now the only way to fly BA without paying fuel surcharges.**
The biggest problem is that the US Airways web site never shows any partner award flights. The solution is to:
Find the available award by searching the American Airlines web site.
Call US Airways and request an award ticket with the flights you found.
What's the catch?
We don't expect that this loophole will last very long, so if you have miles with US Airways and you are planning on flying to Europe or beyond, book now for flights on British Airways without paying high fees. Like most carriers, BA can book awards flights eleven months in advance, so you can make reservations now for flights up to spring break of 2015.
**Edit: We've received word that as of today (5/7/14) US Airways is starting to close the loophole as expected. Your mileage may vary over the next few days while they complete the transition.
Saving money when using American Airlines miles
The easiest way to avoid BA fuel surcharges when redeeming miles from American Airlines is to simply book away from BA. For example, look for flights to Europe on US Air, Air Berlin, Finnair, and of course, American Airlines itself.  Flights to the Middle East and beyond can also be booked with American Airlines miles on Royal Jordanian and Qatar Airways, avoiding British Airways.
How to use British Airways Avios points without fuel surcharges

British Airways Avios points are easy to get since you can transfer credit card reward points to your account from Chase Ultimate Rewards, American Express Membership Rewards, and the Starwood Preferred Guest program. Thankfully, you can avoid their fuel surcharges when you book a flight operated by US Airways, Alaska, or Aer Lingus airlines of Ireland.  In addition, flights within the Americas on American, LAN, and TAM airlines do not have fuel surcharges either.
Keep your cash when redeeming Delta SkyMiles as well

Delta generally doesn't impose fuel surcharges on awards operated by its SkyTeam partners, but there are some exceptions. Traveler should avoid booking award tickets on China Airlines, China Eastern, Kenya Airways, Czech, Aeroflot, Air Europa, and Malaysian. In addition, Delta sometimes adds fuel surcharges to awards flights on Vietnam Airlines.
Avoiding fuel surcharges with other carriers
United does not add fuel surcharges to any award tickets, but it dramatically increased the number of miles needed for partner award flights. For instance, Air Canada charges as few as 90,000 for a round trip in business class from much of northern and western Europe.  In contrast, United now 120,000 miles for business class tickets to Europe on flights it operates, and a whopping 140,000 miles for flights operated by any of its Star Alliance partners. Thankfully, you can transfer points to Air Canada miles through American Express Membership Rewards and the Starwood Preferred Guest program.
Nevertheless, our neighbors to the north have starting imposing fuel surcharges on flights operated by Air Canada, and most of their partners. Nevertheless, Air Canada does not add fuel surcharges to awards on flights operated by Air China, Brussels, EgyptAir, Ethiopian, EVA Air, Scandinavian, Singapore, Swiss, Turkish, United, and US Airways. In addition, the fuel surcharges add to tickets on LOT Polish airlines are very low.
For example, I booked a flight home from Europe this summer on LOT, using my Air Canada miles, and paid only $169 each  in taxes and fuel surcharges, a fraction of the fuel surcharges Air Canada imposes on award flights on other carriers such as Lufthansa and Swiss.
Bottom line:
Airlines can be sneaky and dishonest by lumping fuel surcharges in with "taxes and fees", but you don't have to accept it. By booking award flights that don't have these charges, you can use up your frequent flier miles and hold on to your dollars.