6 Ways to Save Money on a New Orleans Vacation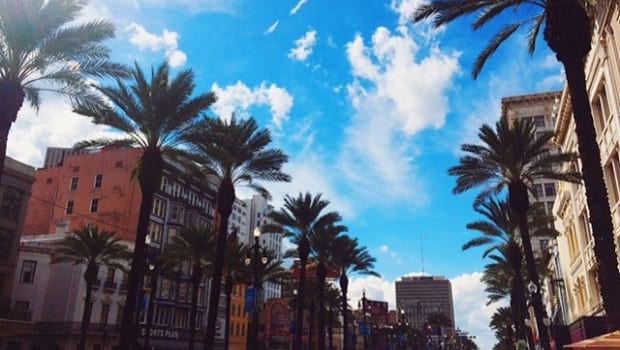 Next week's Mardi Gras celebration is set to draw more than a million people into the magical city of New Orleans. After years of longing, I took my first trip there back in September, and it was one of the best times of my life. That city is truly alive in a way I've never experienced anywhere else, and the people are friendly and fun. That being said, it's easy to spend a LOT of money during a trip to New Orleans. 
But you can also have have a lot of fun there without breaking the bank, so here are my six best tips keep yourself from over-spending on a NOLA vacation.
Book your tickets for the off-season.
Everyone wants to go to Mardi Gras, but next week is by far the most expensive time to visit. According to an article from local New Orleans paper The Times-Picayune, "The 2015 Mardi Gras season was the busiest to date" for the city. More than 1.4 million people flocked to New Orleans this time last year to revel in the music, the parades, the masquerades, and the general debauchery of the French Quarter. Hotels were at 97 percent capacity and both flight and room prices were through the roof. Couple that with the insanity of the event itself, and unless you're a newly single college sophomore who can still handle all-day/all-night drinking binges, it starts to look a lot less appealing.
The cheapest time to visit New Orleans is during the hot summer months between June and September. Average temperatures can get up to the 90s, but if you can take the heat, you can save a bundle on airfare and hotels. We went in early September, and while it was definitely a little sticky, we lucked out with a few clear sky 70-degree days that made wandering around a pleasant experience.
If you're set on going for Mardi Gras or the similarly popular Jazz and Heritage Festival that takes place during the last weekend of April, I recommend that you skip the hotel reso and...
Use airbnb or VRBO.
We stayed at an Airbnb during our trip, and it was cheap, seamless and super convenient. For less than we would have spent on a hotel room, all four of us had our own beds, a full kitchen and living room and a nice shaded porch we could lounge on when it got too hot in the sun. I also really enjoyed the experience of staying within a neighborhood, as opposed to at a tourist-filled hotel. We really got a nice lay of the land, learned to navigate the city on foot, and even had a few friendly neighbors come over to talk to us as we sat on the porch on a lazy Sunday afternoon.
Cultural immersion aside, if you're traveling with a group, Airbnb and rival site VRBO are generally cheaper and more convenient, even if you want to rent out a whole house. Comparing hotel and Airbnb prices for next week, I'm finding a lot more single-home options under $150 than I am hotel rooms for the same price. I don't know about you, but staying in a cute house will always win over being stuffed two to a bed in a tiny hotel room. Plus having a kitchen means you can cook, which can save you big time on dinners out. Airbnb actually published their own list of recommendations for New Orleans tourists, sourced directly from their hosts, which is a great resource for anyone looking to take a trip to the city.
Always bring a roadie.
One of the many amazing things about New Orleans is the fact that you are allowed to casually drink while walking down the street. Take advantage of this fact and pack yourself an ample roadie before you head out to the bars. Most bars allow you to bring in outside drinks, so if you're in NOLA to party a bit, BYOB can help save you big time on drink costs. Fair warning though: glass containers and bottles are nor permitted, so make sure you put your to-go drink in something plastic.
Eat your heart out.
The food in New Orleans is unreal. Fresh seafood, savory soul food, flavor-stuffed gumbo, and of course, sugary-sweet beignets are all staples of NOLA cuisine that you should definitely snarf down while in town. For the most part, we found the best and most inexpensive food to be off the beaten path. As you might suspect, the more touristy the area, the higher the prices, so try out some new neighborhoods if you want to steer clear of inflated food prices. That being said, the famous Cafe Du Monde in the French Quarter is well worth the 20 minutes you'll spend waiting in line for a table. You can get your fill of to die for beignets and strong coffee for under $4. It's definitely touristy, but it's one of those "only in New Orleans" experiences that's absolutely worth braving the crowds for.
Enjoy the free street music.
New Orleans is a city of music, and this is especially apparent on Frenchman Street, which is home to many of the best jazz and blues bars in the country. But while these bars are definitely worth a stop, the music in NOLA is plentiful no matter where you are. Street musicians are a given in any major city, but in New Orleans, they're usually better than anyone you'd find on an actual stage anywhere else. We saw a full brass band playing on a corner on Frenchman, and a duo of women on Bourbon Street whose angelic voices held us transfixed for 15 straight minutes.
Get ready to walk.
We took cabs, Ubers and the streetcar during our five-day trip, but the mode of transportation I enjoyed most was walking. We spent an afternoon wandering aimlessly around the lovely Garden District, reveling in the beauty of the many ornate houses and picking which ones we'd buy for ourselves if we ever won the lottery. From there, we walked back to the French Quarter -- which is about 2.5 miles away -- and did more wandering. The French Quarter is great for shopping, but if you don't have tons of cash to burn, window shopping is just as good. There are tons of weird little vintage stores, voodoo shops, and other fun spots selling things I definitely didn't need, but had a lot of fun looking at. I did somehow manage to spend $50 on hot sauce, so obviously window shopping only works if your willpower is stronger than mine. Another great walk we took was through the gigantic and swampy City Park, which is even bigger than New York's Central Park.
In my opinion, walking is the best way to really get to know any city. It allows you to truly immerse yourself in the place where you are, and helps you to understand how the city is laid out. There's nothing I like better than walking around and pausing for a moment to really take in my surroundings. And when you're in New Orleans, your surroundings are pretty much always magical.
What are your best tips for a frugal NOLA vacation? Leave us a note in the comments!
Related coupons: