Save Your Boarding Passes & Get Free Stuff!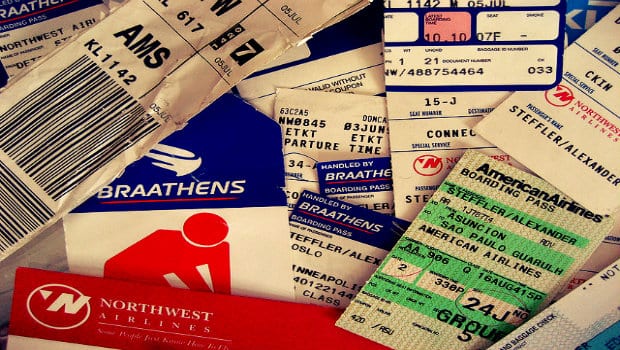 Wait! You might want to read this before you throw out the crumpled boarding pass from your recent holiday travels.
Flying might not be as glamorous as it used to be, but there are a few perks to modern air travel you might not know. We've already told you about Alaska Airline's same-day ski promotion, which enables Alaska Airlines passengers to ski for free on the day they arrive at various resorts around North America, but complimentary skiing isn't the only thing your boarding pass can get you. Here are a few other airlines offering boarding pass promotions right now:
Austrian Airlines -- Perks for Tourists
Since 2006, Austrian Airlines has offered retail and restaurant discounts as well as free admission to galleries and museums across the country as a part of its "World's Most Valuable Boarding Pass" program. You can get access to all the goodies for up to 10 days after you land!
Virgin America -- Free Ice Cream in San Francisco
Bring your boarding pass into Humphry Slocombe Ice Cream in the San Francisco Ferry building and receive a free scoop of ice cream. This deal ends tomorrow, but if you're traveling to SFO for the new year, it's a nice little treat for you and your family.
Alaska Airlines -- Wine Country Freebies
Present your Alaska Airlines boarding pass at one of the participating tasting rooms in Oregon or one of these wineries in Washington State and you could get a free wine tasting. An Alaska Airlines boarding pass will also get you a free checked case of wine in certain parts of Oregon, Washington and Sonoma County, California. An additional perk of this "Taste & Tote" program is Alaska Airlines' partnership with rental car company Hertz, which will waive drop-off fees from cars rented at the Pasco/Tri-Cities, Walla Walla or Yakima airports.
Korean Air -- "Excellent" Boarding Pass Programs
Korean Air offers two different boarding pass promotions: the Excellent Boarding Pass Korea and the Excellent Boarding Pass Worldwide. The first will get you discounts on a variety of activities, attractions and retailers inside Korea, and the second features deals around the world. Both are good up to 30 days after your flight.
Asiana Airlines -- Tourist Perks in Korea, Japan, Europe, Hong Kong & the U.S.
Present your Asiana Airlines boarding pass within 30 days of your flight to take advantage of a wide variety of shopping and dining discounts across the world. Click here to see details.
Singapore Airlines -- Dining & Shopping Deals
Passengers have access to a whole host of dining and retail discounts with their Singapore Airlines boarding passes, which they can use up to 30 days after landing.
Show your boarding pass to get a free night of skiing when you arrive. Night skiing isn't offered on Tuesdays or Wednesdays, so if you fly in on one of those days, you'll get free night skiing on Thursday.
Cover photo via Flickr.