Tips for Saving Money on a Colorado Ski Vacation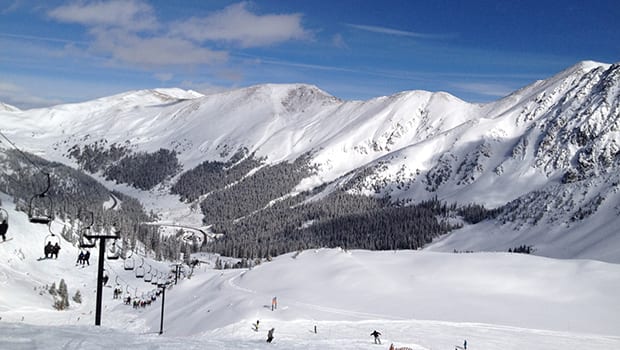 As we hit mid-November the college football season is now half over, the leaves have started falling off the trees and the first ski resorts in Colorado have begun to open up for the season.  As an avid snowboarder, this is my favorite time of year.
Thousands of people will make their way to Colorado this winter so that they can enjoy carving their way down the mountain on fresh white power.  Let me be the first to tell you that a ski vacation is not cheap.  Flights and hotels tend to be more expensive in the winter compared to other times of the year and the price of lift tickets will probably make your jaw drop.
Luckily there are ways that you can take an expensive trip and make it much more affordable.
Saving money on lift tickets
During the peak ski months from January through the end of March lift tickets at some of the major resorts can cost as much as $125 for just the day.  If you are going to be there for a weekend or even a week it tends to be a little bit more affordable to purchase a multi-day pass.
A great resource to use when looking for lift tickets is Lifttopia.com.  Depending on the time of year, they offer tickets for 25% off or more at most of the ski destinations in Colorado as well as most other states.
Another way to get your lift tickets for a much cheaper price is by using your Barclaycard Arrival Plus miles.
It's likely that Barclaycard will not consider lift tickets as a travel expense.  What you will need to do is purchase your tickets directly through your hotel.  It will show up as a hotel expense, which will then count towards a statement credit.  Most of the ski resorts have lodging plus lift ticket packages, which you would also be able to use your Arrival miles on.
Staying in a slope side condo for free
Anyone that knows me knows that I love staying at Hyatt hotels.  If you are planning a trip to Colorado then you will have your choice of one of four Hyatt Vacation Club locations.  They is Hyatt Grand Aspen, Hyatt Mountain Lodge (Avon), Hyatt Main Street Station (Breckenridge) and The Residences at Park Hyatt Beaver Creek.  You can redeem Hyatt points at any of these locations for as little as 12,000 points per night for a studio.
You are able to get a 40,000 Ultimate Reward bonus when you signed up for the Chase Sapphire Preferred credit card.  You can transfer those points to Hyatt and be able to use them for a free three night stay (40,000 miles + 3,000 miles from the minimum required spend) at any of the Hyatt Vacation Clubs mentioned.
Flying into Denver International Airport at no cost
When arriving for your vacation you are most likely going to be flying into Denver.  Some of you might elect to go on to either of the smaller airports outside Aspen or Vail.
Denver services every major airline including Southwest Airlines and Frontier.  Because Colorado is such a popular destination in the winter award availability on a lot of airlines can be pretty scarce.  I tell most people to use Southwest Airlines because they have quite a few flights in and out each day and they usually have a lot of award seats available.
Right now you can get 25,000 Southwest miles with the Southwest Rapid Rewards Premier credit card after spending $1,000 in the first 3 months.  These miles will get you a free "Wanna Get Away" fare.  You can also transfer from Chase Ultimate Rewards into the Southwest program.
You're going to need a rental car
When coming to Colorado for a ski vacation you have two main options as far as transportation to get you from the airport to the mountains.  You can either rent a car or you can take one of the mountain shuttles.  Most of the time I will tell people that it's much more cost efficient to just rent a car.  Chase Sapphire Preferred cards now also offer primary renter insurance as well.
When I rent a car I always go through Hotwire.com or I use the "Name Your Price" feature on Priceline.com.
Wrapping it up
For any skier or snowboarder Colorado is a popular destination.  During the peak of the season it can definitely be a budget buster, but by using some of the tricks above you can make it a little more affordable no matter how big or small your family might be.