What Online Shoppers Need to Know About the SCOTUS Sales Tax Decision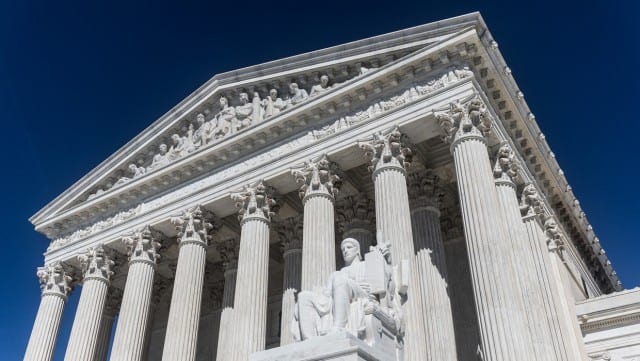 On June 21, 2018, the Supreme Court of the United States ruled in a 5-4 decision that states can force retailers to collect sales tax. Here's what you need to know.
A Brief Look at South Dakota vs. Wayfair
Before we dive into what the decision means for you as a consumer, it's important to look at the case itself.
In 2016, South Dakota passed a state law that required internet businesses with no physical presence in the state to collect sales tax. The law specifically applied to retailers who cleared 200 separate transactions or $100,000 in sales in the state.
Wayfair, Overstock, and Newegg, all of which are fairly large, well-established internet-only retailers, challenged the law all the way up to the U.S. Supreme Court, saying that it violated a previous decision, Quill vs. North Dakota. SCOTUS ultimately upheld South Dakota's law.
Though the decision was split, it was not a vote along party lines. Justices Anthony Kennedy, Clarence Thomas, Ruth Bader Ginsburg, Samuel A. Alito Jr. and Neil M. Gorsuch were the five votes in favor. Chief Justice John G. Roberts Jr., and Justices Stephen G. Breyer, Sonia Sotomayor and Elena Kagan joined the dissent. Overall, despite the split decision, it seems that the Court mostly agreed that the loophole amounted to tax evasion and should be closed, and that any dissent was mostly regarding procedure.
The ruling effectively scraps Quill vs. North Dakota, a 1992 decision which established that states could not force retailers to collect sales tax if they did not have a physical presence in that state, on the grounds that the old ruling was too antiquated to effectively address the tax implications of the explosive growth in online sales that the world has seen in the intervening 26 years.
Additionally, brick and mortar retailers have long argued that the sales tax loophole gave  online retailers an unfair advantage.
"Rejecting the physical presence rule is necessary to ensure that artificial competitive advantages are not created by this court's precedents," Justice Anthony Kennedy said.
Meanwhile, the counterargument from online stores was that a sales tax collection requirement would hurt small businesses, giving an advantage to well-established retail giants and thus stifling competition.
"Consumers will quickly feel the negative effects as those businesses dry up or are forced into the arms of Internet giants," said Chris Cox, a lawyer for e-commerce industry group NetChoice.
So what exactly does this decision mean for shopping online?
Previously, a state could only force sales tax collection for online purchases if the retailer had a physical presence in the state. That requirement no longer applies. SCOTUS has ruled that states can force online retailers to collect and pay sales tax – if they want to.
While it is up to individual states whether or not they want to do it, it's worth noting that the sales tax loophole has cost states billions in lost tax revenue over the last two decades. We're pretty sure that most if not all states will be pushing sales tax collection bills through their legislative bodies as quickly as possible. I'm pretty comfortable assuming that the odds that those bills were already drafted and ready to go in anticipation of this decision are very high.
What does that mean for you as a consumer? In a nutshell, if you live in a state that collects sales tax, then you're probably going to start paying sales tax on all of your online purchases across the board, no exceptions.
"It's clear that (retailers) are going to try to incorporate increases in the prices to pass along the higher costs to the consumer," said Quincy Krosby, chief market strategist at Prudential Financial in Newark, New Jersey.
When will this take effect?
As noted above, it's up to each state individual to make the change (or not.) However, while the timeline will be different for everyone, we do expect state legislatures to move fast to make it state law.
I live in a state with no sales tax. Does this mean I'll be charged sales tax on internet purchases now?
Nope, you're still good.
Is there any way to get out of paying sales tax now?
Of course, though it's not particularly easy, nor is it available to everyone. Here are your options:
Move to a state with no sales tax.
That would be Alaska, Delaware, Montana, New Hampshire, or Oregon. Or if you feel a sudden yearning for island life, the U.S. Virgin Islands and the Northern Mariana Islands, both American territories, also have no sales tax.
Take advantage of sales tax holidays.
If your state has sales tax holidays for things like back to school gear or hurricane season, you can take advantage of them to stock up on applicable goods. These are usually limited to apparel, office supplies, and education-oriented electronics.
Become a 501(c)(3) organization.
Certain types of charitable organizations qualify for tax-exempt status. This is not exactly easy to get if you all you want is to buy a big screen TV for the game room, of course. We're pretty sure the IRS would frown on that.
Will this hurt any of my favorite online stores?
Most of large and popular national chains have charged sales tax in all states for quite awhile. However, smaller merchants that physically operate in just one or two states, like B&H Photo and Adorama, have made their name online because they don't charge sales tax in most states – a huge competitive advantage when you're selling big ticket items like televisions where the addition of sales tax can really drive your out-of-pocket costs up.
That competitive advantage will be effectively wiped out once states start forcing them to collect sales tax. And, yes, that could leave many online merchants in a bad position. Some legal pundits are speculating that we could see legal challenges from these smaller merchants as states seek to establish their own minimum transaction thresholds.
Ultimately, we'll have to wait and see.
Could a retailer just decide to stop selling in my state to avoid collecting sales tax?
Theoretically yes, but it's not likely to happen since states really want that tax revenue. The burden of collecting sales tax simply will be part of the cost of doing business online in the United States moving forward. The only real alternative is to shut down your store.
How much is my sales tax, anyway?
Sales tax can be charged by your state, county, and city, so there can be quite a lot of variation from one address to the next. When you shop in the store, the sales tax is determined by the address of the store. For online purchases, it's the opposite – your sales tax rate is determined by the billing address on the debit or credit card used to make the purchase. If you want to see how that breaks down for you, TaxJar has a great, easy-to-use calculator that tells you what your sales tax rate is based on your address.
Is there anything I can do to offset sales tax?
We suggest looking into a cash back credit card if you don't already have one. That way, you can offset some of that sales tax with the cash back rewards. It's a drop in the bucket, but any little bit counts.
What do you think about the Supreme Court decision? Tell us in the comments!
IMPORTANT: We know that emotions run high with matters involving the government in 2018. Before you weigh in with your thoughts, please read our comment policy to learn more about our comment moderation process and other rules of the road.