The 10 Commandments of Summer Music Festival Essentials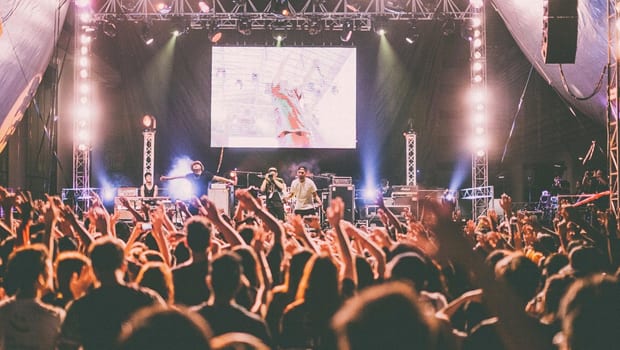 The only reason I'm looking forward to the weekend that marks the end of summer is because I'm going to the first ever music festival curated by Jay-Z, The Budweiser Made in America Fest. I'll be warming up to my best fest mode a few weeks before my Philly arrival at San Francisco's Outside Lands. Why? Well, music is pretty much my religion (I walked down the aisle at my wedding to Zeppelin), so summer music festivals are my mecca. If you are embarking on your first quest to one of my holy lands this summer, here are the 10 commandments to help guide you:
Cotton is thy fabric of choice: You will sweat, and you'll probably get dirt on your clothes. Loose fitting cotton clothing is best because it allows your skin to breathe and is easily washable. Not sure what styles to rock when you're rocking out? Asos and Shopbop both have curated festival wear boutiques, with competitive prices as well as free shipping and returns.
Thou shalt rock boots: Between the spilled beverages and heavy foot traffic, dirt turns into mud pretty quickly. Rubber rain boots like these Hunter Wellies will keep your tootsies clean and dry.
No graven marks shall adorn your likeness: Bug bites can seriously cramp your festival style. Take insect repellent along, or spray your clothes beforehand to keep bugs at bay.
Thou shall not use the facilities in vain: Speaking of getting stuff all over your hands, in the land of port-o-potties, you'd be silly to go without hand sanitizer. Get this deal for 5 of them and be a hero for all of your friends.
Remember the hands free necessity: This is the last point I'll make about hands: invest in a cross body bag so you can look chic while having two hands for cup holding, dancing and picture taking. This $39.99 BCBGeneration Regina Bucket Bag is large enough to carry your arsenal and big bottle of water.
Honor thy electronics: Unless you already have a waterproof case for everything you own, pack all your electronics, wallet and valuables in zip-tight plastic bags to avoid any incidents that can really put a damper on your festive mood. Cheap, easy, and effective.
 Though shalt not kill: Seriously, people get a little wild. Keep the vibe friendly and don't push. You will inevitably end up with a scrape or two, so come prepared. Spread the happy vibes and keep in good humor about it with these What Happened Bandages.
Though Shalt not Peel: You'll need to take sun screen with you to reapply. This Neutrogena Fresh Cooling Superior Sun Protection Pack comes with SPF for your face, lips, and a spray that you can apply without getting it all over your hands, and will cool you down for $29.99.
Though Shalt Not Bear False Witness: You did see Sienna Miller jamming out in all her prego glory. Get a good shot with this $12 iPhone telescope.
Thou Shalt Not Covet TP: You will need some, and you'll be jealous of anyone who brings it if you don't have your own stash. Bring your own and you can even earn a few bucks just for sparing a square once the situation grows dire.
What music festivals are you going to this summer? We want to know, so tell us in the comments below!
For more tips and tricks and the best deals every day, sign up for our email alerts!
Related Coupons: