Target's Cyber Week Kicks Off Monday With 15% Off Site-wide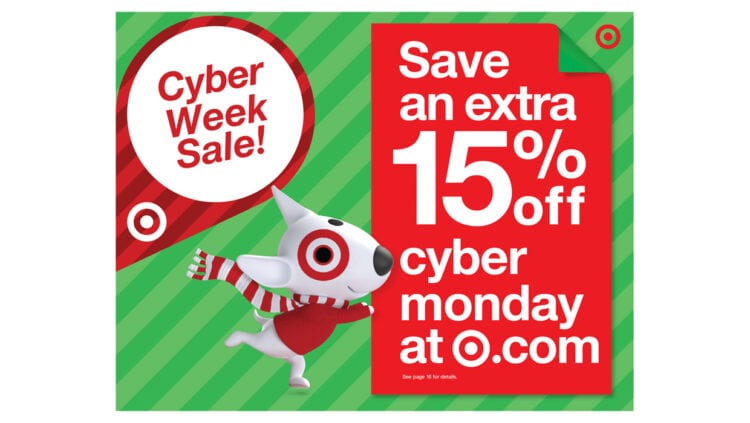 Black Friday isn't the only day you can get incredible deals at Target, so when Saturday rolls around don't be disappointed that you weren't able to get everything you wanted to! On Cyber Monday, Target will be offering 15% off site-wide at Target.com, which is just the beginning of ongoing deals.
If you aren't able to get everything you want at Target this Black Friday, there is still an opportunity to get amazing deals during Cyber Week. If you're not sure whether you want to shop during Black Friday or Cyber Week, both saving holidays will be filled with great options. We've compared them below to give you a better idea of the best way to save.
Target's Black Friday Deals vs. Cyber Monday Savings
Target's Black Friday begins early on November 23rd, Thanksgiving night, at 6 p.m. local time, but REDcard members are able to get early access to more than 100 Black Friday deals starting November 22nd. When shopping on Friday, November 24th, if you spend $50 at Target stores or online you'll get a 20% off coupon, redeemable between November 28th until December 10th, which would be great to use during Cyber Week.
Also, if you are shopping in the store on Black Friday and you can't find an item in the right color or size, team members will be there to help you with handheld devices to place an online order for you, which is a great perk if you need some extra help.
Some of our favorite Target Black Friday Deals for 2017 include the Westinghouse 55" 4K UHD Smart TV for $249.99, getting a $250 Target Gift Card with the purchase of an iPhone 8 or 8 Plus, and Beats Studio 2 Wireless Headphones originally $379.99 for $159.99.
As far as Target's Cyber Week, it actually begins on Sunday, November 26th. Yet, the 15% discount doesn't start until Monday. The day long deal doesn't require a promo code making it convenient for people to shop with minimal hassle. Target is also trying something new this year and offering digital daily deals beginning Tuesday, November 28th, until Saturday, December 2nd. These daily deals will range from electronics to apparel and beauty.
Highlight Deals for Cyber Monday and Cyber Week
Planning on staying in and relaxing during Thursday and Friday? Then Cyber Monday and Cyber Week will be your time to save big on holiday shopping. Here are some deals you won't want to miss next week:
Don't forget! Target also has free shipping through 12/23/17 for the holiday season — a much appreciated perk.
Which deals are you excited about purchasing from Target during Black Friday, Cyber Monday, or Cyber Week? Let us know in the comments below!
Check out these Target Cyber Monday deals:
Target: Extra 15% Off Cyber Monday Sale
Throw Blanket with Character Pillow $9
Xbox One S 500GB $170 Shipped