Wristbands, Lines and the 1-Hour Guarantee: The Complete Guide to Snagging a Walmart Doorbuster Deal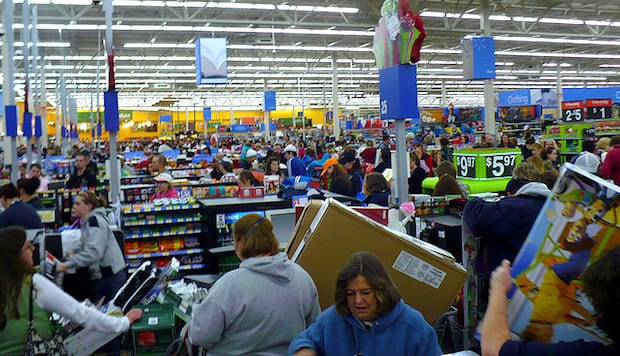 After a few concerning snafus on social media, Walmart FINALLY released their Black Friday ad last week exclusively on their app. So now that we've seen all the goodies inside the long-awaited circular, it's time to break down exactly how to get them. 
I'll be honest, when I first started writing about Black Friday last year, Walmart's sale really confused me. There's a lot of fine print, much of which is pretty obtuse. Case-in-point? Let's check some of the disclaimers in the 2015 ad:
"Prices also valid all day Friday, while supplies last. Lines may form prior to start time. Wristbands granting the ability to obtain an item on the day of the event may be distributed prior to start time for select items. Wristbands nor guaranteed for all customers."
"Distribution of 1-Hour Guarantee cards will end 1 hour after Black Friday event start times. Limit 1 of each Guarantee items ("GI") per person, per transaction. Payment must be made upon checkout. 1-Hour Guarantee Receipts ("1HGR") must be registered at walmart.com/1hourguarantee by 11:59 CST, Monday November 30 2015."
Hmm OK, so how exactly do you ensure you get a wristband? And which items do you need a wristband to purchase? And what is this whole one-hour guarantee business all about? Let's break it all down in plain English so you can walk away from Black Friday with all your dream doorbusters in tow.
How do Walmart's wristbands work?
I will say that, compared to the madness of 2014, this year's Walmart Black Friday event is a walk in the park. Last year Walmart had several doorbuster events each with their own set of wristbands that corresponded to different sought-after items.
This year they simplified the process and stripped it down to one big event, which starts at 6 p.m. on Thanksgiving Day. Walmart has been pretty secretive about which items will require a wristband to purchase, but last year there were 9 wristband items available--all tech items like TVs, phones, tablets and video game systems, and this year isn't any different. From the information in the store maps, which were just released last night, it looks like 2015's wristband items are:
In order to get a wristband and the item to which it corresponds, you have to stand in line. Wristbands will be distributed on a first-come, first-serve basis starting at 5 p.m., and once they run out you're out of luck. The number of wristbands available for each item is limited to the quantity available. If there are only 15 60" TVs available at doorbuster pricing, only 15 wristbands will be distributed for that model. The better the doorbuster deal, the fewer wristbands you can expect to be given out. We spoke with a Walmart employee who recommends getting in line for a wristband at least two hours before the event start time.
Once you get a wristband, you have two hours from the start of the sale to collect your item, which in this case means you have until 8 p.m. Each person is entitled to one wristband per item, but getting a wristband is a guarantee that you will go home with the item in question.
What's up with the 1-Hour Guarantee?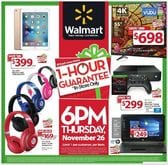 For the fourth straight year, Walmart plans to offer a limited selection of guaranteed in-stock deals at Black Friday pricing. Even if your desired product sells out, you are guaranteed your item before Christmas! The 1-Hour Guarantee event begins at 6 p.m. on Thanksgiving Day. Here's what you need to do to get 1-Hour Guarantee items under your tree by Christmas.
You need to be in line by 5 p.m. and you are guaranteed the item of your choice for the price advertised in the ad as long as you buy it before 7 p.m.
If the item does sell out, you'll be given a 1-Hour Guarantee Card. The cashier will scan this card at checkout, and you'll pay then and receive your item through in-store pickup to the store of your choice before Christmas.
If you have to buy a 1-Hour Guarantee Card, you'll need to register the access code on your receipt online BEFORE 11/30 and choose the store where you want your item shipped. Delivery is guaranteed to your selected store by December 24.
Walmart's one-hour guarantee items are available in-store only (sorry, online shoppers), and there's a limit of one of each Guarantee item per person.
Here are all the 1-Hour Guarantee items featured in the 2015 Walmart Black Friday Ad. For reference, you can see them all together on the last page of the circular:
Is there any overlap between the 1-Hour Guarantee and the wristbands?
No. Despite the fact that I've found a lot of misinformation to the contrary, there is zero overlap between wristband items and 1-Hour Guarantee items.
You are NOT guaranteed a wristband item if they run out. You ARE guaranteed a 1-Hour Guarantee item if--hence the name--you purchase it within one hour of the sale start time. Got it?
To sum it all up:
Get in line early.
Wristbands will be distributed on a first-come, first-serve basis, and you can only get one of each.
1-Hour Guarantee items are guaranteed for one hour after the sale starts.
Don't forget to register your 1-Hour Guarantee cards before 11/30/2015!
This sale starts exactly one week from today! Are you ready to rumble?