The Definitive Guide To Buying A Turntable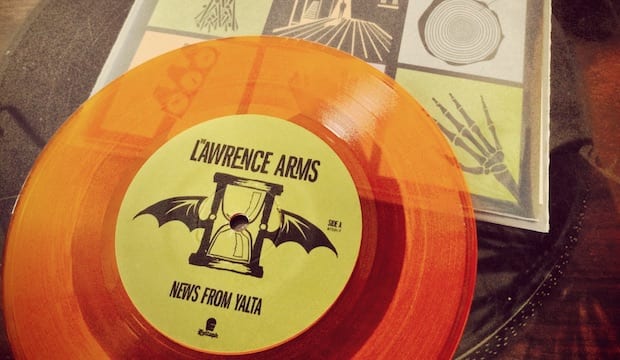 I hate to sound like a broken record (pun definitely intended), but vinyl is back, and turntables are no longer being marketed to audiophiles willing to spend hundreds of dollars to achieve sonic perfection.
Our team monitors everything related to Black Friday on Brad's Black Friday, our sister site. This year, we've noticed several major retailers are featuring turntables in the Black Friday circulars. Also, the second most awesome vinyl shopping day is coming up: Record Store Day's "Back To Black Friday," which is, of course, on Black Friday. Read more about RSD's new releases and Black Friday exclusives here.
They're not the only well-known retailers to sell turntables. Target and Best Buy have been selling them for quite a while, and even Walmart has a few models in stock.
Turntables vary pretty widely in terms of features, sound quality, and most importantly, price. If you're new to vinyl and interested in picking up your first turntable - or if you got rid of yours years ago and need a new one - it can be tough to know which turntable best suits your needs.

Below is our guide to a few of the most popular turntables currently available. They're rated in four categories:
Sound Quality: Does this turntable pass the audiophile test?
Features: Does it have USB compatibility? Is the tonearm well-built and adjustable?
Style: Will it look cool in my living room?
Value: How good is it for the money?
This guide is designed to help vinyl newbies (or relatively new-bies) with buying their first turntable (the same goes for those who haven't own one in decades and are looking to get back into vinyl). For more advanced listeners, check Stereophile's reviews section.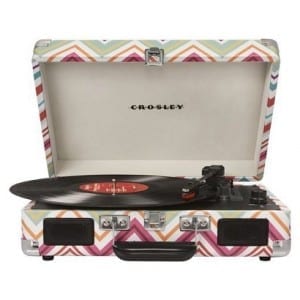 Sound Quality: The Cruiser is portable and comes with a built-in speaker, which sounds nice, but the speaker is of dubious quality. The general consensus from Amazon reviewers is "anyone who listens to vinyl will want to plug in to bigger, more dynamic speakers." 5/10
Features: Fortunately, the Cruiser does give you the option to user external speakers - there's an RCA output on the back. Other than that, the Cruiser lacks any cool features, and which reviewers comment on its sturdy build, you're not getting a high-quality belt drive and tonearm at this price. Some reviewers complain the turntable is slightly off-speed, which is definitely a common problem with cheaper belt-driven turntables. 4/10
Style: This is where the Cruiser wins. It comes in slick, briefcase-like packaging, and you can get it in a bunch of different colors. It only weighs 5.5 lbs and is of compact size. If you're into the vintage aesthetics, you'll probably like the Cruiser. 9/10
Value: The Crusier isn't a bad bet if you own a handful of records that you want to enjoy and want a cool conversation piece in your living room. If you're relatively new to vinyl and can live with some sonic imperfections, the Cruiser does okay for its price. 5/10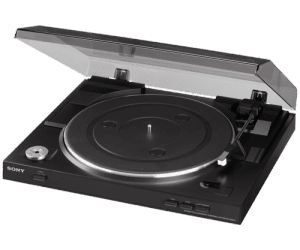 Sound Quality: This is a no-frills turntable that sounds great for the money. It doesn't stack up to a professional turntable that costs ten times more, but the average listener would be hard-pressed to find a solidly-built turntable that sounds this good for the price. 7/10
Features: The coolest feature Sony's USB Turntable boasts is its USB connectivity, which can be used to write MP3 files from your vinyl records. As one customer review simply states, "the MP3s is made sound good." Mac users beware - unfortunately, it's not compatible. 7/10
Style: This turntable is fine if you're not picky and are mainly concerned with sound. If not, though, you'll probably make the same observation I did: "This thing looks like it time traveled here from 1992." If you're going for the audiophile, home-studio style look, you'll want to keep reading. If you're going for vintage style, check out the Crosley Cruiser above. 4/10
Value: For record collectors on a budget who want solid quality in a turntable, this is a great choice. What it lacks in aesthetics it easily makes up for in value, and while it lacks truly high-end components, you get what you pay for at $119 - and what you get is pretty good. 7.5/10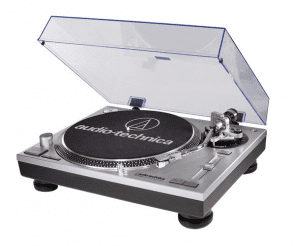 Sound Quality: Now we're getting into higher-end stuff. This turntable features a direct-drive belt and rotates at three RPMs: 33 1/3, 45, and 78 (for anyone still playing discs from the Great Depression). This turntable is direct-driven, and while I probably write 3,000 words on the topic of belt-driven vs. direct, I'll sum it up in one sentence: Unless you're looking to spend upwards of $600, a direct drive system is the way to go because lower-end belt drives are unstable and often spin at nonoptimal speeds. 8/10
Features: This turntable has a pitch adjustment feature, an adjustable counterweight, anti-skate adjustment, and an adjustable tonearm. If that wasn't enough, it has USB connectivity and is Mac compatible. 9/10
Style: Audio-Technica isn't flashy, but this device has a professional, sensible style that just seems right. 7/10
Value: The general sentiment from the Amazon review on this turntable? It's a steal at $249. It's got "professional" right there in the product name, which is a good indicator of the kind of product you're getting. Simply put, it's the best dollar-for-dollar turntable. 9.5/10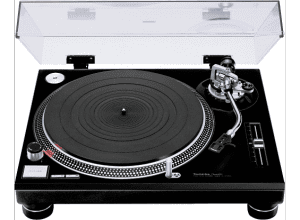 Ok, ok. This list is meant for beginners, so I'm not going to review this one at length, but it warrants inclusion on any "best turntables" list because it's the gold standard. Any touring DJ who's serious about what he does owns two of these beautiful machines.
If money isn't an object, this is the turntable you want. The direct drive system has unparalleled steadiness. Its rubber base absorbs vibration better than anything else on the market. The pitch control system is more accurate and adjustable than even the most obsessive audiophile can discern.
It's a beast of a turntable... and that's why you'll need $1,899 to own one.