The DOs and DON'Ts of Pawn Shop Shopping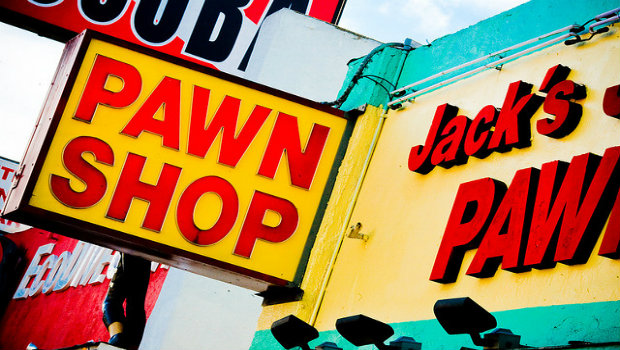 Pawn shops get a bad rap for being shady, but if you avoid them for that reason you're missing out on some serious deals. 
Of course, the pawn business' unsavory reputation isn't helped by the fact that the word "pawn" sounds dangerously close to, ahem, another word. But as shows like Pawn Stars and Hardcore Pawn--which actively exploit that innuendo--have become popular over the past few years, pawn shops are being lifted out of society's shady underbelly and into the mainstream culture. In fact, during the economic downturn following the Great Recession, people from all economic classes began using pawn shops as both a short-term solution to their financial issues, and a good place to get steep discounts on household items.
If you're new to the pawn shop scene, here are our top Dos and Don'ts of pawn shopping.
The Basics
Don't: show up uninformed
No matter what you're shopping for, it pays to know exactly how much it would cost to buy elsewhere. Whenever you shop second-hand, you should always do some light research beforehand--look up the price of similar used items online, or at the very least, make sure you know how much it would cost to buy brand new. That way, you won't end up paying retail prices for anything pre-owned.
Do: haggle
Haggling might seem like a lost art, practiced only by old ladies trying to buy creepy porcelain dolls at the flea market, but if you want to make sure you get the best possible deal while pawn shopping, you better brush up on your bargaining skills. Not only is it perfectly acceptable to negotiate a lower price on pawn shop items, most pawn shops actively expect you to do so.
Typically, pawn shops will stick their merchandise with a price tag that's a little higher than what they need you to pay for it to make a profit. As a lot of people either don't know they can barter, or are uncomfortable doing so, they often end up getting away with this. However, you can usually talk them down at the register, and many pawn shops use something called an Alphabetic Code on their price tags, which, if you can crack it, can help you figure out just how low they're willing to go on certain items.
For info on how to decipher an Alphabetic Code, check out this Garage Journal forum from 2005. It's dated, yes, but pawn shops still use these kinds of codes.
Don't: discount online pawn shops
If the idea of physically going to a pawn shop just isn't your cup of tea, you can still take advantage of all the deals these stores offer by shopping online. A lot of pawn shops have websites where you can both buy their merchandise online and pawn your own items for cash. Bartering is still an option online, as most of the online pawn shops I've found have "make an offer" or "name your price" options at check out. However, I would be very cautious about buying used items like electronics, jewelry or power tools online, because even if you get a good deal, there's no way for you to inspect it in person to make sure it works or is exactly what's being advertised.
A few online pawn shops for you to explore:
What to Buy
Do: buy DVDs and video games
Pawn shops often have a surprisingly large collections of movies and video games at prices that rival those of a one-night Redbox rental--only you can keep these discs forever without your credit card being charged a dollar for every night you've had it. Of course, a few of these games and movies might be scratched up beyond repair, so always open the case and look for damage before you buy 'em.
Don't: buy personal electronics
Yes, you can find crazy discounts on hot electronic devices like cell phones, laptops, tablets, gaming systems and computers at pawn shops, but unless you're an expert on these products, it's best to stay clear. Even if the outside of that iPad looks just fine, it's very hard to verify the condition of the software inside it. Plus, electronics are easy to steal and hard to track, so you could very well be buying someone else's stolen property without knowing it. You don't need that kind of karma.
Do: buy tools
From lawnmowers to power drills, pawn shops often have a surprisingly wide variety of gently-used household tools. If you need a specific tool for a home improvement project, buying it used is always a better bet than shelling out for something new. If you've never used it before, chances are you're not going to use it very often in the future, so why pay full price for something that's just gonna sit in your tool shed gathering dust?
Don't: buy jewelry or watches
I know, I know, jewelry is probably the first thing you think of when you hear the words "pawn shop," but unless your an expert on the subject, you're likely to get ripped off. Cheap knock-offs are all too often sold as the real deal, and if you don't have a jewelry appraiser's nose, it can be difficult to smell a fake when its sparkling in front of you.
Do: buy bikes
Pawn shops usually have a pretty robust selection of quality bicycles for amazing prices, and unlike electronics and jewelry, it's usually pretty easy to tell just by looking whether or not a bike is a legitimate brand name or is in good, working condition. That being said, before you purchase a bicycle from a pawn shop, make sure to run its serial number through your local police database, or check online sites like Bike Register and Bike Index, which have thousands of stolen bike serial numbers on record. It's always better to double check than to unknowingly purchase stolen merchandise.
Have you ever shopped at a pawn shop? Tell us about your experiences in the comments!