The smart watch you can afford is the only one you'll ever need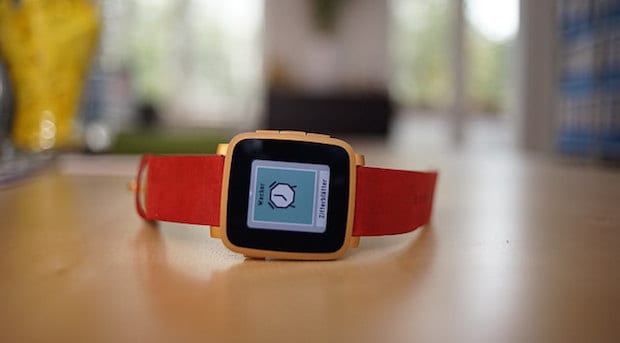 When the Apple Watch was first released, I pitied anyone who spent several hundred dollars to have a tiny version of their phone attached to their wrist. Smart watches in general seemed like a great way to tighten the leash on my phone and create an ongoing social media distraction, and no one wants to become the guy who settles an argument by waking up his watch and asking Siri.
However, when used appropriately, a smart watch can actually limit the distractions associated with having to check a smartphone regularly for alerts, and the additional set of features provide the kind of convenience you never realized you needed. If you're old enough to remember your initial reaction to texting, you might be able to imagine your smart watch becoming an accessory that you can't live without.
So, you're ready to give in and purchase some wearable tech. Which one of the now options should you invest in? I was in the same boat not long ago.
With a trip to Europe coming up in April, I was looking for a watch that could give me turn-by-turn directions on my wrist so I don't look like a lost tourist, translate English phrases for me if I speak out loud to it, notify me of incoming calls, count my steps during long hikes, and provide me with some safety features, like a one-button call for help and the ability to track my phone if it gets lost or stolen. It didn't seem to me like I was looking for anything extraordinary, so I was shocked to find the only watches that listed all of these features would cost me upwards of $300. Even if I managed to find a really sweet deal, this was way out of my price range.
But then I found a watch that was customizable and could do everything I needed for a fraction of the cost. I just needed to spend a little bit of time setting up the features that come preloaded on more expensive wearables. That watch was the Pebble Time. What it lacks in built-in features, it makes up for in available apps, and with a bit of setup, it's amazing what it can do. At just $128, it'll save you at least $186 when compared to the lowest price Apple Watch model.
But isn't the Apple Watch better? Well, I wouldn't know, because I can't afford one. My friends can't afford one. I tried walking up to one at the Apple Store, and Siri told me to go play lotto and come back later. You can't afford one either, or you wouldn't be reading this. And while reviewers praise the intuitive design of the Apple Watch, they also praise the Pebble Time for having a rich set of features for the price point. It does everything you need it to do currently and is built to be updated as technology evolves. And in a lot of ways, it's better than its more expensive competitors. Here's why:
The look and feel: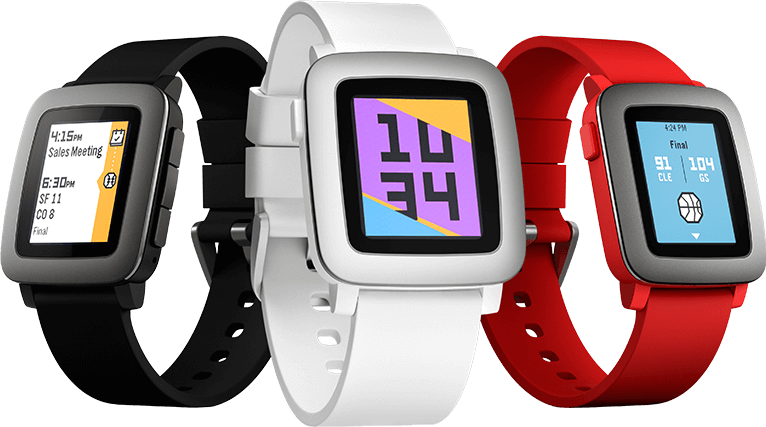 The screen on the Pebble Time is the same diameter as the smallest Apple watch, but it's thinner and not as chunky. At 7.4 oz, it's also incredibly lightweight. It uses an e-paper screen, which some reviewers complained was not bright enough, and although other reviewers weren't crazy about the retro graphics, I didn't mind either of these things.
A backlight gets you extra brightness if you need it, and the e-paper technology allows for a much longer battery life, which I'd take over fancy graphics any day. Personally, I like the retro look. And unlike other smart watches, it's always on. I can look at my watch and see the time without having to wake it up, just like a regular watch. If I really wanted to, I could even customize the watch face with the apple logo. However, I'm really feeling Peppa Pig this week, so maybe later.
The materials: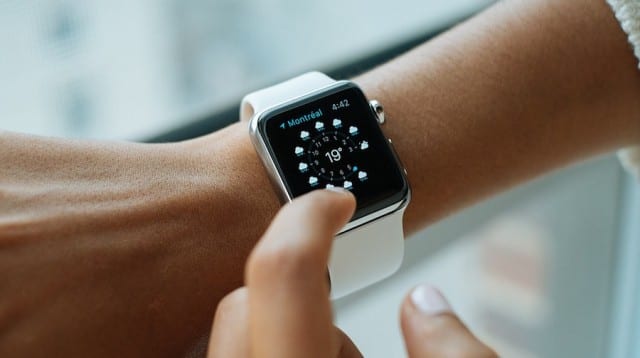 The Pebble Time is completely waterproof. I will gladly challenge any Apple Watch owner to a quick race in the pool, and afterwards, we can have a discussion about who has the more functional watch. I never have to worry about taking it off. It's also really comfortable and durable, with a silicone wristband and polycarbonate case. But the watch band can also be replaced with a number of other options if you want to change the look, and cases are available for the watch face.
The battery life: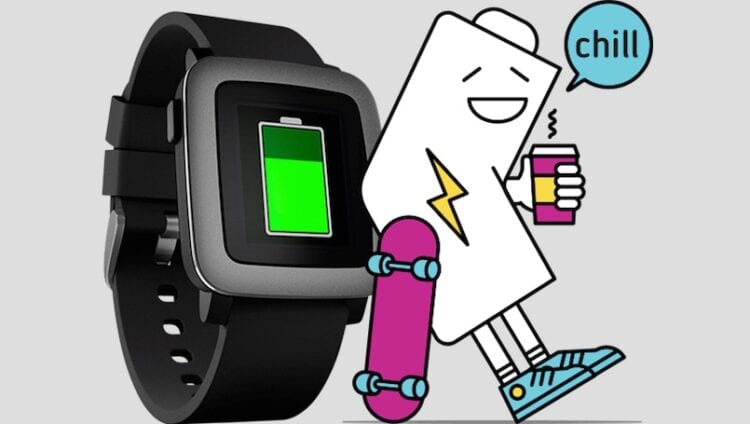 The Pebble Time lasts a whopping seven days on a single charge. The Apple Watch can't even make it 24 hours. Consider the hassle of keeping your iPhone charged through all of your daily activities, and imagine having another tech device at the same time that is even is more dependent on you to give it life. Now, imagine you're traveling. The Pebble lets me know when I've got about a day left of charge on it, so I can plan to charge it at my convenience, wherever I am.
Health Tracking: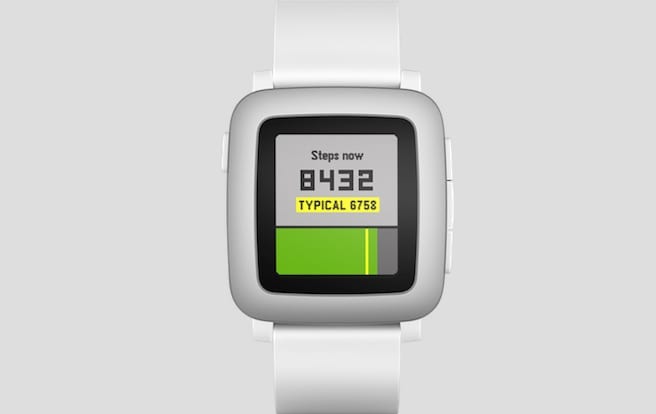 Without a doubt, the fitness and sleep-tracking app that comes pre-installed on the Pebble is very limited. It tracks your steps and the duration and quality of your sleep, but that's about it. The Apple Watch delivers a much nicer user interface and richer features, including suggested goals and progress tracking. However, there are several good options for fitness tracking apps on the Pebble App Store, including apps created by Misfit and Jawbone, which effectively give your Pebble the same features as popular fitness trackers from these brands.
While there is no heart-rate monitoring built in (this is a deal breaker for some people), the Pebble is built to be fitted with accessories, and a thin and lightweight watch case that monitors your heart rate is already available for pre-order for as low as $49. That's still less than the price difference between the Pebble Time and comparable smart watches or fitness trackers that have built-in heart rate monitoring.
Notifications: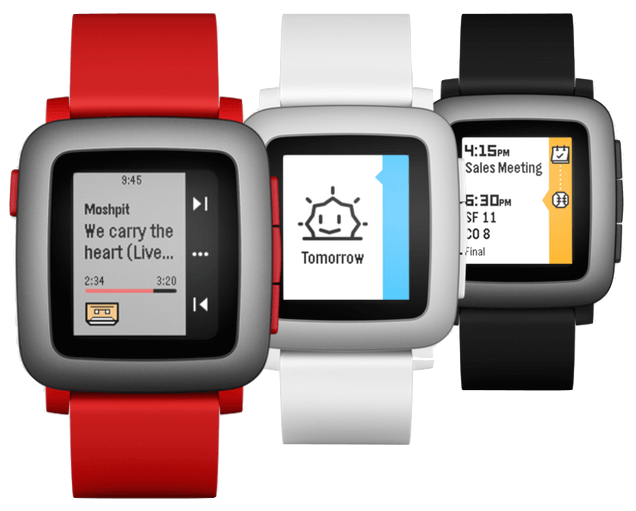 The Pebble Time works with most apps on your phone to provide notifications, and you can customize which notifications show up on your wrist. The vibration is strong enough to wake you up with a silent alarm but gentle enough that it's not startling. You can also enter quiet mode with just one button, so you always have the option if you don't want to be disturbed.
While incoming call and text notifications are pretty standard on smart watches, not every choice will display a text or allow you to respond. The Pebble Time comes through on this as well. The user experience of replying, however, is inferior to that of the Apple Watch because the Pebble lacks a touch screen and seamless integration with Siri. A $2.99 app, Snowy, allowed me to use voice dictation for almost any function on my watch, but since it doesn't have a companion app for my phone, it doesn't control texting and other functions that work through bluetooth and not directly through the watch.
Voice Control: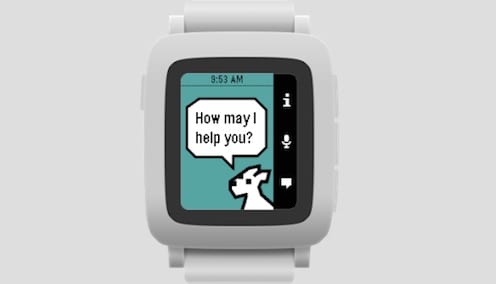 While Snowy can't text, the fluffy white dog has already won a place in my heart, providing a robust set of additional features such as translation, voice notes, and voice dictation of almost any command that can be linked to a function on the watch. If a command isn't currently recognized by the app, you can even add it in yourself. Still, unlike Siri, Snowy responds to me in text, so I'll just have to guess at the pronunciation of any German expletives I urgently need to know.
GPS capabilities: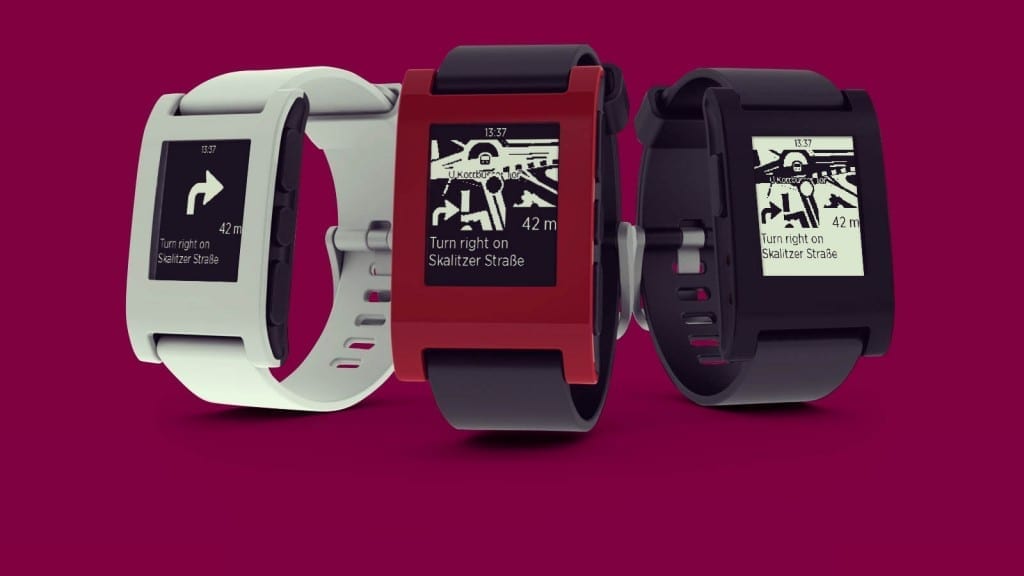 GPS-enabled smart watches are considerably more expensive than the Pebble Time, but once again, the Pebble app store saves the day. Several GPS mapping options are available for the Pebble, and all you'll need is a $2-$3 companion app on your phone to get turn-by-turn directions on your wrist. Since the Pebble Time doesn't talk, you're better off using your phone in the car, but the watch is suitable for walking directions, especially when you're traveling. You won't look lost, you'll just look like you're late to a very important appointment. Wear leather shoes and stand up straight if you really want to sell it.
Other features and overall user experience: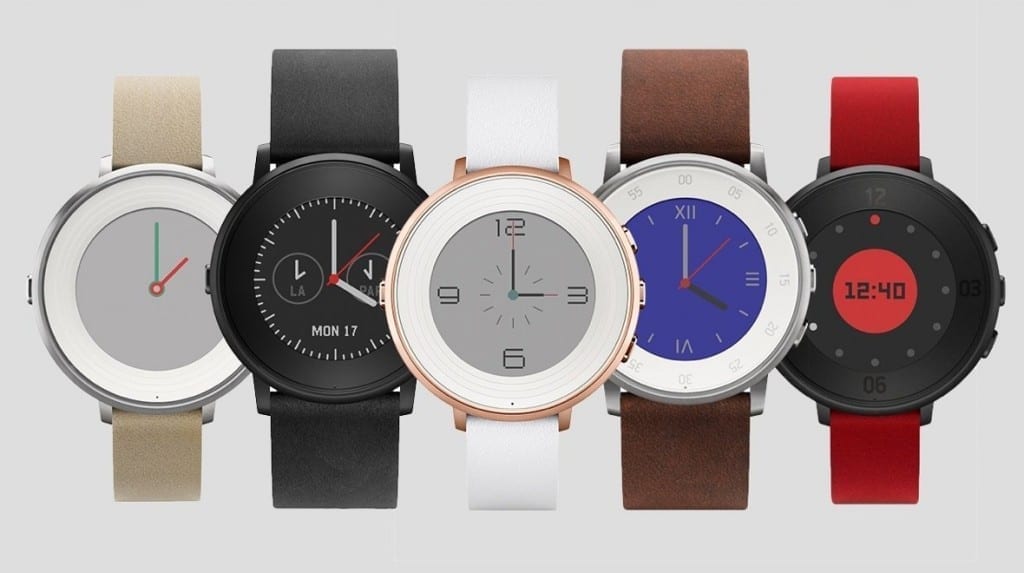 Using the Pebble watch was fairly intuitive. I used it for some time without even opening the manual, because the four-button navigation was very straightforward, and the app for my phone was self-explanatory. The Pebble Time is similar in price to a regular wristwatch made from quality materials, and right out of the box, it functions as such and so much more. This makes it a great value even if you don't spend any time exploring the app store and setting up additional features for yourself.
What really makes it a contender, though, is the ability to customize it, both in software, and the way it looks. With five different watch faces to choose from (the latest round iteration is adorable, but not waterproof), it's easy to find a style that works with your own. You can also expect software updates and new accessory options to be added, so you'll stay up-to-date with the newest technology. If money is no object, then you'll definitely want to consider the Apple Watch, but if you're looking for an inexpensive alternative that still offers a wide array of features, then the Pebble Time is your best bet.
(Cover photo via Flickr/gillyberlin)