The Ultimate Guide to American AAdvantage Miles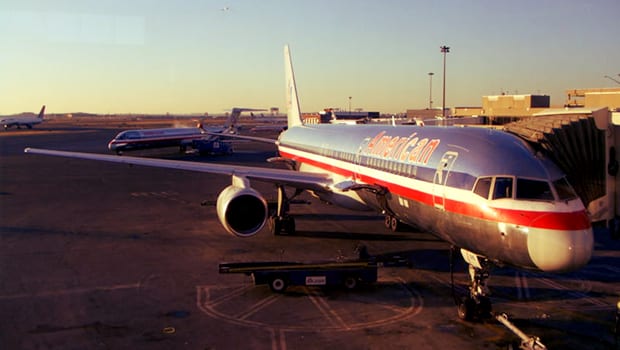 In the past, we have covered the mileage programs of Virgin Atlantic, United, and Delta, but today we'd like to detail American Airlines' AAdvantage program.  With US Airways and American set to fully merge their programs sometime in the next year or so, it may be helpful to learn more about American's mileage program sooner rather than later.  As always, we'll go over the basics of the program, its status structure, ways to earn miles, and how to maximize using those miles on your next vacation!
The Basics
Here's a fun fact:  American Airlines was the first frequent flyer program, unveiled in 1981.  Since then, there have been hundreds of changes in the travel industry, but American remains.  First, you can sign up for an account at AA.com if you haven't already.  This number can be used whenever you fly on American Airlines or its partners to earn AAdvantage miles, which then accrue and eventually can be redeemed for award travel.
You'll want to understand how many miles are needed to fly to your dream destination.  American makes it easy to follow here, but here are the highlights:
One-Way Trips are allowed, and start at 12,500 miles for domestic travel
There are two categories of awards- "MileSAAver" and "AAnytime"
 MileSAAver awards are cheaper, and feature two levels that vary depending on season
AAnytime awards are more expensive, and feature three levels (though the third is rarely used)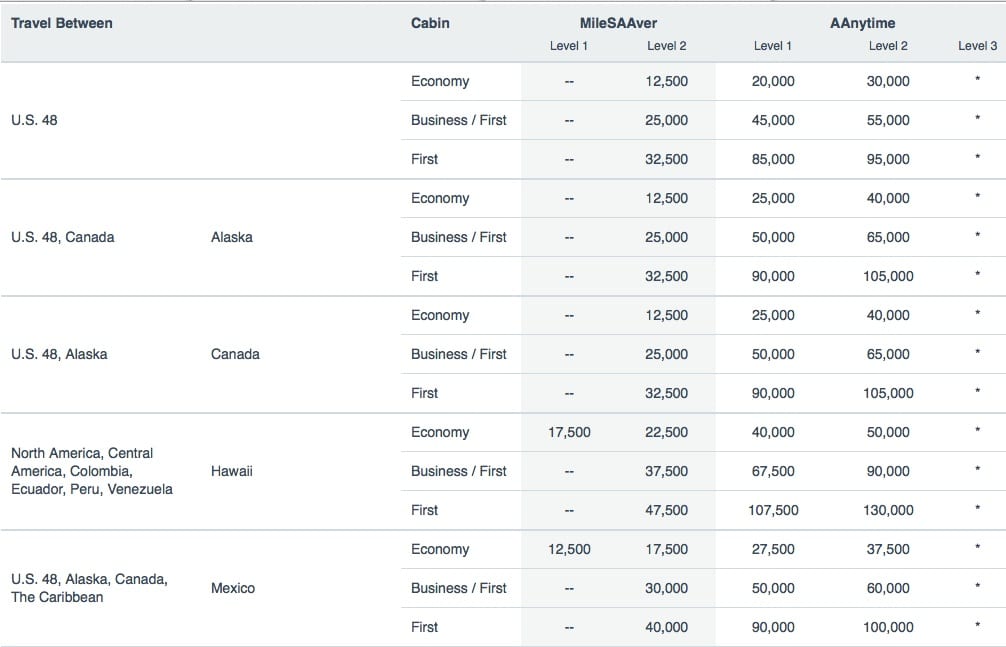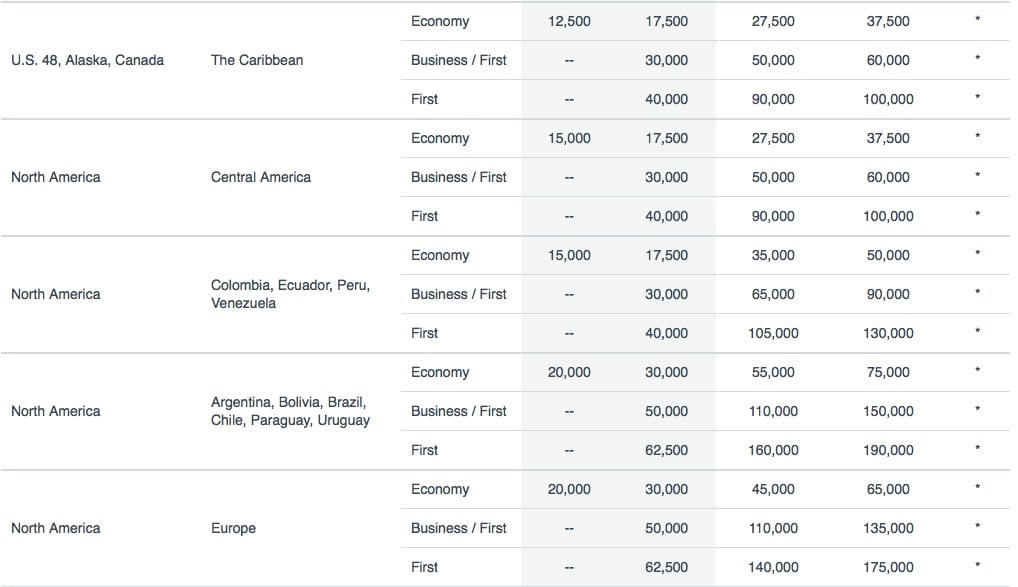 Like most other airlines, American also utilizes an award chart for its oneworld and other airline partners: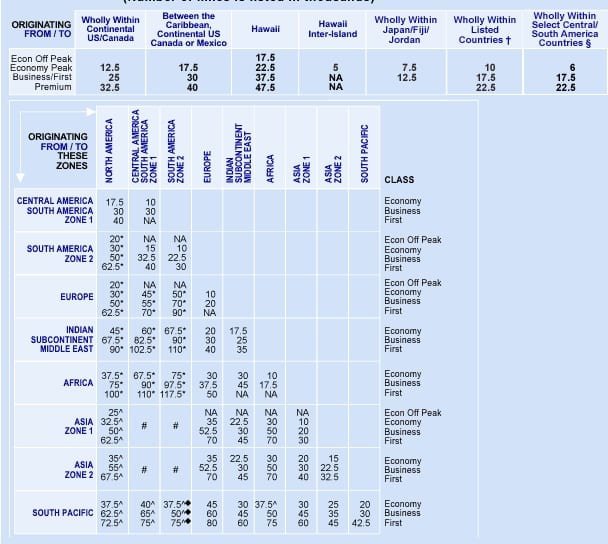 American has many partners through its oneworld alliance.  Airlines include:
airberlin
American Airlines
British Airways
Cathay Pacific
Finnair
Iberia
Japan Airlines
Lan
Malaysia Airlines
Qantas
Qatar Airways
Royal Jordanian
S7 Airlines
Sri Lankan Airlines
TAM
US Airways (soon to be fully merged with American)
Other partners, that allow you to earn and redeem AAdvantage miles when flying, include:
Air Tahiti Nui (Redeem miles only)
Alaska Airlines/Horizon Air
Etihad Airways
Fiji Airways
Gulf Air
Hawaiian Airlines
Jet Airways
Seaborne Airlines (redeem miles only)
WestJet
Benefits of American Miles
American Miles are good to collect for several reasons.  One, American allows one-way redemptions on its flights and its partners, which allows for more flexibility when traveling and more opportunities to optimize.  One-way flights are simply half the cost of roundtrips.  Furthermore, the breadth of partners and award availability at your disposal for award travel is evident.  I think that redeeming miles with American is one of the more painless of the major airlines.
How To Earn Miles
Earning miles is similar to other legacy carriers in the United States.  You can earn miles by flying, with credit card sign-ups, transfer partners, and promotions and partnerships.  If you're planning on accruing most of your miles by flying, you'll want to earn status as fast as possible, since there are bonus miles to be had!  If you are just a basic member of the AAdvantage program, you'll earn one mile per mile flown.
Earning Miles: Elite Status
The first level of AAdvantage Status is the Gold Level.  To earn this, you must fly 25,000 miles or 30 segments in a calendar year.  With this, you'll receive complimentary upgrades on full-fare tickets (Y or B fare class), but the upgrade window is only 24 hours before your flight.  Companions receive upgrades as well, subject to availability.  You'll also receive a 25% Elite mileage bonus, which means you'll earn 125 miles for every 100 that you fly.  A minimum mileage guarantee is also offered, which means you'll earn at a minimum 500 miles per flight (plus a 25% bonus, so 625 miles total).  You'll receive access to the 'premium' seating like exit rows and preferred seats, priority check-in, security, boarding, same-day standby, and one checked bag for free.  You also won't have an award processing charge if you're booking an award over the phone.
The second level of status in the AAdvantage program is Platinum.  You'll receive the same benefits as Gold status, but with some great upgrades.  To earn, you must fly 50,000 miles or 60 segments.  Your upgrade window is now 72 hours instead of 24, and you'll receive a 100% Elite mileage bonus (so 200 miles for every 100 miles flown).  You'll receive 2 checked bags free on every flight, and oneworld partner lounge access, which is crucial when flying abroad on long itineraries.
The top-tiered status is called Executive Platinum, earned when you fly 100,000 miles or 100 segments with American.  You'll have unlimited complimentary upgrades, given up to 100 hours before your flight.  You'll also receive 8 one-way systemwide upgrades, which allow you to automatically be upgraded at time of booking to the next best class!  You have guaranteed economy class seating, wait list priority for business and first class, and a waived ticketing service charge.  3 checked bags and expanded award seat availability round out the special treatment.
Earning Miles: Credit Cards
There are three American Airlines co-branded American Express cards out there, each with its own unique benefits.  The most elite and most expensive card out there is the Citi Executive / AAdvantage Card, which comes with Admiral's Club membership, American's network of airport lounges.  With the card, you'll receive 50,000 miles for spending $5,000 in the first three months of card membership.  You'll get a free checked bag, 25% off in-flight purchases, 10,000 Elite Qualifying Miles for spending $40,000 in a calendar year on the card, and no foreign transaction fees.  This card earns two miles per dollar on American purchases, and one mile per dollar on everything else.  The annual fee is steep, though, at $450.  I would recommend this card for only the most dedicated American Airlines flyers.
The Citi Platinum Select / AAdvantage World Mastercard earns you 30,000 miles for spending $1,000 in the first three months of card membership.  You'll also get a free checked bag for you and 4 travelers, Group One boarding, 25% off in-flight purchases, a $100 discount every year for American flights, 10% off all American award flights in the form of a dividend, and 2 points per dollar on all American purchases.  The annual fee of this card is $95, waived for the first year.
Rounding out the credit cards is the CitiBusiness / AAdvantage World MasterCard.  You'll earn 30,000 miles for spending $1,000 in the first three months of card membership, a free bag, and 2X the miles for purchases on American and on office supplies, car rentals, and telecommunications.  You'll also get a 5% mileage bonus at the end of the year on eligible purchases.  Furthermore, you'll receive a companion certificate if you spend $30,000 or more on the card each year.
Earning Miles: Transfer Partners
American has a great transfer partner to help you top off your mileage account.  The Starwood Preferred Guest program has many airline partners, and American is one of them.  You can transfer points to miles at a 1:1 ratio, but if you transfer points in 20,000 point increments, you'll receive a 5,000 mile bonus (so 20,000 points becomes 25,000 miles when it lands in your American account).
You can earn SPG points by staying at Starwood hotels, or with the Starwood AmEx, which we have detailed in a post in the past.  Explore those options if this interests you!  It's a great way to reach that award trip a little faster.
Partnerships
Like many other programs, American has partnered with hotels, rental car agencies, and vacation booking to allow you to earn AAdvantage miles instead of that brand's points.  You can also earn miles at the eShopping mall, in American's dining program, or by spending money at a host of other merchants.  Often, these aren't the best prices for products available, and the miles earn don't outweigh the costs.
Buying miles outright is also an option, though I would wait for a sale that tends to happen semi-annually before doing so.  It can sometimes be a 100% bonus, which makes it a pretty good deal if you can redeem them for business or first-class travel.
Redeeming Miles
Redeeming American Miles for American flights is pretty straightforward.  Just go to AA.com and search for award bookings.  But, what if you want to search for partner flights?  AA.com often doesn't show partner availability, so you'll have to search on several other sites to find it.
For most oneworld partners, British Airways is a good search engine to find availability.  You'll find which flights are available for you and then call into American at 1-800-822-8880. Qantas is another good option to check, as well as Japan Airlines' website.  Hawaiian Airlines can be searched on its site, but only "super saver" award fares qualify.
A more "pro" way to find award seats is through ExpertFlyer.com, but that requires a paid subscription.
Best Ways to Use Your AAdvantage Miles
The best ways to use your AAdvantage miles on American-operated flights are with off-peak awards.  I've flown to Europe for 40,000 miles roundtrip in January during a break from school, which is 20,000 miles less than the regular MileSAAver award.  Other destinations include Hawaii for 17,500 each way, Central America, Colombia, and Ecuador for 15,000 each way, and Japan for 25,000 each way.
If you utilize your credit cards correctly, you'll also receive mileage discounts, just for holding the card.  The Executive card gets you a 7,500 mile discount on roundtrip redemptions (and half that on one-ways), and the others net you 5,000 miles off roundtrip (and 2,500 off on one-ways).  These are only eligible on American-operated flights to select destinations, though, and not on oneworld partner flights.
South American award availability is very easy to come by thanks to LAN and TAM being in the oneworld alliance.  LAN is based in Chile and flies all over the continent.  TAM is a Brazilian airline, and will help you travel domestically in that country as well.  LAN is interesting to use for travel to Easter Island on miles, which is normally a very expensive flight and only can be flown to from Chile or the South Pacific.
We hope this guide serves you well, and as always, if you have any questions, feel free to ask below!
Cover photo: Wikimedia Commons / Jfarr11