The World's Cheapest Hilton Reward Redemptions in 2020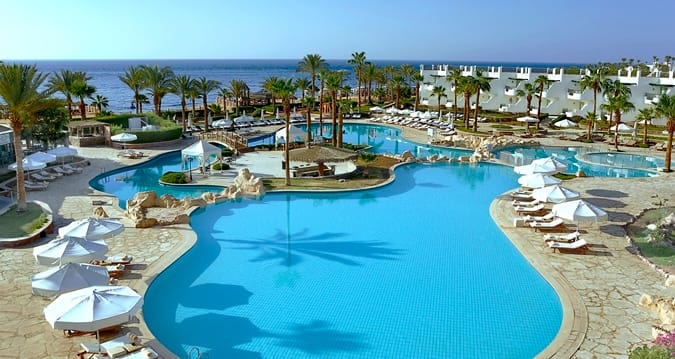 We're a big fan of the Hilton Honors program for family and personal travel. Between the amount of points you receive for your spend, ease of acquiring top tier status with one credit card, and availability of hotels worldwide, it's a great program. One of my favorite features is how cheap redemptions can get, as low as 5,000 points a night! Where are these properties, and how can you book them? We dig into the details.
 How Much Is the Cheapest Possible Redemption
Hilton Honors used to publish an award chart, but like many travel brands, they've gone to a dynamically priced model. Theoretically, the lowest price you'll pay for a room at a Category 1 property is 5,000 points, but that can sometimes be hard to find. Additionally, you could receive a 5th night free on points if you have Hilton Silver status or higher. That means the out of pocket cost you pay per night is only 4,000 points! To search for these properties on your own, you can use Hilton's Points Explorer Tool, or let us detail the 23 properties ourselves below!
How Can I Extend My Savings?
There are several ways to make your 5,000 point per night award stay at a Hilton property even better. One recommendation from me is paying with the right credit card. You'll receive a complimentary elite status just for having the card, giving you perks like free breakfast and lounge access, and a points multiplier for spend at Hilton properties.
You can receive Gold status just by holding the Platinum Card® by American Express, Hilton Honors American Express Surpass Card, or the Hilton Honors American Express Business Card. Other no-fee cards like the Hilton Honors American Express Card gives you free Silver status, and Gold status with $20,000 in spend on the card each year.
You can even receive free Diamond Status just by holding the Hilton Honors Aspire Card from American Express. That's a card that both my wife and I have, both for the Diamond status and the fantastic benefits we receive for the $450 annual fee. The Surpass card gives you Diamond status if you spend $40,000 per calendar year on the card.
The Platinum Card only gives you one Membership Reward point per dollar (worth 2 cents) for your Hilton spending. The Surpass and Hilton Honors Amex Business cards both currently has a 125,000 point sign up bonus (that's 25 nights at the properties below!) and earn 12 points per dollar at Hiltons. The Hilton Honors Amex Card has a 75,000 point sign up bonus and earns 7 points per dollar. Finally, the Aspire card has a 150,000 point sign up bonus, and earns 14 points per dollar at Hilton properties.
Which Properties Are Only 5,000 Points a Night?
As you'll see from the list, the 23 properties are all located abroad (if Turkey is in your travel plans, you're in luck!). While they may not all be in your immediate travel plans, they're helpful to highlight (I even got to stay at one in 2019!). Keep in mind that there are many more hotels in the 10,000-30,000 point range in the Hilton program, which are a great value as well!
Indonesia
Hilton Garden Inn Bali Ngurah Rai Airport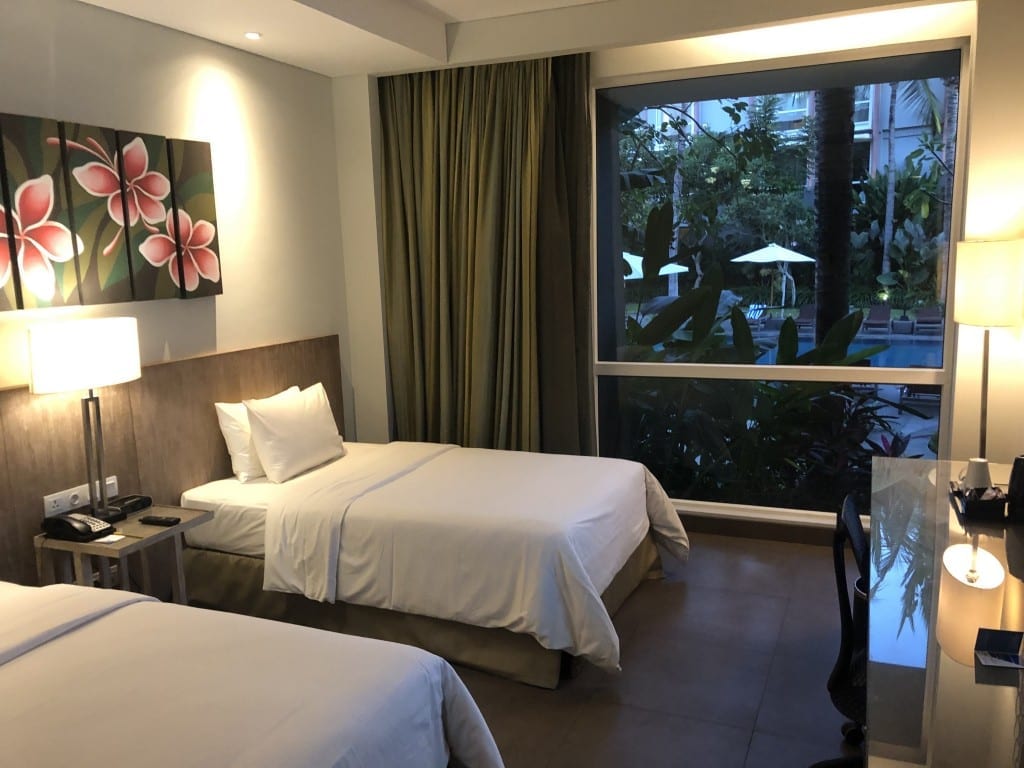 This is the one 5,000 Hilton Honors point redemption I have direct experience with! After an amazing three-night stay at the Alila Ubud, we had one final night in Bali before an early flight to Hong Kong. Rather than start the day with an hour-long car ride, we opted for the Hilton Garden Inn, with free hotel shuttle.
I'd say that this hotel feels more like a resort, with a very nice pool in the center of the hotel. As a Diamond member, I had a choice between 750 Hilton points (about $3.50 in value according to our valuation) or free breakfast for my wife and me. I chose breakfast, which turned out to be a full buffet with many options, including American and pan-Asian cuisine.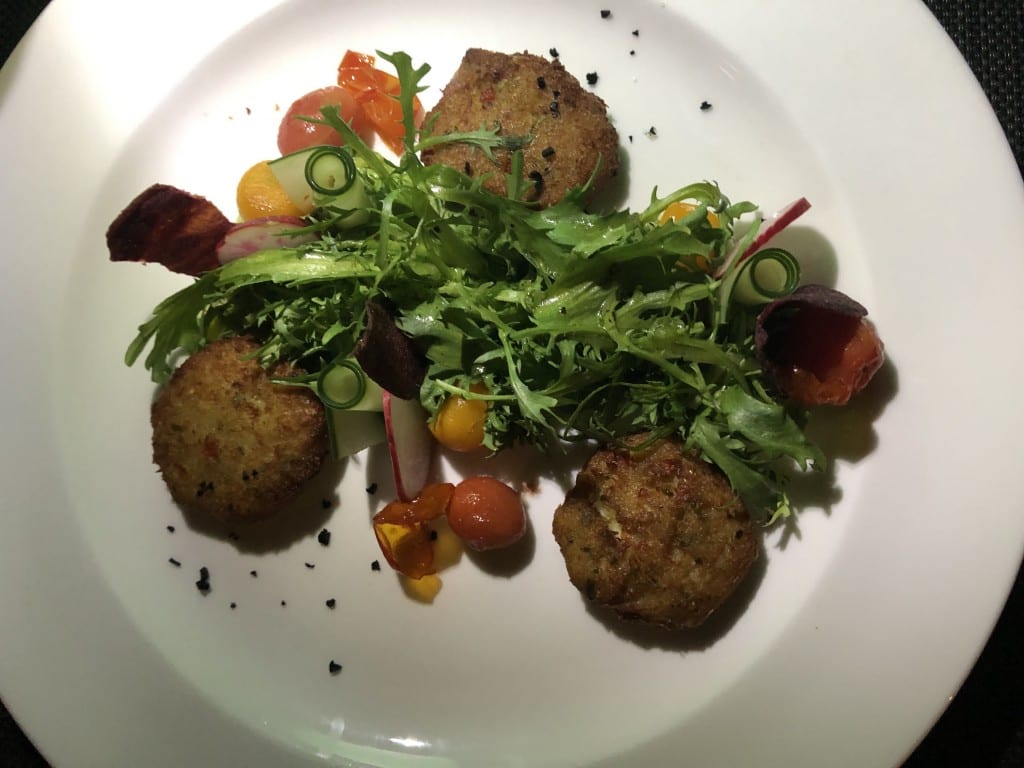 The rooms weren't huge, but were clean and practical. There's a restaurant on-site outside of breakfast times as well, with some delicious options (like the dish above). The hotel also featured self-serve laundry, which was expensive for Indonesia but very convenient for us. The airport shuttle left at specific times, and it's helpful to sign up in advance, as there were lots of tour groups staying at the hotel with us. For 5,000 points a night, this hotel was an absolute steal- it's not a bad option for those wanting to stretch their points budget while staying in Bali, if you don't need to stay right on the beach or in the jungle (though traffic is awful everywhere).
Colombia
Located in the northeastern part of Colombia, Bucaramanga isn't on the typical tourist track in Colombia, but is still located near some national parks. For backpackers or budget travelers, 5,000 points (valued at $25 by our valuation) is a steal. Keep in mind that all Hampton hotels feature free breakfast, and reports on TripAdvisor show that the breakfast includes coffee, juice, and the famous Colombian dish arepas.
Hampton by Hilton – Yopal, Colombia
Yopal is part of the llano (plains) region of Colombia, and also isn't typically on a traveler's "must sees." However, it's a short flight from Bogotá, and the reports show their breakfast to include hot items typical to Colombia.
Egypt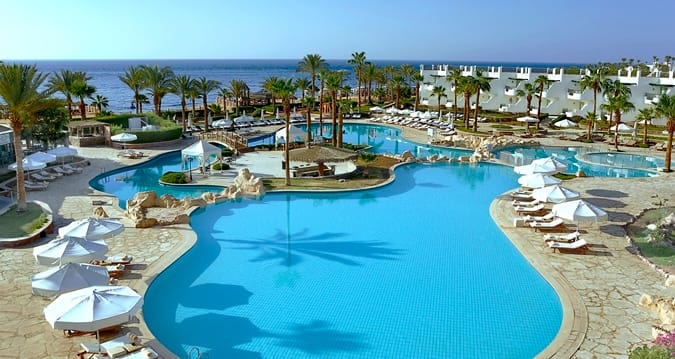 Hilton Sharm Waterfalls Resort
This property is a great value because it's actually a full-service resort, not a limited-service property. Reports from elites that have stayed at the property on Flyertalk say the Hilton is a bit far from the main "action" of Sharm El-Sheikh, a popular beach destination in Egypt, but has full breakfasts and excellent snorkeling right from the resort. There's no executive lounge, unfortunately.
Located on the mainland side of Egypt on the Red Sea, rather than the Sinai Peninsula like Sharm El-Sheikh, Hurghada also features excellent snorkeling by virtue of its location. There are three Hiltons located in this area of the world, and the Hilton Hurghada is the only one that isn't all-inclusive. Diamonds and Golds receive a buffet breakfast (eggs and falafel according to the Flyertalk thread), but sadly there is no executive lounge.
Mexico
Hampton Inn Tampico Zona Dorada
Another Hampton Inn, the Tampico Zona Dorada is located in Tampico, on the Gulf of Mexico. While not a tourist destination, there are nice beaches and archeological sites in the city.
Hampton Inn by Hilton Reynosa/Zona Industrial
If the name didn't give you a hint, the Hampton Inn by Hilton Reynosa/Zona Industrial is not located in a touristy area (nor is Reynosa touristy to begin with). However, at 5,000 points a night, business travelers needing a cheap award night may find this property useful.
Hilton Garden Inn Tuxtla Gutierrez
Located in Tuxtla, close to the Guatemalan border, reports on Tripadvisor note a clean, well-located hotel with good service and a filling free breakfast.
Russia
Located in Ufa, well east of Moscow and closer to Kazakhstan, I doubt many reading this will find themselves visiting this property. But, for those that do, you can redeem only 5,000 points a night for a clean room and full Russian breakfast (according to reports).
Turkey
Turkey has the balance of the 5,000 point Hilton properties by a mile. Most are Hilton Garden Inns and Hampton Inns, but the country does have the only DoubleTree on the list.
The first five-star hotel in Elazig, it's located in the city center, close to the bazaar and mosque in the city. There's also a full Turkish breakfast there for Hilton members.
Hilton Garden Inn Corlu, Turkey
Hampton by Hilton Kahramanmaras
Hilton Garden Inn Izmir Bayrakli
Hilton Garden Inn Eskisehir, Turkey
Hilton Garden Inn Diyarbakir (Ari), Turkey