Good Bye, Toys R Us – Store Closing Sales Start Friday 3/23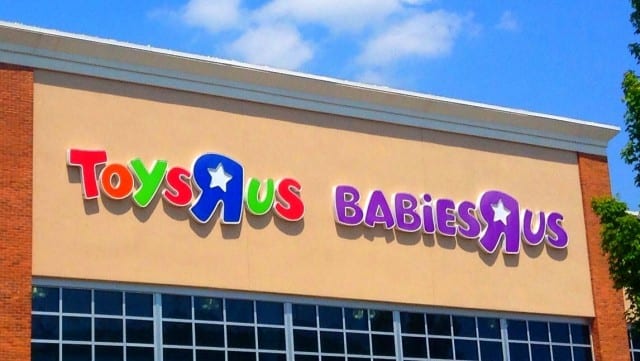 Here's the latest: Toys R Us liquidation sales were supposed to start today (3/22) but were postponed due to mysterious "unforeseen circumstances." Discounts are expected to start at 30% off. Coupons will not be accepted, and all sales will be final.

"I am devastated that we have reached this point."
CEO David Brandon addressed staff on a conference call on Wednesday confirming plans to file liquidation papers by Wednesday evening ahead of a bankruptcy hearing scheduled for Thursday.
"I have always believed that this brand and this business should exist in the U.S.," Brandon said on the call. He then went on to cast at least part of the blame on vendors who failed to support Toys R Us during the holiday season, when toy sales are traditionally at their peak. "[They] will all live to regret what's happening here."
"I am devastated that we have reached this point," Brandon told employees gathered in Wayne, NJ on Wednesday. "None of us have a voice in how this is being done."
A press release addressing liquidation plans was issued by the company on Thursday, March 15, 2018. Dave Brandon, Chairman and Chief Executive Officer, said, "I am very disappointed with the result, but we no longer have the financial support to continue the Company's U.S. operations. We are therefore implementing an orderly process to shutter our U.S. operations and will pursue going concern sales or reorganizations of certain of our international businesses, while our other international businesses consider their options."
Brandon continued, "There are many people and organizations who have remained in our corner every step along the way. I want to thank our extraordinary team members who helped build Toys"R"Us into a global brand. I also want to express my appreciation for my colleagues on our board who have continued to provide support to sustain the brand and our operations throughout the restructuring process. I would also like to thank our vendors who we owe a great deal of gratitude to for their decades of support. This is a profoundly sad day for us as well as the millions of kids and families who we have served for the past 70 years."
"It's like a death in the family."
It's nearly impossible to overstate the cultural impact that Toys R Us has had over the course of seven decades, helping to create the essential childhood ritual of walking into a store stuffed floor to ceiling with every toy you ever dreamt of. Now that experience will become a sort of endangered species.
Rachel Nacion-Ograyensek has fond memories of childhood pilgrimages to Toys R Us to look at Barbies and horses. Today, as mom to 5-almost-6 year old Patrick, the family visits Toys R Us an average of once per week, buying a new toy with every visit. She agrees with Brandon's sentiment.
"We had to explain to my son today why he can't go to Toys R Us anymore," Ograyensek told Brad's Deals in a video call from her home in Altamonte Springs, Florida. "He asked, 'Did I do something?' It was a tough discussion to have with him."
Everywhere you look in the Ograyensek home, you'll find the legacy of many trips to Toys R Us. Of special note is a corner with about twenty toy cars arranged on the floor, which represents just half of Patrick's collection – half of which he bought with money he earned for good behavior at school. He saves up his money, then he and his dad make a special trip to Toys R Us. It's a favorite ritual.
Most recently, Patrick brought home a LEGO set that he'd saved for, which Ograyensek showed me while describing "silly but special" details like Geoffrey's Birthday Club, and how seeing her deceased mother-in-law's name still on the family's Rewards R Us account makes them smile. She also worries about the downstream impacts the store closures may have on programs like Toys For Tots, as well as for the fate of 33,000 Toys R Us employees who will lose their jobs. (We learned late on Wednesday that all pay and benefits will end in 60 days, and that employees will not receive severance pay.)
"I know it's hyperbole, but it's like a death in the family."
A small glimmer of hope.
CNBC reported on Wednesday that Toys R Us is studying a deal that would keep roughly 200 stores open post-liquidation. The desire to keep the iconic brand alive is strong. The tentative plan includes finding a buyer for the Canadian stores where business is stronger, and breaking off about 200 of the most profitable U.S. stores to sell to a new buyer. That plan would keep the lights on for a quarter of the stores currently slated to close. Toys R Us confirmed the discussion in its Thursday press release, adding that the possible transaction would combine those top stores with its much healthier Canadian operations.
Canada, you're safe.
As of right now, there are no plans to close any Toys R Us stores in Canada. In fact, the Toys R Us brand does well enough in Canada that there is no imminent danger to any stores there.
So what exactly happened?
In the end, it boils down to too much debt – about $8 billion – hampering Toys R Us' ability to match the deep discounts offered by competitors like Amazon and Walmart. To make matters worse, vendors were nervous after Toys R Us declared bankruptcy last October, and many wanted cash up front, a demand which required about $1 billion in liquidity that the retailer just did not have. Slower than expected holiday sales were the final nail in the coffin, possibly due in part to shoppers being spooked by the bankruptcy news.
As much as seeing a deeply engrained part of American kid culture in its death throes cuts deep for generations of Toys R Us kids, today's kids have largely moved past the need for that magical jaw-dropped in-store experience for which we, as grown ups, are so nostalgic. There's been a massive shift towards online play, including apps and games and, yes, the notable trend of kids watching hours and hours of YouTube videos of other kids playing with toys which has left many grown ups scratching their heads – but maybe it makes more sense when it's contextualized against the near extinction of brick-and-mortar toy stores.
When will the stores close?
An anonymous source confirmed to CNBC that Brandon has told employees that they've got 60 more days of employment. That makes it sound like we can expect stores to close sometime in mid May. Employees were notified on March 15 that their final day of employment would be on or about May 14, 2018.
.@ToysRUs sent this letter to employees of liquidating stores https://www.businessinsider.com/toys-r-us-closing-sales-start-dates-2018-3 pic.twitter.com/fbWIS9NMr0

— Hayley Peterson (@hcpeterson) March 19, 2018
Toys R Us is also pulling out of the U.K., closing roughly 100 stores within the next six weeks.
Will Toys R Us still sell toys online?
For now, the Babies R Us website and registry will remain online. This is because Toys R Us is still hoping to sell off the baby business as a separate asset. But don't expect it to last for long if they can't find a buyer.
"Because of that possibility we will continue to operate our web store in the U.S. for the next few weeks while that sorts itself out – because if in fact there is someone who wants to keep a foothold in the U.S. they will likely do that in such a way that they can retain customers, such as people involved in our baby registry programs," Brandon said.
What happens to my Toys R Us gift cards?
On March 15, 2018, company spokesperson Taylor O'Donnell told USA Today that customers have 30 days to use their gift cards. We believe that means the deadline for using Toys R Us gift cards is Saturday April 14, 2018, though others are reporting April 20, 2018 will be the last day. (We have not been able to confirm the 4/20 claim so far.) After that, your gift cards will be worth nothing.
Previously, Senator Chuck Schumer called on the FTC to protect consumers through a guarantee to exchange gift cards for cash.
"The music is about to stop for the iconic retailer," Schumer said in a statement on Wednesday, "and consumers could be left in the lurch."
Our recommendation is to spend your Toys R Us gift cards as soon as possible.  
When do the liquidation sales start?
Word on the street is that Toys R Us store closing sales will start on Thursday March 22, 2018. We don't recommend waiting once they begin since you're probably not going to find the rock bottom savings you're hoping for.
This story is still developing, and we'll update as news breaks. In the meantime, raise a glass to your childhood as we get all nostalgic with this classic commercial. Is it just me or is it getting awfully dusty in here?
Were you a Toys R Us kid? Share your favorite Toys R Us memory in the comments.