Traveling to Mexico During the Pandemic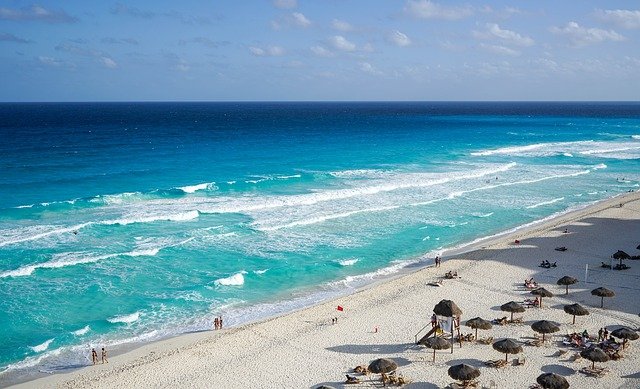 For a travel blogger like me, it's been a long five months sitting on my couch watching Netflix. As good as "Selling Sunset" is, I'd much rather be traveling the world, so when the State Department dropped their "Do Not Travel" recommendation, I was ready to start planning a trip. While many countries are still "no-go" on my list, Mexico is open to Americans and I felt perfectly comfortable traveling to Mexico during the pandemic. Here's how my outbound trip went to Cancun from Phoenix.
What's It Like Traveling To Mexico During the Pandemic?
Traveling internationally during the pandemic has an added layer of scrutiny; the coronavirus PCR test. Most countries, if open for tourism, now require one at least 72 hours before your flight. Or is it 48 hours before? Or is it 72 hours by the time you reach the border? The rules and stipulations keep changing, so to keep things simple, I chose to travel to Mexico for two reasons: Mexico is awesome, and they don't currently require a PCR test. Making things even easier, our itinerary was booked on points, flying through Dallas to Cancun from Phoenix on American Airlines.
We arrived at Phoenix Sky Harbor International Airport about 1 1/2 hours early. With my Executive Platinum status, we used the Priority lanes to check our bags (I get three free checked bags, so we had no charges).
TSA security is a socially-distanced affair, with spots on the ground telling you where to stand, not unlike my time at Disney World in July. Our flight was in the morning, so we were entering the American lounge in time for breakfast.
The Admiral's Club is a completely different experience now than before the pandemic. For instance, Phoenix's three lounges have been pared down to one. When you enter, the lounge agents are behind plexiglass, for their protection, much like to your local grocery store. Another agent seats your party in the lounge, distancing you from other parties. To my surprise, there was someone serving a hot breakfast (eggs or eggs and sausage), but the self-serve buffet was closed. American is serving a snack box, similar to what you used to be able to buy onboard, at their bar, which is also fully open. Overall, the experience here is different, pared-down, but honestly, I actually enjoyed it, maybe even more than the normal service. I loved being distant from other passengers, and I've never seen the lounge cleaner.
Once it was time to board our flight to Dallas, we joined Group 1 boarding, as I had been upgraded on this leg. We found our seats easily, and wiped them down before sitting, though the plane looked spotless. The plane was arranged with "Project Oasis" seating, which meant thinner first class and economy seats, no seatback entertainment, and less legroom. As with my first flight since the pandemic, economy didn't have any service (not even the small bag of water and snacks, strangely), and no flight attendants in first class offered beverages at any point during the flight, even though they could provide service. Overall, I didn't feel like first-class was all that great, and would've been upset had I paid for the upgrade.
Arriving in Dallas, we wanted something substantial for lunch, so we opted for Chik-Fil-A, which at noon in Texas on a Saturday, had no line. That was perhaps the most shocking experience of the whole trip! Well, that and the restaurant not having Dr. Pepper (in Texas of all places)!
Our upgrades didn't clear on our flight from Dallas to Cancun, but since we were traveling in a group of three, we had the entire bulkhead row to ourselves. The flight was completely full, so this was a welcome surprise. On this flight, we were offered a snack bag (water, pretzels, cleaning wipes) from the in-service trolley after our flight began. It seemed like first-class had more people drinking beverages on this flight than the last. Overall, I thought the flying experience down to Cancun was safe, drama-free, and everyone followed the rules for masks, as well.
Once in Mexico, the biggest difference was the lack of large American groups at the airport. It was only our flight arriving in Cancun at about 5:30 PM local time, which is normally rush hour at CUN. We were through customs in three minutes, with no extra screening there. As we walked to our bags, we saw a temperature screening area, similar to what I saw in Las Vegas, but I wasn't sure if the authorities were actually screening us at the time. At the baggage carousel, social distancing was definitely not practiced as well as it should have been, but everyone self-managed, and an American employee was checking everyone's name to their bag, which I appreciated.
Overall
We were able to find the National rental car counter fine, and that ended our trip to Cancun airport. Overall, I felt safe flying to Mexico. I write this as I'm still in the country, and I feel like Mexico is taking things more seriously overall than Americans. There are temperature checks at every restaurant and hotel, capacity is capped, but I don't feel a degradation of any of my fun being had here. Hopefully, the pandemic will be behind us soon, but in the short term, I wouldn't have any hesitation flying to Mexico, if you feel it's safe for you and your family to travel.