Unique Wedding Gifts for the Summer Wedding Season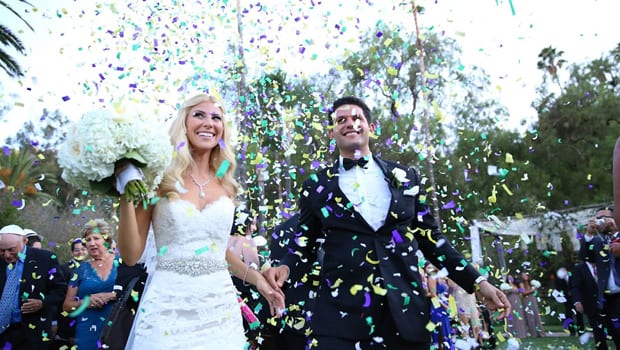 If you're anything like me, you can't remember the last summer you didn't have at least one wedding to attend. Sure it's great to watch friends and family pledge their love to each other for eternity, but it can take a hefty toll on your wallet. Contrary to popular belief, everyone isn't dying to buy the happy couple a blender or a set of flatware.
This summer, you've pledged to be more creative than that. Here are our suggestions to get out of the registry funk and find some unique wedding presents:
Honeymoon Excursions: If the couple is going on a honeymoon, find out their hotel and purchase them a gift certificate to the restaurant for a nice dinner or to a local spa for a couples massage. If they're going to a resort or tourist destination, get a certificate for a fun excursion like zip-lining or a boat tour. There's no better gift than providing them with a memory of a great experience.
Dining Gift Certificates: If you know the couple well, you probably know their favorite dining spots. Treat them to something they can use long after the wedding is over to celebrate again or on their first anniversary with a gift certificate to one of their favorite eateries. Or maybe encourage them to finally try that expensive place they've always wanted to. They'll have you to thank when the meal is over.
Cooking Classes: They just got all this fabulous new kitchen equipment, so why not treat them to a class where they can put some new skills to good use. If you know cooking definitely isn't their thing, try searching for a local class on something they will enjoy learning more about together.
Membership to a Once a Month Club: Are they winos? Bacon lovers? Cheese lovers? Get them a membership to one of the many clubs out there and they'll receive something new and awesome to try each month. Use this deal to get 5% off at Wine.com.
Custom Bobble Heads: It's hilarious. It's silly. If they're a humorous couple, they'll probably proudly display them for years to come. Most sites create them just using a photo of the couple, like AllBobbleHeads.com. You can even choose their clothes and accessories!
Personalized Wine or Liquor Bottle(s): Give them this gift to drink on a special occasion. Choose their wine or spirit of choice and customize it with a label featuring their names and wedding date. Many companies (like Johnny Walker and Crown Royal) will customize a label for you, or do it yourself on a site like Zazzle and save even more money! They'll drink the festive bottle on a special occasion and will likely do a cheers in your honor.
DIY Gift Basket: Make them a basket with all their favorite things. Maybe they love a special local hot sauce or locally made salsa. You can put pretty much anything you want in the basket you think they'll love. It will show that you put a lot of thought into the gift.
Wedding Invitation Display: Couples put a lot of time and thought into their wedding invitations and it's a nice reminder of their special day. There are lots of ways to make the invitation into a gift, such as framing it or having it etched into a vase or tray. This will become a nice part of the couples home.
What is your go to off-registry gift? Let us know if the comments below!
For more tip and tricks, as well as access to amazing deals, sign up for Brad's Daily Alerts!