The Best Walmart Coupon Tips & Tricks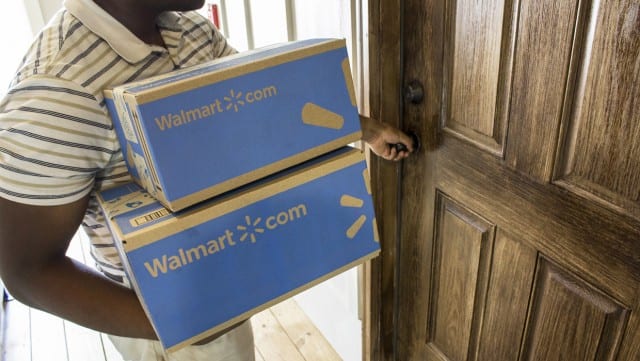 Thanks to Walmart, you can snag a cute pair of new shoes in the same spot where you stock up on groceries, or get the materials you need for a home improvement project in the same place you get the trimmings for your next holiday party. And, in addition to Walmart's everyday low prices, you can find some steep discounts, rollbacks, and clearance items that take your savings to the next level. We frequently find some of the most enticing deals at the largest U.S.-based retailer, so be sure to set an alert if you're a frequent Walmart shopper.
We love when our readers become informed shoppers, because savings opportunities are not always obvious, and Walmart deals are no different. The best way to get the deepest discounts is to use a combination of shopping strategies - keep an arsenal of digital and/or printed coupons, take advantage of in-store pickup offers and other deals, and know the best time to shop.
To help you implement the most successful Walmart shopping strategies into your retail routine, we'll take you through a handy FAQ that will answer all your Walmart coupon questions. Next, we'll outline some of the best Walmart shopping hacks so you can stretch your budget even further. Give it a read before your next trip to the retail giant.
Walmart Coupon FAQ
Can I use coupons in-store at Walmart?
Yes. Walmart accepts one manufacturer coupon per item. What's more, if the coupon is worth more than the price on the product, you'll get overage. This means the extra money will be put towards other items in your shopping basket. In select circumstances, you may even get cash back.
You can print manufacturer coupons online or grab them at Walmart sample displays. The only exceptions are that Walmart won't accept printed coupons for free items or BOGO manufacturer coupons with a percentage.
Can I use coupons when shopping online at Walmart?
While Walmart coupon codes are rare, there are some codes can be used for online purchases. For example, you can use a coupon code to get $10 off your first grocery order of $50 or more.
Can I use coupons on the mobile app?
When making an online purchase through the Walmart mobile app, you can use an online coupon code if it applies to your purchase. However, Walmart doesn't accept digital coupons in its stores, so you won't be able to scan a coupon from your phone to get a discount. Still, it's definitely worth downloading the mobile app, since you can use it to view rollbacks, create a shopping list, conduct price checks, and find locations for items in-store.
How many coupons can I use at Walmart?
Unlike some other retailers, Walmart does not allow coupon stacking. You can only use one manufacturer coupon per item at Walmart, and you won't be able to combine a store coupon with a manufacturer coupon.
Can I use competitors' coupons at Walmart?
Walmart will not accept a competitor's coupon, unless it's a manufacturer coupon for another store. Walmart's Savings Catcher program will also be discontinued this year, and Walmart no longer offers price matching of competitors. However, Walmart will still price match an identical item available online at Walmart.com or Jet.com.

Photo courtesy of Walmart
Best Walmart Tips and Shopping Hacks
Buy items online and pick them up at your local Walmart store.
Walmart ships free to your local store, and you'll also save 5-10% percent on select items if you shop this way. Just look for items marked "pickup discount eligible" underneath the price when shopping online.
Buy groceries for in-store pickup - and refer your friends.
Walmart always offers $10 off your first grocery purchase of $50 or more with code WOWFRESH, so give online grocery shopping a try. If you like it, refer your friends. You can get a $10 credit for every friend you refer - up to $200 per year.
Use rebate apps and stack offers.
Apps like Ibotta and Checkout 51 allow you to get cash back on select items you purchase. Both apps allow you to scan your receipt, making it easy to take advantage of rebate offers.
Keep an eye out for clearance items.
You'll find some of the deepest discounts on clearance items at Walmart. Look for end cabs with clearance items in-store, and shop the first and third day after every holiday. Discounts hit 50 percent the day after a holiday, which is when you'll find the best selection, but you'll get the deepest discount three days after, when reductions hit 90 percent.
When shopping online, type "clearance" into the search bar to see hidden clearance items. You can also narrow down items in a category to those at a reduced, clearance, or rollback price by using the options in the left-hand navigation.
Hold onto your receipts.
For up to 7 days after purchasing an item, you can get a price adjustment at customer service with your receipt. So, if you see an item advertised at a lower price the day after you buy it, you won't miss out on the discount.
Buy craft and party supplies at Walmart, but avoid buying diapers.
Certain items are particularly cheap at Walmart; their prices on party supplies beat prices at Dollar Tree, and you can get craft supplies for 40 percent less than you'd pay at JOANN. You'll even find basic clothing items at Walmart for less than $2. You also might be surprised to find that gluten-free and organic grocery items at Walmart cost significantly less than other brands. Diapers are another story, however, since you'll find these essentials for less at Target or Amazon.
Get your generic prescriptions filled at Walmart.
Next time you need a prescription filled, consider asking your healthcare provider to send your medication to your local Walmart pharmacy. You can get a 30-day supply of a number of medications for just $4 and a 90-day supply for $10. No insurance is required. See Walmart's full list of $4 generic medications.
Share your top Walmart coupon tips and shopping hacks in the comments!
Cover photo: Courtesy of Walmart